Summary
Här beskriver vi en metod för att effektivt utveckla och rena stort antal mänskliga NK-celler och bedöma deras funktion.
Cite this Article
Copy Citation | Download Citations | Reprints and Permissions

Somanchi, S. S., Senyukov, V. V., Denman, C. J., Lee, D. A. Expansion, Purification, and Functional Assessment of Human Peripheral Blood NK Cells . J. Vis. Exp. (48), e2540, doi:10.3791/2540 (2011).
Abstract
Naturliga mördarceller (NK) celler spelar en viktig roll i immunförsvaret övervakning mot en rad av smittsamma mikroorganismer och tumörer. Begränsad tillgång på NK-celler och förmåga att expandera in vitro har begränsat utvecklingen av NK-cell immunterapi. Här beskriver vi en metod för att effektivt utöka stora mängder av funktionella NK-celler ex vivo med hjälp av K562 celler som uttrycker membranbundna IL21, som en konstgjord antigen-presenterande celler (aAPC).
NK-celler adoptivföräldrar terapier har hittills utnyttjat en cell produkt som framställs genom steady-state leukaferes av givaren följt av utarmning av T-celler eller positiva urval av NK-celler. Produkten är vanligtvis aktiveras i IL-2 över natten och sedan ges följande dag 1. På grund av den låga frekvensen av NK-celler i perifert blod, har relativt litet antal av NK-celler har levererats i kliniska prövningar.
Oförmågan att propagera NK-celler in vitro har den begränsande faktorn för att generera tillräckligt cell nummer för optimal kliniska resultatet. Några expansion av NK-celler (5-10 gånger under 1-2 veckor) har ska uppnås genom en hög dos IL-2 enbart 2. Aktivering av autologa T-celler kan medla NK cellens expansion, förmodligen också genom frisättning av lokala cytokin 3. Stöd med mesenkymala stroma eller konstgjorda antigenpresenterande celler (aAPCs) kan stödja utbyggnaden av NK-celler från både perifert blod och navelsträngsblod 4. Kombinerad NKp46 och CD2 aktivering av antikroppsförsedda pärlor är för närvarande marknadsförs för NK cell expansion (Miltenyi Biotec, Auburn CA) vilket resulterade i cirka 100-faldig expansion i 21 dagar.
Kliniska prövningar med aAPC-utvidgas eller-aktiverade NK-celler är på gång, en med leukemiska cellinje CTV-1 till prime och aktivera NK-celler 5 utan betydande expansion. En andra rättegång använder EBV-LCL för NK cell expansion, uppnå en genomsnittlig 490-faldig expansion i 21 dagar 6. Den tredje använder en K562-baserad aAPC transduced med 4-1BBL (CD137L) mebranbundna och IL-15 (MIL-15) 7, som uppnått en genomsnittlig NK expansionen 277-faldig i 21 dagar. Även NK celler ut med K562-41BBL-mIL15 aAPC är mycket cytotoxiskt in vitro och in vivo jämfört med oexpanderade NK-celler, och delta i ADCC, är deras spridning begränsas av åldrande tillskrivs telomerförkortning 8. På senare tid har en 350-faldig ökning av NK-celler har rapporterats med K562 uttrycka MICA, 4-1BBL och IL15 9.
Vår metod av NK-celler expansionen beskrivs här ger en snabb spridning av NK-celler utan att åldras uppnå en median 21 tusen gånger expansion i 21 dagar.
Protocol
1. Isolering av PBMC från Buffy Coat
Perifera mononukleära blodceller (PBMC) erhålls genom stigande densitet centrifugering på Ficoll-Paque från friska givare lättcellsskikt prover fram genom leukaferes.
Den Ficoll-Paque centrifugering sker enligt tillverkarens protokoll med smärre modifieringar.
Lägg PBS en normal givare blod-bank buffycoat till en slutlig volym på 140 ml (typiskt buffycoat volymen 40-70 ml).
Layer 35 ml buffy coat prov på 15 ml Ficoll-Paque (4 rör).
Centrifugera vid 400g i 20 minuter utan broms.
Återvinn PBMC från Ficoll-Paque: plasma gränssnitt, Kasta inte bort det röda blodkropparna i botten av Ficoll-Paque.
Tvätta PBMC tre gånger med PBS, centrifugera varje gång vid 400g i 10 minuter.
PBMC kan användas direkt för NK cell expansionen i detta skede eller NK-celler kan isoleras genom RosetteSep (avsnitt 4)
Resterande PBMC kan frysas i FBS som innehåller 10% DMSO i flytande kväve.
Aspirera Ficoll och samla in röda blodkropparna från steg 5 i två 50 ml centrifugrör, tvätta tre gånger med PBS (tillsätts 50 ml-markeringen), varje gång aspirera supernatanten skumma toppen av RBC lager att ta bort granulocyter.
De röda blodkropparna kan användas omedelbart för RosetteSep  rening av NK-celler (se avsnitt 4) eller lagras i lika stor volym av Alsever lösning vid 4 ° C för senare användning (De röda blodkropparna kan lagras i högst 4 veckor).
2. NK cell Expansion
NK cellen utbyggnaden kan påbörjas med PBMC eller renat NK-celler. Mängden PBMC användas för expansion kan varieras baserat på mängden av NK-celler önskas i slutet av en tre veckors expansion, se representativa resultat för mer information. (Se not 1)
STIMULERING 1
Dag 0
För varje 5x10 6 PBMC byggas ut, räkna och bestråla 10x10 6 K562 CL9 mIL21 med hjälp av en gamma irradiator vid 100 Gy.
Inlägg bestrålning, tvätta cellerna med PBS och återsuspendera i NK-celler expansionen media (NKEM).
Seed 5x10 6 PBMC med 10x10 6 bestrålade K562 CL9 mIL21 (1:2 förhållande) i 40 ml NKEM i en T75 kolv och placera den upprätt i en inkubator vid 37 ° C och 5% CO 2.
Dagar 3 och 5
Recover cellerna genom centrifugering vid 400g i 5 min och ersätta hälften av media med färska NKEM (lägga till nytt IL2 för hela media volym) och fortsätt kultur.
STIMULERING 2
Dag 7
Räkna antalet celler i kulturen i slutet av en vecka.
Ställ åt sidan 5x10 5 celler för fenotypning med flödescytometri (se not 2)
För varje 5x10 6 celler ska restimulated, räkna och bestråla 5x10 6 K562 CL9 mIL21 med hjälp av en gamma irradiator vid 100 Gy.
Lägg till ett lika stort antal bestrålade K562 CL9 mIL21 (1:1 förhållande) och återsuspendera i NKEM på 2.5x10 5 totala celler / ml (se not 3).
Seed celler i T75 kolvar (max 50 ml per flaska).
Dagar 10 och 12
Räkna antalet celler.
Byt hela media med färska NKEM baserade på cell nummer (se not 3).
Dag 14
I slutet av två veckor av expansionen räknar antalet celler i kulturen.
Ställ åt sidan 5x10 5 celler för fenotypning med flödescytometri (se not 2)
Om expansionen startades från PBMC av NK-celler kan renas i detta skede av expansion med RosetteSep reningen protokollet (se avsnitt IV). Om expansionen startades från renat NK-celler vidare till stimulering 3.
Efter rening avsätta 5x10 5 celler för fenotypning med flödescytometri för att verifiera renhet NK-celler (som i steg 8).
Fortsätt med Stimulering 3 med hjälp av alla i det renade NK-celler (se not 4).
STIMULERING 3
Resuspendera NK-celler med bestrålade K562 CL9 mIL21 (1:1 förhållande) i NKEM baserat på cell nummer (se not 3).
Dagar 17 och 19
Räkna antalet celler.
Ändra media med färska NKEM baserade på cell nummer (se not 3).
Dag 21
Vid slutet av tre veckor av expansionen räknar antalet celler i kulturen.
Återhämta 1x10 6 celler för flödescytometri analys för full NK cell fenotypning antikropp panel (se tabell 1).
Frys celler i FBS som innehåller 10% DMSO högst täthet av 5x10 7 celler per flaska för framtida bruk.
3. NK cell cytotoxicitet
Tina en flaska av NK-celler och utsäde i NKEM, en dag före performing cytotoxicitet för att tillåta återhämtning.
För varje NK cell cytotoxicitet med en enda rad målcellen, 6x10 5 NK-celler och 3x10 5 celler mål krävs (se not 5).
Förbered CAM-Media genom att späda kalcein-AM (lager 1 mg / ml i DMSO) i NKEM (se not 6).
Resuspendera 10 6 målceller i 1 ml CAM-media (se not 7).
Inkubera 1 timme vid 37 ° C, med tillfälliga skakningar.
Resuspendera NK-celler på 1x10 6 celler / ml och tillsätt 200uL av NK cellsuspension till envar av de tre brunnar i ett U-botten 96-brunnar motsvarande till 10: 1 E: T tal visas i figur 1. (Se not 8)
Lägg 100uL av kompletta media att alla återstående brunnar utom för "Maximum".
Tillsätt 100uL på 2% Triton X-100 till "Max".
Gör spädningar av NK-celler för de 5 kommande E: t-förhållanden genom att överföra 100uL av celler varje gång, blanda väl. Kasta 100uL från den sista brunnarna (E: T förhållandet 0.3125:1).
Efter 1 timme av kalcein lastning, tvätta målceller i NKEM två gånger, centrifugering i 5 min vid 1200 rpm. (Se not 9)
Re-räkna målceller och resuspendera på 1x10 5 celler / ml.
Tillsätt 100 mikroliter av målceller i varje brunn (1x10 4 / brunn). Centrifugera i 1 min på 100 g att inleda cell kontakt.
Inkubera vid 37 ° C och 5% CO 2 i 4 timmar.
Blanda den kultur försiktigt genom att pipettera med en 100 mikroliter pipetter, för att enhetligt avbryta släppt kalcein, spinn ner plattan vid 100g i 5 minuter till pellets cellerna och överför 100 mikroliter av supernatanten till en ny platta ta hand för att undvika bubblor. Pop eventuella bubblor som bildas med fin nål.
Läs plattan med hjälp av en fluorescerande plattläsaren (excitation filter 485 nm, emission filter 530 nm). Botten läsa rekommenderas.
Beräkna Procent Särskilda Lysis enligt formeln [(test release-spontan frigörelse) / (max släppa - spontan frigörelse)] x 100.
4. NK cell Rening genom RosetteSep
Ta 100-faldig över RBK som PBMC eller expanderade celler i ett 50 ml rör (100:1 RBC: PBMC).
Om du använder färska röda blodkroppar gå direkt till nästa steg, eller om de röda blodkropparna har lagrats i Alsever s lösning, räkna antalet röda blodkroppar och tvätta lämplig (100 gånger överskotts-) mängd av röda blodkroppar med PBS kompletteras med 2% FBS tre gånger, centrifugering vid 1200 rpm i 10 minuter varje gång.
Kombinera röda blodkropparna med PBMC från steg 1,7 eller utökade celler från steg 2,10 i PBS + 2% FBS till en slutlig volym på 1 ml per 5x10 7 av PBMC eller utökade celler.
Lägg 1μL av RosetteSep  mänskliga NK Cell Anrikning Cocktail per 1x10 6 av PBMC eller utökade celler.
Blanda väl och inkubera vid rumstemperatur i 20 minuter med varsam blandning var 5 minuter.
Tillsätt lika volym PBS + 2% FBS blanda försiktigt och lager ovanpå Ficoll-Paque.
Upprepa steg Ficoll-Paque centrifugering beskrivs för PBMC isolering (avsnitt I).
Räkna NK-celler återhämtat sig efter rening och avsatt 5x105 celler för phenotpying med flödescytometri för NK cell renhet (steg 8).
5. Anteckningar
NOT 1. NK-celler kan byggas ut direkt från PBMC, eller från RosetteSep  renat NK-celler. Vi har noterat liknande expansion effektivitet, men vissa givare kan ha mycket låga NK-cell nummer resulterar i svårigheter rena genom RosetteSep före expansion.
NOT 2. Vi använder rutinmässigt CD56-FITC, CD16-PE, och CD3-PE-Cy5 för fenotypning under expansion, räkna NK-celler som de som CD3-negativa och CD16-eller CD56-positiv.
NOT 3. Vid varje media ändra eller stimulans, för att resuspendera celler vid 2,5 x 10 5 / ml hålla PBMC / NK-celler vid eller under 2 miljoner per ml på topp skeden av expansion. Detta kommer att förhindra utarmning av näringsämnen och bidra till att uppnå maximal tillväxt och överlevnad.
NOT 4. NK expansionstakt är givare beroende och i slutet av stimuli 1 eller 2 delar av cellerna kan frysas och en del expanderade ytterligare beroende på den experimentella behov. Vi har haft god framgång i att använda den frusna celler för utbyggnader vid ett senare tillfälle.
NOT 5. För att ge utrymme för misstag vi rekommenderar att du använder ett minimum av 7x10 5 NK-celler resuspenderas i 700 ULS av NKEM och 4x10 5 kalcein-AM färgade celler mål suspenderade i 4 ml NKEM för inrättandet av cytotoxicitet. Om du använder flerkanalspipett för sådd målceller högre volymer av celler (upp till 6x10 5 i 6 ml) kan vara skyldig baserat på storleken av media bassäng som används. Även det rekommenderade NK-celler är specifikt för E: T nyckeltal visar i protokollet, för att använda högre E: t-förhållanden ökarNK cell nummer per ml därefter (t.ex. för ett 40:1 E: T tal använda 4x10 6 celler / ml)
NOT 6. Vi rekommenderar att utföra en preliminär kalcein-AM lastning titrering för målcellen raden av val, med hjälp av följande spädningar av 1:500, 1:400. 1:300, 1:200 och 1:100 för att uppnå optimal skillnaden mellan högsta och spontan frigörelse.
NOT 7. När man använder en anhängare cellinje som mål, först förbereda enda cell suspensionen med hjälp av icke-enzymatisk cell dissociation buffert. Om du utför ADCC, förbereda en dubblett tub målceller i CAM-media.
NOT 8 Om du utför ADCC, lägga samma NK-celler till 3 brunnar vilket motsvarar 10:01 E:. T för ADCC. Upprepa för ytterligare givare. Upprepa för ytterligare mål celler.
NOT 9. Om du utför en ADCC experiment, efter 45 minuter av kalcein lastning, lägga 10ug av antikropp som är specifik för att förmå ADCC mot målceller. Efter 15 minuter, tvätta målceller i fullständig medelstora två gånger, centrifugering i 5 min vid 1200 rpm. Resuspendera cellerna i 1x10 5 celler / ml och fortsätt med nästa steg i protokollet.
6. Representativa resultat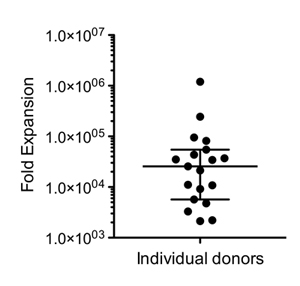 Figur 2. När utbyggnaden sker enligt den ordning som beskrivs ovan, med 5x106 PBMC som utgångsmaterial, typisk NK ger cellområde från 1x10 oktober 9 till 10 celler (donator beroende variabilitet). Figuren visar NK-celler gånger expansion (n = 19) jämfört med NK-celler som finns i den ursprungliga produkten (median + / - kvartilen).

Figur 3. Expanderade NK-celler uttrycker olika NK-cell receptorer som är jämförbara med de oexpanderade primära NK-celler med några få undantag (CD11b, CD160 och CD244).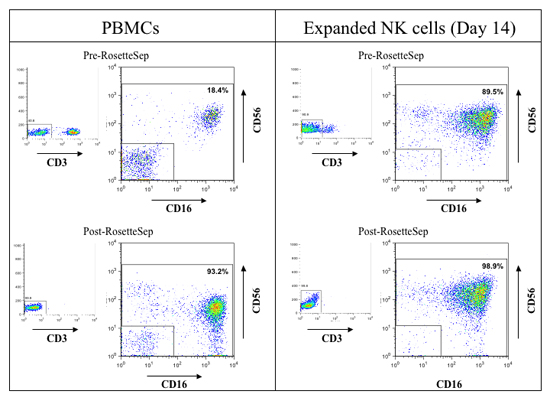 Figur 4. PBMC återhämtning från Buffy coat är givare beroende och kan variera från 300x10 6 till 800x10 6. NK-celler kan omfatta 2% - 18% av PBMC. För RosetteSep rening av utökade celler, återvinning av rena NK-celler på dag 14 varierar från 40-70%. Genom att följa den rekommenderade protokoll av expansion och rening, kan NK-celler renhetsgrad av 99% förväntas.

Figur 5. Expanderade NK-celler har visat cytotoxicitet mot ett antal tumörcellinjer inklusive neuroblastom, AML, osteosarkom och melanom (representant AML döda visas som procent specifika lys).
Disclosures
Inga intressekonflikter deklareras.
Acknowledgments
Författarna vill tacka Laurence Cooper, Harjeet Singh och Lenka Hurton för sitt arbete med att skapa den första K562 aAPC och mIL21 vektorer fusion.
Finansieringen av detta arbete lämnades av UT MD Anderson Läkare Forskare Program, St Baldrick Stiftelse, och Legends of Friendswood.
Materials
Name
Company
Catalog Number
Comments

NK Cell Expansion and Activation Media (NKEM)

90% RPMI 1640
Cellgro
10% Fetal Bovine Serum
Gibco
1x Penicillin / Streptomycin
Cellgro
1x L-Glutamine
Gibco
Filter Sterilize media before use.
50 U/ mL IL2
Proleukin, Novartis Vaccines and Diagnostics, Inc)
Diluted from a 200 IU/μl stock. Add IL2 to desired amount of media just before use each time.
Name
Company
Catalog Number
Comments

PBMC and NK Cell Isolation

Ficoll-Paque
GE Healthcare
Alsever's solution
Sigma)
RosetteSep Human NK Cell Enrichment Cocktail
Stemcell Technologies)
Name
Company
Catalog Number
Comments

NK Cell Cytotoxicity Assay

Calcein-AM
Invitrogen
Name
Company
Catalog Number
Comments

Antibodies

The list of antibodies used for NK cell phenotyping are listed in table below:

Tube 1: (total volume 100)

Antibody: Isotype FITC
BD Pharmingen
555748
Volume: 5
Antibody: Isotype FITC
BD Pharmingen
555749
Volume: 5
Antibody: Isotype FITC
BD Pharmingen
557224
Volume: 5
Antibody: Isotype FITC
BD Pharmingen
340442
Volume: 5
Antibody: FACS Buffer
BD Pharmingen
Volume: 80

Tube 2: (total volume 100)

Antibody: CD56 FITC
BD Pharmingen
340410
Volume: 5
Antibody: NKp30 PE
BD Pharmingen
558407
Volume: 5
Antibody: NKp44 PE
BD Pharmingen
558563
Volume: 5
Antibody: NKp46 PE
BD Pharmingen
557991
Volume: 5
Antibody: CD3 PE-Cy5
BD Pharmingen
555341
Volume: 5
Antibody: CD16 Alexa 647
BD Pharmingen
557710
Volume: 5
Antibody: FACS Buffer
BD Pharmingen
Volume: 70

Tube 3: (total volume 100)

Antibody: CD56 FITC
BD Pharmingen
340410
Volume: 5
Antibody: KIR2DL1 PE
R&D Systems
FAB1844P
Volume: 5
Antibody: KIR2DL2/3 PE
Miltenyi Biotec
130-092-618
Volume: 5
Antibody: KIR3DL1 PE
R&D Systems
FAB12251P
Volume: 5
Antibody: CD3 PE-Cy5
BD Pharmingen
555341
Volume: 5
Antibody: NKG2D APC
BD Pharmingen
558071
Volume: 5
Antibody: FACS Buffer
BD Pharmingen
Volume: 70

Tube 4: (total volume 100)

Antibody: CD56 FITC
BD Pharmingen
340410
Volume: 5
Antibody: CD11b PE
BD Pharmingen
555388
Volume: 5
Antibody: CD3 PE-Cy5
BD Pharmingen
555341
Volume: 5
Antibody: CD27 APC
BD Pharmingen
558664
Volume: 5
Antibody: FACS Buffer
BD Pharmingen
Volume: 80

Tube 5: (total volume 100)

Antibody: CD56 FITC
BD Pharmingen
340410
Volume: 5
Antibody: CD266 (DNAM-1) PE
BD Pharmingen
559789
Volume: 5
Antibody: CD3 PE-Cy5
BD Pharmingen
555341
Volume: 5
Antibody: CD160 Alexa647
eBiosciences
51-1609-42
Volume: 5
Antibody: FACS Buffer
BD Pharmingen
Volume: 80

Tube 6: (total volume 100)

Antibody: CD56 FITC
BD Pharmingen
340410
Volume: 5
Antibody: CD244 (2B4) PE
BD Pharmingen
550816
Volume: 5
Antibody: CD3 PE-Cy5
BD Pharmingen
555341
Volume: 5
Antibody: CD197 (CCR7) APC
eBiosciences
17-1979-42
Volume: 5
Antibody: FACS Buffer
BD Pharmingen
Volume: 80