Summary
Burada genişletmek ve verimli bir şekilde arındırmak çok sayıda insan NK hücre ve kendi fonksiyonunu değerlendirmek için bir metodu tanımlar.
Cite this Article
Copy Citation | Download Citations | Reprints and Permissions

Somanchi, S. S., Senyukov, V. V., Denman, C. J., Lee, D. A. Expansion, Purification, and Functional Assessment of Human Peripheral Blood NK Cells . J. Vis. Exp. (48), e2540, doi:10.3791/2540 (2011).
Abstract
Doğal öldürücü (NK) hücreleri, bağışıklık gözetim çeşitli bulaşıcı mikroorganizmaların ve tümörleri karşı önemli bir rol oynamaktadır. NK hücreleri ve in vitro genişletmek için yeteneği sınırlı kullanılabilirlik NK hücre immünoterapi gelişimi kısıtladı. Burada fonksiyonel NK hücrelerinin ex vivo olarak, membrana bağlı IL21 ifade K562 hücreleri kullanarak yapay bir antijen sunan hücre (aAPC) büyük miktarlarda verimli bir şekilde genişletmek için bir yöntem açıklanmaktadır.
NK hücre bugüne kadar evlatlık tedaviler, T hücreleri veya NK hücreleri pozitif seçimi tükenmesi takip donör kararlı durum leukapheresis hücre elde edilen bir ürün kullanmış olurlar. Genellikle ürün gecede IL-2 aktive ve sonra ertesi gün 1 yönetilmektedir. Çünkü NK hücreleri periferik kan düşük frekanslı, NK hücreleri nispeten az sayıda klinik çalışmalarda teslim edilmiştir.
NK hücreleri in vitro yaymak için yetersizlik, en iyi klinik sonuç için yeterli hücre sayıları üretmek için sınırlayıcı bir faktör olmuştur . NK hücreleri bazı genişleme (1-2 hafta içinde 5-10 kat), yüksek doz IL-2 sadece 2 ile sağlanabilir . Otolog T hücrelerinin aktivasyonu da muhtemelen yerel sitokin 3 sürümü ile, NK hücre genişleme arabuluculuk yapabilirsiniz. Mezenkimal stroma veya yapay antijen sunan hücreler (aAPCs) desteği, hem de periferik kan ve kordon kanı 4 NK hücrelerinin büyümesini desteklemek . Kombine NKp46 ve antikor kaplı boncuklar CD2 aktivasyon henüz 21 gün içerisinde yaklaşık 100 kat genişleme, NK hücre genişleme (Miltenyi Biotec, Auburn CA) için pazarlanmaktadır.
NK hücreleri aAPC genişletilebilir veya-aktive kullanarak klinik denemeleri devam etmekte, önemli bir genişleme olmadan lösemik hücre hattı CTV-1 - Başbakan ve aktive NK hücreleri 5 kullanarak bir. 21 gün 6 ortalama 490 kat genişleme sağlanması, NK hücre genişlemesi için ikinci bir deneme EBV-LCL kullanır. Üçüncü bir K562 tabanlı aAPC 21 gün içerisinde 277 kat ortalama NK genişleme elde 4-1BBL (CD137L) ve membrana bağlı IL-15 (MIL-15) 7, transduced kullanır. NK hücreleri, K562-41BBL-mIL15 kullanarak genişletilmiş olmasına rağmen, aAPC in vitro ve in vivo yorumlanmamış NK hücrelerine kıyasla son derece sitotoksik, ve ADCC katılmak, onların çoğalması yaşlanması telomer kısalması 8 atfedilen ile sınırlıdır. Daha yakın bir zamanda 350 kat genişleme NK hücreleri K562 ifade MİKA, 4-1BBL ve IL15 9 kullanarak bildirildi.
NK hücre genişleme yöntemi, burada 21 günde bir ortalama 21.000 kat genişleme sağlanması yaşlanması olmadan, NK hücreleri hızla çoğalması üreten nitelendirdi.
Protocol
1. Buffy Coat PBMC'ler izolasyonu
Periferik kan mononükleer hücreleri (hücre) leukapheresis tarafından elde edilen sağlıklı donör buffy coat örnekleri Ficoll-Paque batmaz yoğunluğu santrifüj ile elde edilir.
Ficoll Paque santrifüj başına çok küçük değişiklikler yaparak üreticinin protokolü olarak yapılır.
Son hacim 140 mL (tipik buffy coat hacmi 40-70 ml) bir kan bankası buffy coat normal bir donör PBS ekle.
Katman buffy coat örnek 35 ml Ficoll-Paque (4 tüpler) 15 ml.
Frensiz 20 dakika 400g santrifüjleyin.
Ficoll-Paque PBMC'ler Kurtar: plazma arayüzü, Ficoll-Paque altındaki eritrositlerde atmayın.
PBMC'ler 400g her zaman 10 dakika boyunca santrifüj, PBS ile üç kez yıkayın.
PBMC'ler RosetteSep tarafından izole edilebilir (Bölüm 4) bu aşamada NK hücre genişlemesi veya NK hücreleri için doğrudan kullanılmamalıdır.
Kalan PBMC'ler sıvı nitrojen içinde% 10 DMSO içeren FBS donmuş olabilir.
Ficoll aspire ve iki adet 50 ml santrifüj tüpüne adım 5 kırmızı kan hücreleri toplamak, (50 ml işareti eklendi) PBS ile üç defa yıkamak, her defasında RBC tabakasının üst granülositler kaldırmak için supernatant kaymağını aspirat.
Eritrositlerde hemen NK hücreleri RosetteSep  arıtma (bakınız Bölüm 4) için kullanılan ya da 4 Alsever çözümü eşit hacmi saklanabilir ° C (eritrositler daha sonra kullanmak üzere en fazla 4 hafta bir mağaza olabilir).
2. NK hücre genişletme
NK hücre genişleme PBMC'ler kullanarak veya NK hücreleri saflaştırılmış başlatılabilir. Genişlemesi için kullanılan PBMC'ler miktarı, üç hafta genişleme sonunda istenen NK hücreleri miktarına göre değişik olabilir, ayrıntılı bilgi için temsilcisi sonuç bölümüne bakın. (Bkz. Not 1)
UYARIM 1
Gün 0
Genişletilecek her 5x10 6 PBMC'ler için, sayım ve 100 Gy gama ışınlama kullanılarak 10x10 6 K562 CL9 mIL21 ışın tedavisi.
Mesaj ışınlama hücreleri, NK hücre genişlemesi medya (NKEM) PBS ve tekrar süspansiyon ile yıkayın.
10x10 6 ışınlanmış K562 CL9 T75 balonuna 40 ml NKEM mIL21 (1:2 oranı) ve 37 ° dik bir kuluçka yerleştirin ° C ve% 5 CO 2 ile Tohum 5x10 6 PBMC'ler
Gün 3 ve 5
400g az 5 dakika boyunca santrifüj hücreleri kurtarır ve taze NKEM medya yarısını yerine (tüm medya hacmi için taze IL2 ekleyerek) ve kültür devam ediyor.
UYARIM 2
7. Gün
Bir hafta sonunda kültür hücrelerinin sayısını sayın.
Flow sitometri fenotipleme için 5x10 5 hücre (Not 2) bir kenara
Restimulated her 5x10 6 hücre için, sayım ve 100 Gy gama ışınlama kullanarak 5x10 6 K562 CL9 mIL21 ışın tedavisi.
(Bkz. Not 3), 2.5x10 5 toplam hücre / ml NKEM ışınlanmış K562 CL9 mIL21 (1:1 oranı) ve tekrar süspansiyon eşit sayıda ekleyin .
T75 şişeler tohum hücreleri (şişeyi başına maksimum 50 ml).
10 ve 12 Gün
Hücre sayısını.
(Not 3), hücre sayıları dayalı taze NKEM ile tüm medya değiştirin.
14. Gün
Genişleme iki hafta sonunda kültür hücrelerin sayısını.
Flow sitometri fenotipleme için 5x10 5 hücre (Not 2) bir kenara
NK hücreleri, genişleme PBMC'ler başladı genişleme RosetteSep arıtma protokolü (bakınız Bölüm IV) kullanarak bu aşamada arındırılmalıdır. Stimülasyon 3 geçin NK hücreleri saflaştırılmış genişleme başladı.
NK hücreleri (Adım 8) saflığını doğrulamak için flow sitometri fenotipleme için arıtma kenara 5x10 5 hücre ayarladıktan sonra.
Uyarım 3 arıtılmış NK hücreleri (Not 4) ile devam edin.
UYARIM 3
NK hücreleri, hücre sayıları dayalı NKEM ışınlanmış K562 CL9 mIL21 (1:1 oranı) (Not 3) ile yeniden süspanse.
17 ve 19 Gün
Hücre sayısını.
(Not 3) hücre sayıları dayalı taze NKEM ortam değiştirin.
21. gün
Genişleme üç hafta sonunda kültür hücrelerin sayısını.
Recover tam NK hücre fenotipleme antikor panel için flow sitometri analizi için 1x10 6 hücre (Bakınız Tablo 1).
Ileride kullanmak üzere flakon başına 5x10 7 hücre maksimum yoğunluğu% 10 DMSO içeren FBS hücrelerin dondurun.
3. NK Hücre Sitotoksisite Testi
NKEM NK hücreleri ve tohum bir flakon, pe önce bir gün Çözülmekurtarma izin sitotoksisite testinde rforming.
(Not 5) tek bir hedef hücre hattı, 6x10 5. NK hücreleri ve 3x10 5 hedef hücreleri kullanarak her NK hücre sitotoksisite testi için gereklidir.
NKEM Calcein-AM (1 DMSO mg / ml stok) (Not 6) seyreltilmesi CAM-Media hazırlayın.
(Bakınız Not 7) CAM-medya 1 ml 10 6 hedef hücreleri tekrar
Arada sırada sallayarak, 37 ° C'de 1 saat inkübe edin.
Yeniden süspanse NK, 1x10 6 hücre / mL hücre ve NK hücre süspansiyonu her bir U-bottom 3 kuyu 200uL eklemek 96-plaka ilgili to10: 1 D: Şekil 1'de gösterildiği gibi T oranı . (Not 8)
"Maksimum" dışında kalan tüm kuyular tam bir medya 100uL ekleyin.
"Maksimum" 100uL 2% Triton X-100 ekleyin.
5 sonraki E NK hücreleri seri dilüsyonları yapın: her seferinde hücre 100uL aktararak T oranları, iyice karıştırın. Son kuyuları (0.3125:1, T oranı E) 100uL atın.
Calcein yükleme 1 saat sonra, 1200 rpm'de 5 dakika için santrifüj, iki kez NKEM hedef hücreleri yıkayın. (Not 9)
1x10 5 hücre / mL hedef hücreleri ve tekrar süspansiyon yeniden saymak.
(1x10 4 / iyi) her bir kuyu için hedef hücrelerin 100 mcL ekleyin. Hücre temas başlatmak için 100g az 1 dakika boyunca santrifüjleyin.
37 ° ° C'de ve% 5 CO 2 4 saat.
Kültür düzgün yayımlanan Calcein askıya için 100 mcL pipetter pipetleme hafifçe karıştırın, pelet hücreleri 5 dakika 100g plaka aşağı spin ve kabarcıkları önlemek için özen yeni bir plaka süpernatantı 100 mcL transfer. Ince bir iğne kullanarak formu herhangi bir kabarcıklar pop.
Floresan plaka okuyucu (eksitasyon filtresi 485 nm, emisyon filtresi 530 nm) kullanarak plaka okuyun. Alt okumanız önerilir.
X 100 - [/ (test sürüm spontan sürümü) (kendiliğinden serbest maksimum sürüm)] formülü göre hesaplayın Yüzde Özel Lizis.
4. RosetteSep tarafından NK Hücre Arıtma
(RBC: PBMC 100:1) 50 ml tüp içine PBMC veya genişletilmiş hücreleri ile eritrositlerde 100 kat daha fazla alın.
Kullanarak taze eritrosit doğrudan bir sonraki adıma devam edin veya 1200 rpm santrifüj, eritrositlerde Alsever s çözümü saklanır olsaydı sayıda eritrosit sayımı ve PBS ile üç kez% 2 FBS ile takviye eritrosit miktarı (100 kat daha fazla) uygun yıkama 10 dakika her zaman için.
Adım 1.7 veya PBS içinde adım 2.10 genişletilmiş hücreleri PBMC'ler ile eritrositlerde birleştirin +% 2 FBS nihai hacmi PBMC'ler veya genişletilmiş hücreleri 5x10 7 kişi başına 1 ml .
RosetteSep, 1μL PBMC'ler veya genişletilmiş hücreleri 1x10 6 kişi başına  İnsan NK Hücre Zenginleştirme Kokteyl ekleyin .
İyice karıştırın ve her 5 dakikada bir karıştırarak yumuşak 20 dakika oda sıcaklığında inkübe edin.
PBS +% 2 FBS karışımı hafifçe eşit hacim ve Ficoll-Paque üst katman ekleyin.
(Bölüm I) hücre izolasyonu için açıklanan Ficoll Paque santrifüj adımları tekrarlayın.
Arıtma sonra kurtarıldı NK hücreleri saymak 5x105 hücreleri ve NK hücre saflık (Adım 8) flow sitometri ile phenotpying için bir kenara koyun.
5. Notlar
NOT 1 PBMC'ler gelen NK hücreleri doğrudan genişletilmiş veya RosetteSep  saflaştırılmış NK hücreleri olabilir. Biz benzer bir genişleme verimliliği kaydetti var, ama bazı bağışçılar genişleme önce RosetteSep zorluk arındırıcı çok düşük NK hücre sayıları olabilir.
NOT 2: Biz rutin olarak, NK hücreleri, CD3-negatif ve CD16 veya CD56-pozitif olduğu gibi numaralandırma, genişleme sırasında fenotipleme CD56-FITC, CD16-PE, ve CD3-PE- Cy5 kullanabilirsiniz.
NOT 3, her ortam değişikliği veya stimülasyon az 2.5 x 10 5 / ml pik genişleme aşamalarında tekrar süspansiyon hücreleri, NK / mL başına ya da 2 milyonun altında PBMC hücre sayıları tutmak için . Bu besinlerin tükenmesi önlemek ve maksimum genişleme ve hayatta kalma elde etmenize yardımcı olacaktır.
NOT 4 NK genişleme oranı uyarılara 1 ya da 2 yarı donmuş hücreleri sonunda donör bağımlı ve yarı deneysel ihtiyaç bağlı olarak daha da genişletilmiştir. Biz daha sonra açılımları için donmuş hücreleri kullanarak iyi bir başarı elde ettiler.
NOT 5 700 uls NKEM ve sitotoksisite testinde kurmak için NKEM 4 mL yeniden süspanse 4x10 5 Calcein-AM lekeli hedef hücreleri yeniden süspanse 7x10 5 NK hücreleri en az kullanmanızı öneririz hata oda izin için. Eğer hedef hücreler hücreleri yüksek hacimli (6x10 5 ila 6 ml) kullanılan medya havzasının büyüklüğüne göre gerekli olabilir tohumlama için çok kanallı pipet kullanarak. Ayrıca tavsiye edilen NK hücre sayıları, özellikle E: T oranları yüksek E kullanmak için, protokol gösterir: T oranları artırmakbuna göre ml başına NK hücre sayıları (40:1 D için örneğin: T oranı kullanım 4x10 6 hücre / ml)
6 NOT: 1:500, 1:400, aşağıdaki dilüsyonları kullanarak tercih hedef hücre hattı için bir ön Calcein-AM yükleme titrasyon yapmak öneririz. 1:300, 1:200 ve 1:100, maksimum ve spontan sürüm arasındaki optimum bir fark elde etmek.
NOT 7, ilk hedef olarak yapışık bir hücre hattı kullanarak enzimatik olmayan hücre disosiasyon tampon kullanarak tek bir hücre süspansiyonu hazırlamak. CAM-medya ADCC performans varsa, hedef hücreleri yinelenen bir tüp hazırlayın.
NOT 8 ADCC performans varsa, aynı NK hücreleri 10:01 e karşılık gelen 3 kuyu ekleyin: T ADCC . Ek donörler için tekrarlayın. Ek hedef hücreler için tekrarlayın.
NOT 9 ADCC bir deneyi gerçekleştirmek, Calcein yükleme 45 dakika sonra, hedef hücreleri karşı ADCC inducing için spesifik antikor 10ug ekleyin. 15 dakika daha sonra, 1200 rpm'de 5 dakika için santrifüj iki kez tam bir ortamda hedef hücreleri yıkayın. 1x10 5 hücre / mL yeniden süspanse hücre ve protokolde bir sonraki adıma devam edin .
6. TEMSİLCİSİ SONUÇLAR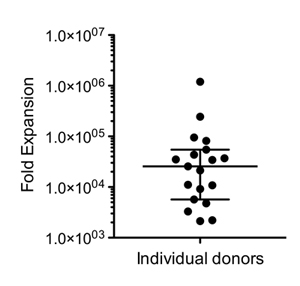 Şekil 2 genişleme düzeni başına yapıldığında, başlangıç ​​materyali, 1x10 9 10 10 hücreleri (donör bağlı değişkenlik) tipik NK hücre verimleri aralığı 5x106 PBMC'ler kullanarak, yukarıda anlatılan. Şekil NK hücre kat genişleme gösterir (n = 19), orijinal ürün bulunan NK hücreleri ile karşılaştırıldığında (medyan + / - dörtte).

Şekil 3 genişletilmiş NK hücreleri, birkaç istisna dışında (CD11b, CD160 ve CD244) ile yorumlanmamış birincil NK hücreleri ile karşılaştırılabilir çeşitli NK hücre reseptörleri ifade .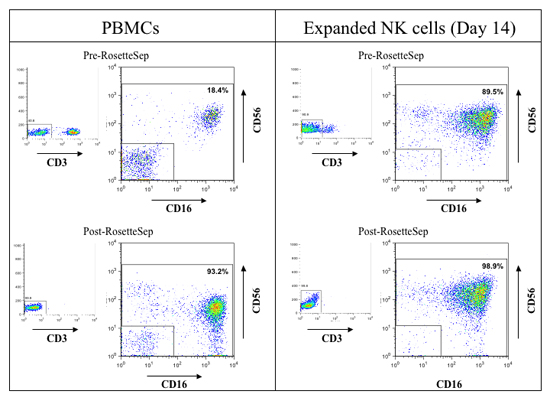 Şekil 4 PBMC'ler kurtarma Buffy coat bağımlı donör ve 300x10 6 800x10 6 uzanabilir. PBMC% 18 -% 2 NK hücreleri oluşur. Genişletilmiş hücrelerinin RosetteSep arıtma için,% 40-70 gün saf NK hücreleri 14 aralıkları kurtarma. Genişleme ve saflaştırma önerilen protokol takip ederek,% 99 NK hücre saflığı beklenebilir.

Şekil 5. Genişletilmiş NK hücreleri tümör hücre hatlarının nöroblastom, AML, osteosarkom ve melanom (temsilcisi AML öldürme yüzde lizis olarak gösterilen) de dahil olmak üzere bir dizi karşı sitotoksisite göstermiştir.
Disclosures
Çıkar çatışması ilan etti.
Acknowledgments
Yazarlar ilk K562 aAPC ve mIL21 füzyon vektörler oluşturmak Laurence Cooper, Harjeet Singh ve Lenka Hurton çalışmaları için teşekkür etmek istiyorum.
UT MD Anderson Doktor Bilim Adamı Programı, St. Baldrick Vakfı ve Friendswood Legends tarafından bu iş için finansman sağlanmıştır.
Materials
Name
Company
Catalog Number
Comments

NK Cell Expansion and Activation Media (NKEM)

90% RPMI 1640
Cellgro
10% Fetal Bovine Serum
Gibco
1x Penicillin / Streptomycin
Cellgro
1x L-Glutamine
Gibco
Filter Sterilize media before use.
50 U/ mL IL2
Proleukin, Novartis Vaccines and Diagnostics, Inc)
Diluted from a 200 IU/μl stock. Add IL2 to desired amount of media just before use each time.
Name
Company
Catalog Number
Comments

PBMC and NK Cell Isolation

Ficoll-Paque
GE Healthcare
Alsever's solution
Sigma)
RosetteSep Human NK Cell Enrichment Cocktail
Stemcell Technologies)
Name
Company
Catalog Number
Comments

NK Cell Cytotoxicity Assay

Calcein-AM
Invitrogen
Name
Company
Catalog Number
Comments

Antibodies

The list of antibodies used for NK cell phenotyping are listed in table below:

Tube 1: (total volume 100)

Antibody: Isotype FITC
BD Pharmingen
555748
Volume: 5
Antibody: Isotype FITC
BD Pharmingen
555749
Volume: 5
Antibody: Isotype FITC
BD Pharmingen
557224
Volume: 5
Antibody: Isotype FITC
BD Pharmingen
340442
Volume: 5
Antibody: FACS Buffer
BD Pharmingen
Volume: 80

Tube 2: (total volume 100)

Antibody: CD56 FITC
BD Pharmingen
340410
Volume: 5
Antibody: NKp30 PE
BD Pharmingen
558407
Volume: 5
Antibody: NKp44 PE
BD Pharmingen
558563
Volume: 5
Antibody: NKp46 PE
BD Pharmingen
557991
Volume: 5
Antibody: CD3 PE-Cy5
BD Pharmingen
555341
Volume: 5
Antibody: CD16 Alexa 647
BD Pharmingen
557710
Volume: 5
Antibody: FACS Buffer
BD Pharmingen
Volume: 70

Tube 3: (total volume 100)

Antibody: CD56 FITC
BD Pharmingen
340410
Volume: 5
Antibody: KIR2DL1 PE
R&D Systems
FAB1844P
Volume: 5
Antibody: KIR2DL2/3 PE
Miltenyi Biotec
130-092-618
Volume: 5
Antibody: KIR3DL1 PE
R&D Systems
FAB12251P
Volume: 5
Antibody: CD3 PE-Cy5
BD Pharmingen
555341
Volume: 5
Antibody: NKG2D APC
BD Pharmingen
558071
Volume: 5
Antibody: FACS Buffer
BD Pharmingen
Volume: 70

Tube 4: (total volume 100)

Antibody: CD56 FITC
BD Pharmingen
340410
Volume: 5
Antibody: CD11b PE
BD Pharmingen
555388
Volume: 5
Antibody: CD3 PE-Cy5
BD Pharmingen
555341
Volume: 5
Antibody: CD27 APC
BD Pharmingen
558664
Volume: 5
Antibody: FACS Buffer
BD Pharmingen
Volume: 80

Tube 5: (total volume 100)

Antibody: CD56 FITC
BD Pharmingen
340410
Volume: 5
Antibody: CD266 (DNAM-1) PE
BD Pharmingen
559789
Volume: 5
Antibody: CD3 PE-Cy5
BD Pharmingen
555341
Volume: 5
Antibody: CD160 Alexa647
eBiosciences
51-1609-42
Volume: 5
Antibody: FACS Buffer
BD Pharmingen
Volume: 80

Tube 6: (total volume 100)

Antibody: CD56 FITC
BD Pharmingen
340410
Volume: 5
Antibody: CD244 (2B4) PE
BD Pharmingen
550816
Volume: 5
Antibody: CD3 PE-Cy5
BD Pharmingen
555341
Volume: 5
Antibody: CD197 (CCR7) APC
eBiosciences
17-1979-42
Volume: 5
Antibody: FACS Buffer
BD Pharmingen
Volume: 80