Summary
Hier beschrijven we een methode om efficiënt uit te breiden en te zuiveren van grote aantallen menselijke NK-cellen en beoordelen hun functie.
Cite this Article
Copy Citation | Download Citations

Somanchi, S. S., Senyukov, V. V., Denman, C. J., Lee, D. A. Expansion, Purification, and Functional Assessment of Human Peripheral Blood NK Cells . J. Vis. Exp. (48), e2540, doi:10.3791/2540 (2011).
Abstract
Natural killer (NK) cellen spelen een belangrijke rol in het immuunsysteem van het toezicht tegen een verscheidenheid van infectueuze micro-organismen en tumoren. Beperkte beschikbaarheid van NK-cellen en de mogelijkheid om uit te breiden in vitro heeft beperkt de ontwikkeling van NK cel-immunotherapie. Hier beschrijven we een methode om efficiënt uit te breiden enorme hoeveelheden van functionele NK-cellen ex vivo met behulp van K562 cellen die membraan-gebonden IL21, als een kunstmatige antigen-presenterende cel (aAPC).
NK-cel adoptie therapieën tot op heden gebruik gemaakt van een cel product verkregen door het steady-state leukaferese van de donor, gevolgd door uitputting van de T-cellen of positieve selectie van NK-cellen. Het product wordt gewoonlijk geactiveerd in IL-2 's nachts en moet vervolgens de volgende dag een. Vanwege de lage frequentie van NK-cellen in het perifere bloed, hebben een relatief kleine aantallen van NK-cellen zijn afgeleverd in klinische studies.
Het onvermogen om NK-cellen verspreiden in vitro is de beperkende factor voor het genereren van voldoende aantal cellen voor een optimale klinische uitkomst. Enige uitbreiding van NK-cellen (5-10 vouw over 1-2 weken) heeft bereikt worden door een hoge dosis IL-2 alleen 2. Activatie van autologe T-cellen kan NK celexpansie vermoedelijk bemiddelen, ook door middel van afgifte van de lokale cytokine 3. Ondersteuning bij mesenchymale stroma of kunstmatige antigeen presenterende cellen (aAPCs) ondersteunt de uitbreiding van de NK-cellen van zowel perifeer bloed en navelstrengbloed 4. Gecombineerd NKp46 en CD2 activering door antilichaam-gecoate kralen is momenteel op de markt voor NK-cel expansie (Miltenyi Biotec, Auburn CA), wat resulteert in ongeveer 100-voudig expansie in 21 dagen.
Klinische studies met behulp van aAPC-uitgebreid of-geactiveerde NK-cellen zijn aan de gang, de ene met leukemische cellijn CTV-1 om te primeren en NK-cellen te activeren 5 zonder aanzienlijke uitbreiding. Een tweede studie maakt gebruik van EBV-LCL voor NK-cel expansie, het bereiken van een gemiddelde 490-voudige groei in 21 dagen 6. De derde maakt gebruik van een K562-based aAPC getransduceerd met 4-1BBL (CD137L) en de membraan-gebonden IL-15 (MIL-15) 7, die een gemiddelde NK uitbreiding gerealiseerd 277-voudige in 21 dagen. Hoewel de NK-cellen met behulp van uitgebreide K562-41BBL-mIL15 aAPC zijn zeer cytotoxisch in vitro en in vivo in vergelijking met niet geëxpandeerd NK-cellen, en deelnemen aan ADCC, is hun verspreiding beperkt door veroudering toegeschreven aan telomeerverkorting 8. Meer recent een 350-voudige expansie van NK-cellen werd gemeld met behulp van K562 uiten MICA, 4-1BBL en IL15 9.
Onze methode van NK-cel expansie die hierin worden beschreven produceert een snelle toename van het aantal NK-cellen zonder senescence het bereiken van een mediane 21.000-voudige groei in 21 dagen.
Protocol
1. Isolatie van PBMC's van Buffy Coat
Perifere bloed mononucleaire cellen (PBMC) worden verkregen door de dynamische dichtheid centrifugeren op Ficoll-Paque van gezonde donor buffy coat monsters verkregen door leukaferese.
De Ficoll-Paque centrifugatie wordt gedaan als protocol per fabrikant met kleine aanpassingen.
Voeg PBS om een ​​normale-donor bloed-bank buffy coat tot een uiteindelijk volume van 140 ml (typisch buffycoat volume is 40 tot 70 ml).
Laag 35 mL van buffy coat monster op 15 ml Ficoll-Paque (4 buizen).
Centrifugeer bij 400g gedurende 20 minuten zonder rem.
Herstel de PBMC's van de Ficoll-Paque: plasma-interface, niet ontdoen van de rode bloedcellen aan de onderkant van de Ficoll-Paque.
Was de PBMC drie keer met PBS, centrifugeren telkens bij 400g gedurende 10 minuten.
PBMC's kunnen direct worden gebruikt voor het NK-cel expansie in dit stadium of NK-cellen kunnen worden geïsoleerd door RosetteSep (hoofdstuk 4)
Resterende PBMC's kunnen worden ingevroren in FBS met 10% DMSO in vloeibare stikstof.
Aspireren de Ficoll en het verzamelen van de RBC's van stap 5 in twee centrifugebuis van 50 ml, drie keer wassen met PBS (toegevoegd aan 50 ml markering), elke keer aspireer het supernatans het afromen van de bovenkant van de RBC laag op granulocyten te verwijderen.
De RBC kan direct worden gebruikt voor RosetteSep  zuivering van NK-cellen (zie hoofdstuk 4) of worden opgeslagen in gelijke volume van de oplossing Alsever's bij 4 ° C voor later gebruik (De RBC's kan opslaan voor maximaal 4 weken).
2. NK celexpansie
De NK-cel expansie kan worden gestart met behulp van PBMC of gezuiverd NK-cellen. De hoeveelheid van PBMC's worden gebruikt voor uitbreiding kan worden gevarieerd op basis van het aantal NK-cellen gewenst aan het eind van een drie weken expansie, wordt verwezen naar representatieve resultaten sectie voor details. (Zie noot 1)
STIMULATIE een
Dag 0
Voor elke 5x10 6 PBMC's worden uitgebreid, tellen en bestralen 10x10 6 K562 CL9 mIL21 met behulp van een gamma bestraler op 100 Gy.
Na de bestraling, was de cellen met PBS en resuspendeer in NK-cel expansie media (NKEM).
Zaad 5x10 6 PBMC's met 10x10 6 bestraald K562 CL9 mIL21 (1:2 ratio) in 40 ml NKEM in een T75 fles en rechtop plaats deze in een incubator bij 37 ° C en 5% CO 2.
Dagen 3 en 5
Recover cellen door centrifugeren bij 400g gedurende 5 minuten en vervang de helft van de media met verse NKEM (het toevoegen van verse IL2 voor de gehele media volume) en verder cultuur.
STIMULATIE 2
Dag 7
Tel het aantal cellen in de cultuur aan het eind van een week.
Gereserveerd 5x10 5 cellen voor de fenotypering van flowcytometrie (zie noot 2)
Voor elke 5x10 6 cellen te gerestimuleerd, tellen en bestralen 5x10 6 K562 CL9 mIL21 met behulp van een gamma bestraler op 100 Gy.
Voeg een gelijk aantal van bestraalde K562 CL9 mIL21 (1:1 ratio) en resuspendeer in NKEM op 2.5x10 5 totaal cellen / ml (zie noot 3).
Zaad cellen in T75 kolven (maximaal 50 ml per fles).
Dagen 10 en 12
Tellen van het aantal cellen.
Verandering hele media met verse NKEM op basis van het aantal cellen (zie opmerking 3).
Dag 14
Aan het einde van twee weken van de uitbreiding telt het aantal cellen in cultuur.
Gereserveerd 5x10 5 cellen voor de fenotypering van flowcytometrie (zie noot 2)
Als uitbreiding werd gestart vanuit PBMCs de NK-cellen kunnen worden gezuiverd in deze fase van de uitbreiding met behulp van de RosetteSep zuivering protocol (zie hoofdstuk IV). Als uitbreiding werd gestart vanuit gezuiverde NK-cellen gaan naar stimulatie 3.
Na zuivering gereserveerd 5x10 5 cellen voor de fenotypering van flowcytometrie om de zuiverheid van de NK-cellen (zoals in stap 8) te verifiëren.
Ga verder met stimulatie met behulp van alle drie van het gezuiverde NK-cellen (zie noot 4).
STIMULATIE 3
Resuspendeer NK-cellen met bestraalde K562 CL9 mIL21 (1:1-verhouding) in NKEM op basis van het aantal cellen (zie opmerking 3).
Dagen 17 en 19
Tel het aantal cellen.
Verandering media met verse NKEM op basis van het aantal cellen (zie opmerking 3).
Dag 21
Aan het einde van drie weken van expansie tel het aantal cellen in cultuur.
Recover 1x10 6 cellen voor flowcytometrie-analyse voor de volledige NK-cel fenotypering antilichaam panel (zie tabel 1).
Freeze cellen in FBS met 10% DMSO op een maximale dichtheid van 5x10 7 cellen per flacon voor toekomstig gebruik.
3. NK cel cytotoxiciteitstest
Dooi een flacon van NK-cellen en zaad in NKEM, een dag voorafgaand aan de performing cytotoxiciteitstest naar herstel mogelijk te maken.
Voor elke NK-cel cytotoxiciteit assay met behulp van een enkel doel cellijn, 6x10 5 NK-cellen en 3x10 5 doelcellen zijn vereist (zie opmerking 5).
Bereid CAM-Media door verdunnen Calceïne-AM (voorraad 1 mg / ml in DMSO) in NKEM (zie opmerking 6).
Resuspendeer 10 6 doelcellen in 1 ml van de CAM-media (zie noot 7).
Incubeer gedurende 1 uur bij 37 ° C, met af en toe schudden.
Resuspendeer NK-cellen bij 1x10 6 cellen / ml en voeg 200uL van NK celsuspensie aan elk van de drie putten van een U-bodem 96-well plaat overeenkomstige tot10: 1 E: T-verhouding weergegeven in figuur 1. (Zie noot 8)
Voeg 100uL van complete media om alle overige wells met uitzondering van "Maximum".
Voeg 100uL van 2% Triton X-100 op "Maximum".
Voer seriële verdunningen van de NK-cellen voor de vijf daaropvolgende E: T ratio door de overdracht van 100uL van cellen elke keer, goed mengen. Gooi 100uL van de laatste putten (E: T ratio van 0.3125:1).
Na 1 uur calceïne laden, target cellen twee keer wassen in NKEM, centrifugeren gedurende 5 min bij 1200 rpm. (Zie noot 9)
Re-count van de doelcellen en resuspendeer op 1x10 5 cellen / ml.
Voeg 100 ul van doelcellen aan elk putje (1x10 4 / putje). Centrifugeer gedurende 1 min bij 100 gram naar cel contact op te starten.
Incubeer bij 37 ° C en 5% CO 2 voor 4 uur.
Meng de cultuur door pipetteren met een 100 ul pipetter om uniform te schorten, de vrijgekomen calceïne, spin down plaat bij 100 g gedurende 5 minuten om pellet van de cellen en de overdracht 100 pi van het supernatans om een ​​nieuwe plaat zorg om luchtbellen te vermijden. Pop eventuele luchtbellen die zich kunnen vormen met behulp van fijne naald.
Lees de plaat met behulp van een fluorescerende plaat lezer (excitatiefilter 485 nm, emissie filter 530 nm). Bottom te lezen is aan te bevelen.
Bereken Procent Specifieke Lysis volgens de formule [(test release-spontane release) / (maximaal release - spontane release)] x 100.
4. NK Cell Zuivering door RosetteSep
Neem de 100-voudige overmaat van RBC's met die van PBMC's of uitgebreid cellen, in een 50 ml tube (100:1 RBC: PBMC).
Bij gebruik van verse RBC direct doorgaan naar de volgende stap, of als de RBC waren opgeslagen in oplossing Alsever s, tel het aantal rode bloedcellen en was van toepassing (100 voudige overmaat) hoeveelheid rode bloedcellen met PBS aangevuld met 2% FBS drie keer, centrifugeren bij 1200 rpm gedurende 10 minuten per keer.
Combineer RBC met PBMC's uit stap 1.7 of uitgebreid cellen van stap 2.10 in PBS + 2% FBS tot een uiteindelijk volume van 1 ml per 5x10 7 van PBMC of uitgebreid cellen.
Voeg 1μL van RosetteSep  Human NK Cell Verrijking Cocktail per 1x10 6 van PBMC of uitgebreid cellen.
Meng goed en incubeer bij kamertemperatuur gedurende 20 minuten met lichte mengen om de 5 minuten.
Voeg gelijk volume van PBS + 2% FBS meng voorzichtig en laag op de top van Ficoll-Paque.
Herhaal de stappen van Ficoll-Paque centrifugeren beschreven voor PBMC isolatie (afdeling I).
Tel de NK-cellen herstelde na zuivering en gereserveerd 5x105 cellen voor phenotpying door flow cytometrie voor de NK-cel zuiverheid (Stap 8).
5. Opmerkingen
OPMERKING 1. NK-cellen kunnen rechtstreeks worden uitgebreid van PBMC's, of van RosetteSep  gezuiverde NK-cellen. Wij hebben nota genomen soortgelijke uitbreiding efficiency, maar sommige donoren hebben een zeer lage NK-cel aantallen resulteert in moeilijkheden te zuiveren door RosetteSep voorafgaand aan de expansie.
OPMERKING 2. We routinematig gebruik van CD56-FITC, CD16-PE, en CD3-PE-Cy5 voor fenotypering tijdens de expansie, het opsommen van NK-cellen als die welke CD3-negatieve en CD16-of CD56-positief.
OPMERKING 3. Bij elke media veranderen of stimulatie, te hersuspenderen cellen op 2,5 x 10 5 / ml houden PBMC / NK-cel aantallen op of onder de 2 miljoen per ml bij piek stadia van de expansie. Dit voorkomt uitputting van voedingsstoffen en het bereiken van maximale groei en overleving.
OPMERKING 4. De NK uitbreiding tarief is afhankelijk van donor en aan het einde van de stimulaties 1 of 2 een deel van de cellen kan worden ingevroren en een deel zich verder afhankelijk van de experimentele nodig hebben. We hebben goede succes in het gebruik van de bevroren cellen voor uitbreidingen op een later tijdstip.
OPMERKING 5. Met het oog op ruimte voor fouten maken raden wij u aan een minimum van 7x10 5 NK-cellen geresuspendeerd in 700 ULS van NKEM en 4x10 5 Calceïne-AM gekleurde doelcellen geresuspendeerd in 4 ml NKEM voor het opzetten van de cytotoxiciteit assay. Als u meerkanaalspipet voor het zaaien doelcellen hogere volumes van de cellen (tot 6x10 5 in 6 ml) kan nodig zijn gebaseerd op de grootte van de media bassin wordt gebruikt. Ook de aanbevolen NK-cellen nummers zijn speciaal voor de E: T ratio's show in het protocol, voor het gebruik van een hogere E: T ratio te verhogende NK-cel aantallen per ml dienovereenkomstig (bv. Voor een 40:1 E: T-ratio gebruiken 4x10 6 cellen / ml)
NOTE 6. Wij raden het uitvoeren van een voorlopige Calceïne-AM laden titratie voor de doelgroep cellijn van de keuze, het gebruik van de volgende verdunningen van 1:500, 1:400. 1:300, 1:200 en 1:100 om een ​​optimale verschil tussen de maximale en spontaan los te bereiken.
OPMERKING 7. Bij gebruik van een aanhanger cellijn als doel, prepareert u eerst enkele celsuspensie met behulp van niet-enzymatische cel dissociatie buffer. Indien het alsnog verrichten ADCC, bereiden een duplicaat buis van target cellen in CAM-media.
OPMERKING 8 Indien het alsnog verrichten ADCC, zelfde NK-cellen toe te voegen aan drie putten die overeenkomt met 10:01 E:. T voor ADCC. Herhaal dit voor extra donoren. Herhaal dit voor extra doelcellen.
NOTE 9. Als het uitvoeren van een ADCC experiment, na 45 minuten van calceïne laden, 10ug van antilichaam dat specifiek is voor het opwekken van ADCC tegen de doelcellen toe te voegen. Na 15 minuten, target cellen twee keer wassen in compleet medium, centrifugeren gedurende 5 min bij 1200 rpm. Resuspendeer cellen op 1x10 5 cellen / ml en ga verder met de volgende stap in het protocol.
6. Representatieve resultaten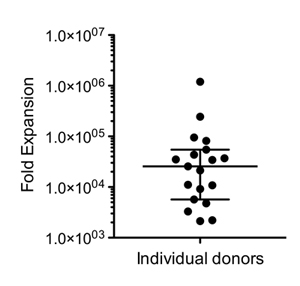 Figuur 2. Bij de uitbreiding wordt uitgevoerd conform de regeling zoals hierboven beschreven, met behulp van 5x106 PBMC's als uitgangsmateriaal, typische NK cel-opbrengst varieert van 1x10 09-10 oktober cellen (donor afhankelijk van variabiliteit). De figuur toont NK-cel-fold expansie (n = 19) ten opzichte van NK-cellen aanwezig in het oorspronkelijke product (mediaan + / - kwartiel).

Figuur 3. De uitgebreide NK-cellen te uiten diverse NK-cel-receptoren die vergelijkbaar zijn met de niet-geëxpandeerde primaire NK-cellen met een paar uitzonderingen na (CD11b, CD160 en CD244).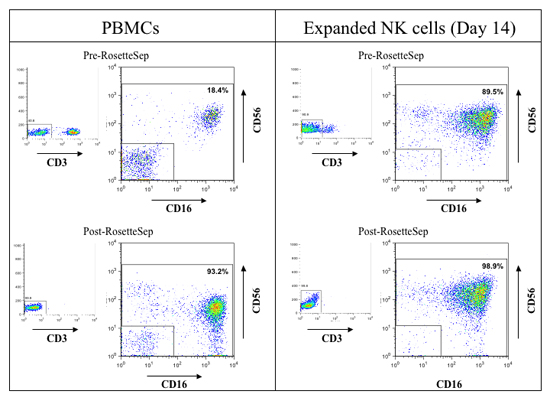 Figuur 4. PBMC herstel van Buffy coat is donor afhankelijk en kan variëren van 6 tot en met 300x10 800x10 6. NK-cellen kan bestaan ​​uit 2% - 18% van de PBMC's. Voor RosetteSep zuivering van geëxpandeerde cellen, herstel van pure NK-cellen op dag 14 varieert van 40-70%. Door het volgen van het aanbevolen protocol van expansie en zuivering, kan NK-cel zuiverheid van 99% worden verwacht.

Figuur 5. Expanded NK-cellen hebben aangetoond cytotoxiciteit tegen een reeks van tumor cellijnen waaronder neuroblastoom, AML, osteosarcoom en melanoom (vertegenwoordiger van AML doden weergegeven als percentage specifieke lysis).
Disclosures
Geen belangenconflicten verklaard.
Acknowledgments
De auteurs willen graag Laurence Cooper, Harjeet Singh, en Lenka Hurton bedanken voor hun werk in het creëren van de eerste K562 aAPC en mIL21 fusion vectoren.
De financiering voor dit werk werd verstrekt door de UT MD Anderson Arts Scientist Program, de St. Baldrick's Foundation, en de Legends of Friendswood.
Materials
Name
Company
Catalog Number
Comments

NK Cell Expansion and Activation Media (NKEM)

90% RPMI 1640
Cellgro
10% Fetal Bovine Serum
Gibco
1x Penicillin / Streptomycin
Cellgro
1x L-Glutamine
Gibco
Filter Sterilize media before use.
50 U/ mL IL2
Proleukin, Novartis Vaccines and Diagnostics, Inc)
Diluted from a 200 IU/μl stock. Add IL2 to desired amount of media just before use each time.
Name
Company
Catalog Number
Comments

PBMC and NK Cell Isolation

Ficoll-Paque
GE Healthcare
Alsever's solution
Sigma)
RosetteSep Human NK Cell Enrichment Cocktail
Stemcell Technologies)
Name
Company
Catalog Number
Comments

NK Cell Cytotoxicity Assay

Calcein-AM
Invitrogen
Name
Company
Catalog Number
Comments

Antibodies

The list of antibodies used for NK cell phenotyping are listed in table below:

Tube 1: (total volume 100)

Antibody: Isotype FITC
BD Pharmingen
555748
Volume: 5
Antibody: Isotype FITC
BD Pharmingen
555749
Volume: 5
Antibody: Isotype FITC
BD Pharmingen
557224
Volume: 5
Antibody: Isotype FITC
BD Pharmingen
340442
Volume: 5
Antibody: FACS Buffer
BD Pharmingen
Volume: 80

Tube 2: (total volume 100)

Antibody: CD56 FITC
BD Pharmingen
340410
Volume: 5
Antibody: NKp30 PE
BD Pharmingen
558407
Volume: 5
Antibody: NKp44 PE
BD Pharmingen
558563
Volume: 5
Antibody: NKp46 PE
BD Pharmingen
557991
Volume: 5
Antibody: CD3 PE-Cy5
BD Pharmingen
555341
Volume: 5
Antibody: CD16 Alexa 647
BD Pharmingen
557710
Volume: 5
Antibody: FACS Buffer
BD Pharmingen
Volume: 70

Tube 3: (total volume 100)

Antibody: CD56 FITC
BD Pharmingen
340410
Volume: 5
Antibody: KIR2DL1 PE
R&D Systems
FAB1844P
Volume: 5
Antibody: KIR2DL2/3 PE
Miltenyi Biotec
130-092-618
Volume: 5
Antibody: KIR3DL1 PE
R&D Systems
FAB12251P
Volume: 5
Antibody: CD3 PE-Cy5
BD Pharmingen
555341
Volume: 5
Antibody: NKG2D APC
BD Pharmingen
558071
Volume: 5
Antibody: FACS Buffer
BD Pharmingen
Volume: 70

Tube 4: (total volume 100)

Antibody: CD56 FITC
BD Pharmingen
340410
Volume: 5
Antibody: CD11b PE
BD Pharmingen
555388
Volume: 5
Antibody: CD3 PE-Cy5
BD Pharmingen
555341
Volume: 5
Antibody: CD27 APC
BD Pharmingen
558664
Volume: 5
Antibody: FACS Buffer
BD Pharmingen
Volume: 80

Tube 5: (total volume 100)

Antibody: CD56 FITC
BD Pharmingen
340410
Volume: 5
Antibody: CD266 (DNAM-1) PE
BD Pharmingen
559789
Volume: 5
Antibody: CD3 PE-Cy5
BD Pharmingen
555341
Volume: 5
Antibody: CD160 Alexa647
eBiosciences
51-1609-42
Volume: 5
Antibody: FACS Buffer
BD Pharmingen
Volume: 80

Tube 6: (total volume 100)

Antibody: CD56 FITC
BD Pharmingen
340410
Volume: 5
Antibody: CD244 (2B4) PE
BD Pharmingen
550816
Volume: 5
Antibody: CD3 PE-Cy5
BD Pharmingen
555341
Volume: 5
Antibody: CD197 (CCR7) APC
eBiosciences
17-1979-42
Volume: 5
Antibody: FACS Buffer
BD Pharmingen
Volume: 80