Summary
Vi presentiamo il protocollo dettagliato per Agrobacterium mediata indotta da virus silenziamento genico (VIGS), saggio in cotone. Il virus crepitio del tabacco (TRV)-vettori derivati ​​VIGS sono stati schierati per indurre il silenziamento dell'RNA di cotone GrCLA1, Cloroplastos alterados 1 gene. Il fenotipo albino causati da tacere GrCLA1 ​​è stata osservata nella fase piantina entro 2 settimane dopo l'inoculazione.
Abstract
Cotone (Gossypium hirsutum) è una delle colture più importanti del mondo. Notevoli sforzi sono stati fatti sulla riproduzione molecolare di nuove varietà. La grande analisi del gene funzionale in cotone è stato ritardato dietro la maggior parte delle specie vegetali moderna, probabilmente dovuto alle sue grandi dimensioni del genoma, duplicazione genica e poliploidia, ciclo di crescita a lungo e recalcitrante alla trasformazione genetica 1. Per facilitare un elevato throughput studio funzionale genetica / genomica in cotone, cerchiamo di sviluppare analisi transienti rapidi ed efficaci per valutare le funzioni del gene cotone.
Virus-Induced silenziamento genico (VIGS) è una tecnica potente che è stato sviluppato in base all'host post-trascrizionale silenziamento genico (PTGS) per reprimere la proliferazione virale 2,3. Mediata da Agrobacterium VIGS è stato applicato con successo in una vasta gamma di specie dicotiledoni come Solanacee, specie Arabidopsis e legumi, e specie tra monocotiledoni orzo, frumento e mais, per vari studi di genomica funzionale 3,4. Dato che questo approccio rapido ed efficiente evita la trasformazione delle piante e supera ridondanza funzionale, è particolarmente interessante e adatto per lo studio genomica funzionale in specie vegetali come il cotone non suscettibili di trasformazione.
In questo studio, riportiamo il protocollo dettagliato di Agrobacterium mediata dal sistema VIGS in cotone. Tra i diversi vettori virali VIGS, il virus sonaglio tabacco (TRV) invade una vasta gamma di ospiti ed è in grado di diffondere con forza in tutto l'intero impianto ancora produrre sintomi lievi sul hosts5. Per monitorare l'efficienza di silenziamento, GrCLA1, un gene omologo di Cloroplastos Arabidopsis alterados 1 gene (AtCLA1) in cotone, è stato clonato e inserito nel binario VIGS vettore pYL156. CLA1 gene è coinvolto nello sviluppo cloroplasti 6, e studi precedenti hanno dimostrato che perdita di funzione di AtCLA1 portato ad un fenotipo albino sulle foglie vere 7, fornendo un eccellente marcatore visivo per far tacere l'efficienza. A circa due settimane dopo l'infiltrazione Agrobacterium, il fenotipo albino iniziato a comparire sulle foglie vere, con un'efficienza di silenziamento del 100% in tutti gli esperimenti replicati. Il silenziamento dei geni endogeni è stato confermato anche da analisi RT-PCR. Significativamente, mettendo a tacere potentemente potrebbe verificarsi in tutte le cultivar che abbiamo provato, tra cui diverse varietà coltivate commercialmente in Texas. Questo rapido ed efficiente mediata da Agrobacterium test VIGS fornisce uno strumento molto potente per una rapida analisi su larga scala delle funzioni dei geni a livello di genoma in cotone.
Protocol
1. Crescere piantine di cotone
Gettare i semi del cotone di montagna (Gossypium hirsutum) varietà Fibermax 832, Phytogen 425RF, Phytogen 480WR e Deltapine 90 in vasi (7 cm di diametro) contenente Mix Metro 700 (SunGR, Beavile, WA).
Conservare i vasi in un vassoio coperto con una cupola di plastica a 23 ° C, 120 μE m -2 s -1 luce, con un fotoperiodo di 12 ore light/12 buia in una stanza di crescita.
Rimuovere la cupola quando due cotiledoni sono emerse.
Circa due settimane dopo, l'uso delle piante con due cotiledoni completamente sviluppati per il dosaggio VIGS. In questa fase, le foglie vere non sono ancora emerse (Figura 1).
2. Costruire VIGS vettore portando GrCLA1 ​​gene
Amplificare il Cloroplastos alterados 1 gene di cotone (GrCLA1) mediante PCR con primer GrCLA1-F, 5'-GCCCTTTGTGCATCTTC-3 'e GrCLA1-R, 5'-CTCTAGGGGCATTGAAG-3' da una libreria di cDNA di G. raimondii foglia tessuti.
Digerire i prodotti PCR di GrCLA1 ​​con EcoRI e KpnI e inserire in pYL156 (pTRV-RNA2) vettore di legatura.
Schermo i cloni su piastre di agar LB contenente 50 mg / ml di kanamicina. Verificare i costrutti da enzimi di restrizione e sequenziamento.
Trasformare il plasmide in Agrobacterium tumefaciens GV3101 mediante elettroporazione e recuperare nel medio LB liquido a 28 ° C. Selezionare la trasformanti su piastre con LB + kanamicina (50 mg / ml) + gentamicina (25 mg / mL). I batteri possono essere memorizzati in 25% glicerolo a -80 ° C per utilizzo a lungo termine.
3. Eseguire VIGS inoculazione
Tre giorni prima dell'inoculo, le scorte glicerolo striscia congelati di Agrobacterium tumefaciens portare pYL192 (TRV): RNA1, pYL156 (TRV): RNA2 (vettore da sola) e pYL156 (TRV): RNA2-GrCLA1 ​​su piastre di agar LB contenente 50 mg / ml di kanamicina e 25 mg / mL di gentamicina. Incubare le piastre a 28 ° C per 24 ore.
Due giorni prima di infiltrazione VIGS, scegliere una singola colonia per ogni costrutto dai piatti sopra e inoculare in 5 ml di LB medium integrata con 50 mg / ml di kanamicina e 25 mg / mL di gentamicina; Far crescere la coltura batterica a 28 ° C per la notte in un tamburo a rulli ad una velocità di 50 giri al minuto.
Trasferire la cultura di sopra di un pallone con 50 ml di LB medium integrata con 50 mg / ml di kanamicina e 25 mg / ml di gentamicina, più 10 mM MES (2 - (4 morfolino)-etano solfonico) e 20 acetosyringone micron. Far crescere la coltura a 28 ° C per una notte in uno shaker con una velocità di 50 giri al minuto.
Il giorno seguente, rallenta il settore agro-cellule batteriche a 4000 rpm per 5 minuti; risospendere la cultura nel buffer di infiltrazione contenente 10 mM MgCl 2, 10 mM MES acetosyringone e 200 micron. Regolare il diametro esterno 600 della cultura a 1,5.
Lascia la cultura in panchina a temperatura ambiente per 3 ore.
Prima di infiltrazione Agrobacterial, pugno la parte inferiore dei cotiledoni delle piante di cotone con un ago da 25 G senza penetrante attraverso i cotiledoni. Uno o due fori (dipende dalla morbidezza del tessuto) sono stati perforati su ogni sezione del cotiledone (Figura 2).
Mix sospensione Agrobacterial cultura della pYL192 (TRV): RNA1 e pYL156 (TRV): RNA2 o pYL156 (TRV): RNA2-GrCLA1 ​​in un rapporto 1:1; mano infiltrare il composto dalla parte inferiore del cotiledoni attraverso i siti ferendo con un 1 mL siringa senza ago (Figura 3).
Coprire le piante con una cupola di plastica e lasciare le piante infiltrati a temperatura ambiente in condizioni di luce debole per il pernottamento.
Trasferimento piante in una stanza di crescita con la temperatura di 23 ° C, 120 μE m -2 S luce -1 con 12 ore di luce / buio ciclo di 12 ore.
Nota: VIGS funziona quando le piante sono in regime 23 ° C o in serra (25-28 ° C). Quando la temperatura è relativamente bassa (23 a 25 ° C), è più facile per l'inoculazione e fenotipo è più uniforme rispetto alle superiori (28-30 ° C) o la temperatura ha oscillato. Copertura delle piante con una cupola VIGS rende anche più efficiente.
Esaminare il fenotipo tacere a 7 ~ 8 dopo infiltrazione giorni. Le foglie delle piante vere tacere pYL156 (TRV): RNA2-GrCLA1 ​​iniziato a mostrare il fenotipo albino (Figura 4). Le piante infiltrati con l'esecuzione Agrobacteria pYL156 (TRV): RNA2 servire come controllo.
Verificare l'efficienza silenziamento genico esaminando il livello di espressione di geni endogeni mediante trascrizione inversa reazione a catena della polimerasi (RT-PCR) con l'RNA isolato da piante di cotone di controllo e messa a tacere.
Nota: Il VIGS-ed impianti devono essere tenuti sotto contenuta condizioni di quarantena e le piante devono essere adeguatamente sterilizzati in autoclave e smaltiti, dopo i saggi come TRV dispone di un'ampia gamma ospite e patogeno è un obbligo di notifica.
4.Rappresentante dei risultati:
Circa due settimane dopo a mano infiltrazioni con miscela Agrobacterial, il fenotipo albino causati da GrCLA1 ​​silenziamento è stata chiaramente osservata sulle foglie vere. L'efficienza di silenziamento raggiunge quasi il 100% in esperimenti multipli con più di 50 piante. Le piante tacere visualizzare un fenotipo uniformemente distribuito e molto forte albino sul nuovo sviluppo con foglie di un mosaico sulle foglie più anziano (Figura 4).

Figura 1. Una piantina di cotone a circa due settimane stadio vecchio, con due cotiledoni completamente sviluppati utilizzato per l'infiltrazione Agrobacterial.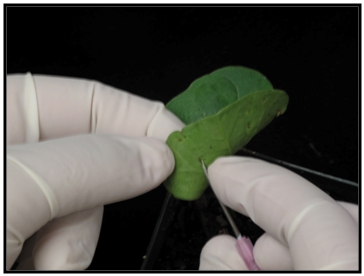 Figura 2. Punzonatura piccoli fori sulla parte inferiore dei cotiledoni di piante di cotone con un ago 25 G per facilitare l'infiltrazione Agrobacterial.

Figura 3. Infiltrazione mano di miscela Agrobacterial nei cotiledoni di cotone attraverso i siti ferito con una siringa senza ago

Figura 4. Fenotipo Albino apparso su VIGS tacere piante di cotone. Quattro cultivar sono mostrati. A) Fibermax 832; B) Phytogen 480WR; C) Phytogen 425RF, D) Deltapine 90.
Subscription Required. Please recommend JoVE to your librarian.
Discussion
VIGS ha dimostrato di essere un potente strumento di analisi genomica funzionale da transitoriamente abbattendo l'espressione di geni endogeni. In questo studio, abbiamo sviluppato un mediata da Agrobacterium VIGS utilizzando un TRV-vettoriale binario. Il cotone CLA1 (GrCLA1) gene è stato sviluppato come marcatore visivo per monitorare l'efficienza tacere. Abbiamo sempre ottenuto il 100% di efficienza silenziamento genico, dimostrato dal fenotipo albino che appaiono sulle foglie vere in tutte le varietà testate, a partire da circa due post infiltrazione settimane. Tuttavia, CLA1-tacere piante di cotone appena diventata la fibra o fase embrionale, che è probabilmente dovuto a difetti di forte sviluppo cloroplasto. Il successo nello sviluppo di VIGS cotone fornisce un'alternativa al silenzio facilmente i geni di interesse per la perdita di funzione test e pone basi per la genetica funzionale in cotone / genomica in avvicinamento veloce post-genomica 8.
Subscription Required. Please recommend JoVE to your librarian.
Disclosures
Nessun conflitto di interessi dichiarati.
Acknowledgments
Siamo grati a Drs. SP-Dinesh Kumar e Yule Liu per TRV-VIGS vettori, e Drs. Chuck Kenerley, Terry Wheeler, Jim Starr e Bayer CropScience per la fornitura di semi di cotone. Questo lavoro è stato finanziato dalla NSF per LS e NIH di PH
Materials
| | | | |
| --- | --- | --- | --- |
| Name | Company | Catalog Number | Comments |
| Roller drum | Glas-Col | 099A TC108 | Agro-bacterium culture |
| Incubator | Sheldon Manufacturing, Inc. | 01046209 | Agro-bacterium culture |
| UV/Vis spectrophotometer | Beckman Coulter Inc. | Model: DU530 | Measuring OD |
| Gene Pulser | Bio-Rad | Model: 1652076; Serial: 154BR3880 | Electroporation |
| Pulser Controller | Bio-Rad | Model: 1652098; Serial: 232BR4833 | Electroporation |
| Micropulser Electroporation cuvette | Bio-Rad | 165-2081 | Electroporation |
| 1 ml Syringe | BD Biosciences | 30962 | Inoculation of agro-bacterium |
| Metro Mix 700 | SUNGR | SKU# 553001 | Growing seedling |
| Terra Cotta pot | T.O.Plastics | GPS 3001B2 | Growing seedling |
| MES monohydrate | USB Corp., Affymetrix | 18886 | Infiltration buffer |
| Acetosyringone | Sigma-Aldrich | D134406 | Infiltration buffer |