Summary
Burada fare tracheas bazal ve submukozal bez kanal hücrelerinin izolasyonu için bizim protokol göstermektedir. Ayrıca, bir oluşturmak için dorsal fare yağ yastığı içine kök hücreleri enjekte yöntem gösterilmektedir
Cite this Article
Copy Citation | Download Citations | Reprints and Permissions

Hegab, A. E., Luan Ha, V., Attiga, Y. S., Nickerson, D. W., Gomperts, B. N. Isolation of Basal Cells and Submucosal Gland Duct Cells from Mouse Trachea. J. Vis. Exp. (67), e3731, doi:10.3791/3731 (2012).
Abstract
Büyük hava yollarının 1. biz nefes toksinler ve enfeksiyöz ajanlar yaralanma nedenle duyarlı çevre ile doğrudan temas halinde olan ve. Büyük hava yollarının nedenle etkin bir tamir mekanizması vücudumuzun korumak için gerektirir. Bu onarım sürecinde solunum yollarında kök hücrelerden oluşur ve solunum yollarının bu kök hücreler izole onarım ve rejenerasyon mekanizmalarının anlaşılması için önemlidir. Bu hava yolu hastalıkları 2 yol açabilir anormal onarımı anlamak için de önemlidir. Bu yöntemin amacı fare trakeal submukozal bez kanallarından bir roman kök hücre popülasyonu izole etmek ve submukozal bezlerin 3 tamir ve rejenerasyon mekanizmalarının belirlenmesi, in vitro ve in vivo model sistemlerde bu hücrelerin yerleştirmektir. Bu üretim, büyük hava yollarının 3 kanal ve bazal kök hücreler izole ve test için kullanılan yöntem gösterilmektedir. Bu sayede sağlayacakBu tür kistik fibrozis, astım ve kronik obstrüktif akciğer hastalığı gibi solunum yolu hastalıkları, çalışma. Şu anda, submukozal bez kanal hücrelerinin izole edilmesi için bir yöntem bulunmamaktadır ve mukozal bezlerin yenilenme çalışmak için in vivo modellerde de yoktur.
Protocol
Adımlar Anahat
1. Trakeanın Diseksiyon
2. Trakea Temizleme ve kesme
3. Tek bir hücre süspansiyonu içine enzim sindirimi ve işleme
4. FACS için boyama ve sıralama
5. In vivo ve in vitro modeller için sıralanmış hücreleri İşleme
1. Trakea Diseksiyon
Pentobarbital 0.1 mg/0.2 cc intraperitoneal enjeksiyonu ile fare Euthanize.
Karın duvarı açın Kes ve abdominal aorta maruz ve daha sonra incelemek için yan bağırsak hareket ettirin.
Kalp ve akciğerler maruz her iki tarafta diyafram ve göğüs ön duvarı boyunca keserek göğüs açın. Trakea maruz yağ ve tükürük bezleri kaldırarak boynuna kesmeye devam edin.
Timus çıkarın ve altında ve arkasında bağlantıları kapalı akciğer kesti. Separaralarında bir forseps ekleyerek özofagus trakea yedik sonra gırtlak ile bağlantısı üstündeki en üst kısmında trakea kesti. Sonra forseps ile trakea tutun ve onun eki onu incelemek ve kalp ve akciğer en-blok kaldırmak için aşağı doğru devam edin. Sağ ve sol ana bronş en kapsayacak şekilde hilusu yakın kalp ve akciğerlere uzak kesin.
Buz üzerinde orta toplama içeren küçük bir Petri kabındaki trakea yerleştirin.
2. Trakea Temizleme ve It Kesme
Diseksiyon mikroskobu altında, ona bağlı tüm diğer dokulardan trakea temizlemek için çok ince noktasına forseps (No 5) ve Vannas Tübingen makas (FST 15003-08 finescience.com) kullanın. Bu içerir: lenf düğümleri, rekürren laringeal sinir, yağ, tiroid bezi ve kalan akciğer damarları. Trakeanın üst kısmı SMG en büyük demet ödün vermeden büyük laringeal kıkırdak kaldırmak için, özel bir dikkat gerekirki krikoid kıkırdak ve birinci trakeal kıkırdak halka (C1) ile 4 arasında tarafından belirlenmektedir.
Üst kısmı ve C4 ve C5 arasındaki alt kısmı içine trakea kesin ve sonra trakea lümeni boyunca iki parça kesilerek açılır.
3. Tek Hücre Süspansiyon (SCS) içine Enzim Sindirim ve İşleme
30 dakika, daha önce tarif 5, oda sıcaklığında (RT), bir Eppendorf tüpü içinde 16 U dispase 1 ml soluk borusu alt kısmı inkübe edin. Daha sonra oda sıcaklığında ilave 20 dakika boyunca 0.5 mg / ml DMEM içinde DNaz I ekleyin.
Steril bir Petri kabındaki taze toplama ortama sindirilmiş tracheas çıkarın ve diseksiyon mikroskop altında yüzey epitelinde şerit. 50 ml'lik bir konik tüpe sıyrılmıştır epitelyum içeren orta aktarmak için bir pipet kullanın.
4 ° C'de 1.000 xg'de elimden epitel aşağı Spin Süpernatantı ve inci sallayarak ise% 0.1 tripsin / EDTA ve inkübe ekleyinbir 37 e tüp ° C'de 30 dakika boyunca kuluçka makinesi (200 rpm) sallama. Inkübasyondan sonra, 1.000 ul ucunu kullanarak, clumps kırmak ve tek bir hücre süspansiyonu oluşturmak için aşağı yukarı pipetle ve.
% 0.15 pronaz 1 ml'lik konik bir tüp içinde üst trakea yerleştirin. Sonra 4 saat 4 ° C'de inkübe edin.
Tüp yavaşça girdap ve sonra taze toplama ortama trakea yerleştirin ve yüzey epitelinde (SE) tam dekolmanı olduğu diseksiyon mikroskobu altında onaylayın.
SMG bölmeleri açmak ve daha sonra yavaş titreme ile RT pronaz bir saat daha inkübe ince bir makas ile trakea Kıyma.
Trakeal doku aşağı Spin, pronaz kaldırmak, yukarıdaki gibi sallama ile 30 dakika için tripsin / EDTA ile inkübe 37 ° C 'de% 0.1 ekleyin.
10 ml'lik şırınga kullanarak 20G, 23G ve 26G iğneler vasıtasıyla Passage sindirilmiş hücreler, kümeleri ve bezlerde kalan parçaları. Önce her iğne boyutu ile pasajlanmasını birkaç kez tekrarlayınazaltıyorlar. Şimdi, çoğu hücre bir SCS olmalıdır.
40 uM süzgecinden süspansiyon filtreleme ardından süzgecini yıkayın ve hücreleri aşağı spin. Sonra orta uygun hacim sulandırmak hücreleri, hücreleri saymak ve boyama ve sıralama FACS hemen geçin. Biz bu canlılığı etkiler ve ciddi verimlilik oluşturan küre azalttığını gördük çünkü 4 ° C veya birkaç saat boyunca buz üzerinde hücreleri bırakmayın.
4. FACS için boyama ve Sıralama
Daha sonra oda sıcaklığında 15 dakika için, primer antikorların, keçi Trop2 ve sıçan ITGA6 ile hücrelerin geri kalan leke boyanmamış ve tek bir lekeli telafi boru hazırlamak için yeterli hücre al. Sonra PBS ile yıkayın veya orta toplama, sökücü süpernatant çok dikkatli ve hücre pelletini bölünürler.
10 dakika boyunca oda sıcaklığında karanlıkta inkübe uygun ikincil antikor ile Leke, yıkayın ve süpernatant kaldırmak ve sonra pelet bölünürler.
FACS üzerindeARIA, enkaz, çok küçük hücreler, hücre çiftler ve ölü hücreleri dışarı gerilim ve tazminat, kapı ayarladıktan sonra. SMG hücrelerin% 20-50 TROP2 + 6 olacak ise Daha sonra, SE en hücreler TROP2 pozitif olması gerekir.
Sizin sıralama Trop2 için kapısı + ITGA6 SMG (kanal hücreleri) SE + hücreler (bazal hücreler) ve Trop2 için + hücrelerin (+ /-ITGA6 pozitif hücreler). Set
5. Için sıralama Hücreler İşleme: vivo Model vitro Kültür ve içinde
5-9 kültürünü oluşturan vitro kürede 5.1
100 ul karıştırın sonra 24 sıra trans-kuyunun üst odasında bu karışım koymak 50.000 kriteri hücreyi içeren komple orta 10,11 (bkz. Tablo 1) 100 ul ile "Büyüme Faktörü Matrigel azalır". Daha sonra, 37 alt bölme içinde tam bir ortam 400 ul koyun ve inkübe ° C Her geçen gün alt kanadı orta değiştirin ve Matrigel ekstra 100 ul ekleyinHer hafta ya da ince olursa daha erken.
In vivo modelde, 5.2
Sulandırın 50 ul hücre başına 5.000-10.000 arasında bir konsantrasyonda Matrigel ile 1:1 karışık tam medyum içinde kriteri hücre pelet.
Alıcı C57/BL6 fareler anestetize. Analjezik olarak subcutaenously Carprofen (5 mg / kg) uygulayın. Sterilize ve sırtlarına tıraş ardından üst arka merkezi bir longitudinal cilt kesi yapmak. Kesi yağ yastığı enjeksiyon yerinde yanı sıra enjeksiyon sonrası formları bleb tanımlamak için yeterli büyüklükte olmalıdır. Erişim ve görselleştirme üst düzeye çıkarmak için her iki tarafta göğüs duvarı cilt ve arka arasındaki torbalar genişletmek için makas künt tarafı kullanın.
Skapula hareketli görmek için yukarı ve fareyi geriye doğru iterek ön ayakları skapula medial sınır belirleyin. 300 ul BD insülin enjektörü içine hücre süspansiyonu 50 ul al ve sadece skapula medial ve lateral yağ yastığı içine enjektevertebra. Sen çok derin başka bir bleb görmek gerekir. Diğer taraftan daha sonra klips ya da dikiş deri kesisi aynı tekrarlayın. Fareler kontrol edin ve 48 saat süreyle günde bir kez Carprofen (5 mg / kg, SC) verir.
3 hafta sonra, pentobarbatol (0.1 mg/0.2 cc, IP) ile fareler ötenazi yukarıdaki gibi cilt açın ve oluşan ve çevresinde genişletilmiş olabilir herhangi bir doku yapısı eksik önlemek için bir emniyet payı ile her iki taraftan bütün yağ yastığı teşrih. Parafin 12 PFA ve embed Fix. Aşırı bakım kırparak ve bir yapı bypass veya göz ardı etmek değil blok kesme sırasında istihdam edilmelidir. En iyi uygulama bir kez, sonra 4 mikron dilim kesilmiş bir cam slayt üzerine yerleştirin ve blok veya değil bu bölümünde herhangi bir "epitelyal yapılar" varsa onaylamak için mikroskop altında incelemek 40 mikron Döşeme olduğunu. Görülen bir şey varsa, o zaman bir kez daha düzeltin ve bu adımı tekrarlayın.
6. Temsilcisi Sonuçlar
Strifare tracheas of pping Şekil 1A 'de gösterildiği gibi ışık mikroskopisi tarafından görülebilir olan bir soyulmuş soluk borusu ile sonuçlanacaktır. Şekil 1B üzüm dokuları ve benzeri demetleri serbest bırakıldıktan mukozal bezlerin epitelyal ayrılmasından sonra bir soluk borusu ve aydınlık bir görünümünü gösterir.
Pronazın ITGA6 epitop kaldırır ve TROP2 kanal hücrelerinin ITGA6 + ve ayrılır olamaz bu yüzden - nüfus. Bununla birlikte, epitop ITGA6 korur dispase, yüzey epiteli ve hatta çok kısa inkübasyon süreleri ile kanal hücrelerinin ve bu nedenle, 3 bazal hücreleri kanal ayırmak için kullanılamaz her sindirir. Tek hücre süspansiyonlarının Flow sitometri Şekil 2A temsil edilmektedir scatter ve yan dağılım araziler ileri göstermelidir. Trakeal hücreler floresan aktive edilmiş hücre sorti için akış sitometrisi içinde Trop2 antikor ile görülmesi gereken ise geri kalan kanal hücre iyi ayrılmang (FACS) Şekil 2B'de görülmektedir. Küreler kültür içinde yaklaşık 1 hafta sonra Matrigel içinde görünür ve Şekil 3 'de gösterildiği gibi, görünüm içinde yoğun gerekir. Bu sürecin verimliliği hala Matrigel mevcut olabilir ve büyük olasılıkla kendini yenileme kapasitesine sahip değillerdir submukozal bez kanallarından hücreleri temsil edecek% 1-2 ve tek hücre sırasıdır. Şekil 4'te gösterilmiştir submukozal bez benzeri yapıların oluşumu ile fare yağ yastığı sonuçlar içine kanal kök hücrelerin Enjeksiyon. Bu bile H & E boyama olmadan bloklar görülmektedir. Bu küresel olan ve bir merkezi lümen sahiptirler. Birçok kesitlerde bu epitelyal yapılar kaçırmamak için yağ yastığı aracılığıyla yapılması gerekmektedir.

Şekil 1. Trakeal epitel Enzimatik sindirim. Yüzey epitel hücrelerinin çıkarılması blac ile gösterilirk oklar, submukozal bezi kanallarının hücrelerin çıkarılması yeşil oklar ile gösterilmiştir. Işık mikroskobu ile görülebilir çıplaklaşmış tracheas dispase sindirimi 30 dk sonra ve pronaz sindirim 4 saat sonra gösterilmektedir.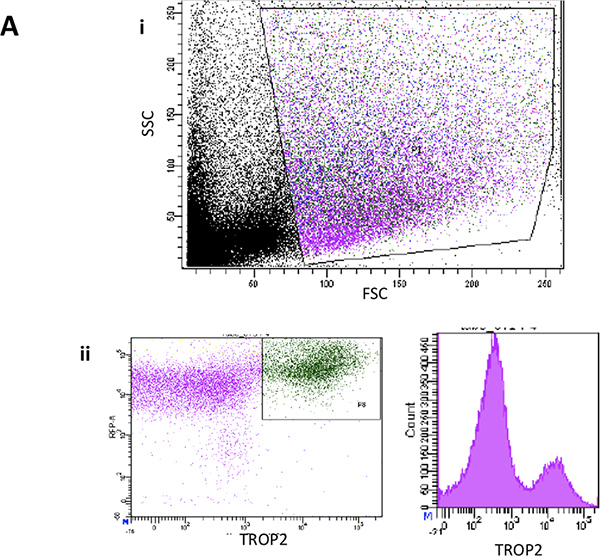 Şekil 2A. I. Epitelyal yüzey sıyırma sonra fare tracheas temsili forward scatter ve yan dağılım araziler gösteren tek hücre süspansiyonlarının akış sitometri. ii. Fare tracheas gelen kanal hücrelerde TROP2 ifade Temsilcisi FACS araziler.

Şekil 2B. I. Temsilcisi forward scatter ve yan dağılım araziler gösteren fare trakeanın alt üçte iki şeritli yüzey epitelinden tek hücre süspansiyonlarının akış sitometri. ii. Su içinde ITGA6 ifade Tipik FACS arsaepitel rface. iii. Yeşil bazal hücre popülasyonunun yolluk arka gösteren yüzey epitelinden öne ve yana saçılım bir başka temsilcisi FACS arsa. iv. Tipik ITGA6 ve TROP2 yeşil hücre popülasyonu ifade.

Şekil 3. Küreler gelişim Zaman elbette. A. Kanal küreler. Küreler kültüründe yaklaşık 1 hafta sonra Matrigel görünür olmalı ve hemen hemen tüm görünüm yoğundur. Küreler kurmazlar Tek hücreleri de görülmektedir. (Ölçek bar = 50 mikron). B. Bazal küreler görünüm büyük ve lümen vardır. Küreler kurmazlar Tek hücreleri de görülmektedir. (Ölçek bar = 50 mikron).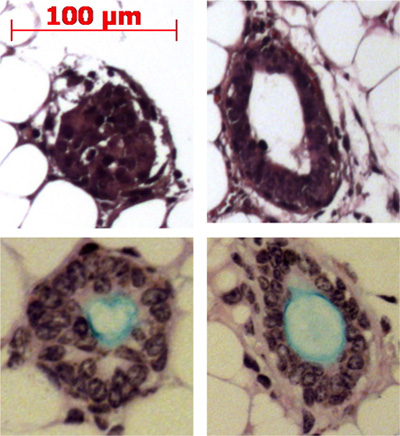 Şekil 4. Submukozal bez benzeri yapıların oluşumunda fare yağ yastığı sonuçlara kanalı kök hücrelerin Enjeksiyon. Örnek yapılaryağ yastığı gösterilir ve bazı Alcian mavi Periyodik Asit Schiff boyası ile müsin (açık mavi) üreten gösterilir.
Subscription Required. Please recommend JoVE to your librarian.
Discussion
Solunum kanal ve bazal hücrelerin izole edilmesi Bu teknik hava yolu onarımı ve yenilenmesi ve hava yolu hastalıkları anlayışımızı geliştirmek için önemlidir. Burada açıklanan teknikleri birkaç kritik adımları içerir. İlk Optimize enzimatik sindirim dönemdir. İkinci hücre kesme önlemek ama hücre kümeleri kırmak için giderek daha yüksek ölçer iğne ile pasajlanmasını seri boyunca tek bir hücre süspansiyonu yaratılmasıdır. Üçüncü FACS analizi ve uygun antikorlar ile hücrelerin gating olup.
ITGA6 ve NGFR gibi enzimler bant yüzeyi epitopunun bazı olarak, olası bir değişiklik epitopları yedek enzim sindirimi protokolleri değiştirmekti. Bu protokol, aynı zamanda hücre tipleri üzerinde işaretler yüzey spesifik antikorlar değiştirerek trakeal endotel hücreleri veya diğer mezenkimal hücreler izole etmek için kullanılabilir.
Kanal ve bazal hücrelerin ayrılması sınırlamalarıkanal bazal hücre hücrelerin ve epitel yüzeye çıkarılması ve arkasında bir bazal hücre ayrılma olasılığı için ihtiyaç ayırt etmek için bir yüzey işaretleyici mevcut olmaması ile ilgilidir. Kanal hücrelerinin için özel yüzey belirteçleri Geleceği tanımlanması bu süreci kolaylaştırmak ve yüzey epitel sıyırma ihtiyacını ortadan kaldıracak. Ayrıca saf bazal hücreli hazırlıkları için trakea alt üçte ikisi kullanma ihtiyacı inkâr edecektir.
Subscription Required. Please recommend JoVE to your librarian.
Disclosures
Çıkar çatışması ilan etti.
Acknowledgments
Biz Geniş Kök Hücre Araştırma Merkezi FACS kabul ve özellikle hücre sıralama ile yardım için Jessica Scholes ve Felicia Codrea teşekkür etmek istiyorum. Iş CIRM RN2-00904-1, K08 HL074229, Amerikan Toraks Derneği / KOAH Vakfı ATS-06-065, endişe Vakfı, UCLA Jonsson Kapsamlı Kanser Merkezi Göğüs Onkoloji Programı / Akciğer Kanseri SPORE, Kaliforniya Kanser Üniversitesi tarafından finanse edildi Araştırma Koordinasyon Komitesi ve Gwynne Hazen Kiraz Memorial Laboratuvarları (BG).
Materials
Name
Company
Catalog Number
Comments
Complete medium 10:
DMEM-F-12 , 50/50, 1X)
Mediatech
15-090-CV
Hepes (15 mM)
Invitrogen
15630
Sodium bicarbonate (3.6mM or 0.03%)
Invitrogen
25080
L-glutamine (4 mM)
Mediatech
25-005-Cl
Penicillin (100 U/ml)
Mediatech
30-001-CI
Streptomycin (100 μg/m)
Mediatech
30-001-CI
Insulin (10 μg/ml)
Sigma
I6634
Transferrin (5 μg/ml)
Sigma
T1147
Cholera toxin (0.1 μg/ml)
Sigma
C8052
Epidermal Growth Factor (25 ng/ml)
BD
354001
Bovine Pituitary Extract (30 μg/ml)
Invitrogen
13028-014
Fetal Bovine Serum (5%)
Fisher
SH3008803HI
Retinoic acid (0.05 μM)
Sigma
R2625
Growth Factor Reduced Matrigel
BD
354230

Table 1. Complete media components.

Pronase
Roche
10165921001
Used at 0.15%:
-o/n at 4 °C digestion to isolate total tracheal cells (for ALI culture)
-4 hr digestion 4 °C to isolate SMG
Dispase
BD Biosciences
354235
Used at 16 Units: 30 min at RT
DNase I
Sigma
DN25
Used at 0.5 mg/ml:
20-30 min at RT

Table 2. Enzymes used for enzymatic digestion of the trachea.