Summary
I artiklen beskrives en let let adaptiv
Cite this Article
Copy Citation | Download Citations | Reprints and Permissions

Ying, W., Cheruku, P. S., Bazer, F. W., Safe, S. H., Zhou, B. Investigation of Macrophage Polarization Using Bone Marrow Derived Macrophages. J. Vis. Exp. (76), e50323, doi:10.3791/50323 (2013).
Abstract
I artiklen beskrives en let let adaptiv in vitro-model til at undersøge makrofag polarisering. I nærvær af GM-CSF/M-CSF er hæmatopoietiske stamceller / stamceller fra knoglemarven ledes ind monocytær differentiering, efterfulgt af M1 eller M2 stimulation. Aktiveringen status kan spores af ændringer i celleoverfladeantigener, genekspression og celle signalveje.
Introduction
Adskilt fra klassiske inflammatoriske reaktioner, makrofager, der infiltrerer væv udviser ofte polariseret aktivering status, spiller en afgørende rolle i reguleringen af værtsvæv fysiologiske funktioner 1-8. Ved stimulering, kan makrofagaktivering sorteres i klassisk (M1) og alternativ (M2) aktivering 2, 4, 9. M1 makrofagaktivering afhænger Toll-lignende receptorer (TLRs) og aktivering af nuklear faktor kappa B (NFKB) / c-Jun N-terminal kinase 1 (Jnk1), hvilket fører til produktion af inflammatoriske cytokiner, såsom TNF-α og IL- 1β og aktivering af iNOS, som resulterer i øget produktion af reaktive ilt arter såsom nitrid-oxid (NO) 10, 11. I modsætning hertil fører M2 makrofagaktivering rekrutter PPARy, PPARδ eller IL-4-Stat6 veje, til alternativ, anti-inflammatorisk (M2) aktivering, som er forbundet med opregulering af mannosereceptoren CD206, og arginase 1 (arg1) 6, 12 - 14 </ Sup>.
Knoglemarv afledte makrofager (BMDM) udgør en ideel in vitro-model til at forstå de mekanismer, der styrer polarisering af aktiverede makrofager 15. Specifikt kan aktivering af M1 makrofager induceres af lipopolysaccharider (LPS) stimulering, mens polarisering af M2 makrofager kan induceres af IL-4 og / eller IL-13. Modne knoglemarv afledt makrofager og aktiverede makrofager kan identificeres gennem flowcytometrianalyse for ekspression af overflade-antigener, herunder CD11, F4/80, CD11c, CD206, CD69, CD80 og CD86 9, 16, 17. Desuden kan ændringer i cytokinproduktion og celle signalveje forbundet med makrofag polarisering måles ved kvantitativ RT-PCR og western blotting, hhv. Sammenfattende kan mus knoglemarv afledte makrofager tjene som en relevant model til at studere makrofag polarisering in vitro.
Subscription Required. Please recommend JoVE to your librarian.
Protocol
1.. Isolering af knoglemarvsceller
Isoler lårben og skinneben knogler 6-8 uger gamle mus, skylle håret og derefter skåret op knoglen.
Brug en 21G kanyle og 10 ml sprøjte til at skylle ud marv i koldt PBS +2% varmeinaktiveret føtalt bovint serum (FBS) (3-5 ml / mus).
Passere knoglemarv gennem en 21G nål 4-6 gange for at dissociere cellerne.
Pass celler gennem en 70 um cellefilter at fjerne celleklumper, knogler, hår og andre celler / væv.
Tilsæt 3 rumfang NH4Cl-opløsning (0,8% NH4Cl-opløsning, StemCell Technology), og der inkuberes på is i 10 minutter for at fjerne røde blodlegemer.
Spin ned cellerne ved 500 xg i 5 minutter ved 4 ° C.
Resuspender cellepelleten i koldt PBS +2% FBS (20-50 ml, afhængigt af mængden af ​​celler).
2.. Induktion BMDM Formation
Resuspendere de isolerede knoglemarvsceller i BMDM vækstmedium (2x10 6 celler / ml).
BMDM vækstmedium:
Iscoves Modificeret Dulbeccos medium (IMDM) + 10% FBS + 15% filtreret (0,2 um) L-929 celler (ATCC, CCL-1) kultursupernatant (indeholdende monocyt-kolonistimulerende faktor, M-CSF) eller 10 ng / ml M -CSF.
Bemærk: L-929 cellesupernatant indeholder M-CSF 18. At sikre en effektiv aktivitet af konditioneret medium, 5 x 10 5 L-929 celler udsået i T75 cm 2 kolber til 6-7 dage, er konditioneret medium opsamles og passeres gennem et 0,45 um filter før brug. Medium alikvoter kan anvendes straks eller opbevares i -80 ° C i 1-2 måneder.
Seed celler i 6 eller 12 brønds vævskulturplader (afhængigt af den eksperimentelle design) (Corning Costar).
Skift frisk BMDM vækstmedium på dag 3.
På dag 7, er dannelsen af modne BMDM evalueret ved hjælp af flowcytometri-analyseog fluorofor konjugerede antistoffer til påvisning celler, der udtrykker CD11 og F4/80.
3.. BMDM Polarized Aktivering
På dag 7, skift til frisk stimulation medium: for M1 aktivering, IMDM indeholdende 10% FBS og 100 ng / ml LPS eller 100 ng / ml LPS med 50 ng / ml IFNy bruge, for M2 aktivering, IMDM bruge indeholdende 10% FBS med 10 ng / ml IL-4 og / eller 10 ng / ml IL-13.
Saml stimulerede BMDMs ved at afmontere dem fra skålen med varmt 0,05% trypsin, efterfulgt af vask af cellerne to gange med PBS indeholdende 10% FBS.
Bemærk: For at afmontere og resuspender modne makrofager efter differentiering, 0,05% trypsinopløsning (indeholdende 0,48 mM EDTA, Invitrogen) eller 2-5 mM EDTA i Ca-og Mg-fri PBS eller Hanks balanceret buffer (HBSS) kan anvendes. Ved anvendelse fordøjelsessystemet medium indeholdende trypsin, er celler behandlet ved 37 ° C i mindre end 10 min at undgå tab af suransigt proteiner på grund af over-fordøjelse.
Brug antistoffer til påvisning ekspression af celleoverfladeantigener, herunder CD11, F4/80, CD11c, CD206, CD69, CD80 eller CD86 på forskellige tidspunkter ved hjælp af standard flowcytometri farvningsprocedurer.
Bestemme ekspression af gener der er karakteristiske for aktiverede M1 og M2 makrofager, herunder IL-1β, TNF-α og IL-6 (M1 aktivering) eller IL-10, IL-13, arginase1 og PPARy (M2 aktivering) ved hjælp af QRT-PCR. Bestem aktivering af celle signalveje der er involveret i aktivering af M1 eller M2 makrofager ved western blotting analyse.
Subscription Required. Please recommend JoVE to your librarian.
Representative Results
En skematisk beskrivelse af BMDM genereringen præsenteres (figur 1). Høj renhed af modne makrofager kan ses på dag 7, når de repræsenterer 95 til 99% af CD11 + F4/80 +-celler (figur 2). Polariserede makrofager kan undersøges under anvendelse af antistoffer mod CD11, F4/80, efterfulgt CD11 c og CD206 ved flowcytometri-analyse. Som vist i figur 3, er M1 makrofager detekteret som CD11 + F4/80 + CD11c + CD206-celler (Q2), hvorimod M2 makrofager er CD11 + F4/80 + CD11c-CD206 + celler (Q4). Den BMDM aktivering status kan bekræftes ved forøget cellulær størrelse (figur 4A, højreskift i FSC-A) og øget overflod af overfladeantigener CD69, CD80, eller CD86 på makrofager (Gate: CD11 + F4/80 +) som vist i figur 4B. Cytokinproduktion, genekspression og celle signalvejen aktivering i M1 eller M2 makrofager kan evalueres ved brug af kvantitativ RT-PCR eller western blotting. As vist i figur 5, blev arginase 1 (arg1) og PPARy-niveauer steg i M2 makrofager på 10 ng / ml IL-4 stimulering, hvorimod IL-1β og TNFa-produktion blev forøget i makrofager (M1) stimuleret med 100 ng / ml LPS , som er ledsaget af p65 aktivering (figur 6).

Figur 1. Plan for isolation, dannelse og stimulering af muse BMDMs. Trin for trin er beskrevet i teksten. Kort sagt, lårben og skinneben knogler er indsamlet fra 6-8 uger mus og knoglemarvsceller skylles ud med PBS suppleret med 2% varmeinaktiveret FBS. Efter røde blodlegemer lyseres med NH4Cl opløsning dyrkes celler i BMDM vækstmedium i 7 dage efterfulgt af modning og analyse for renhed af cellepopulationen. Til analyse af makrofag po polarisation, celler blev stimuleret med LPS eller LPS + IFNy for M1, eller IL-4 og / eller IL-13 til M2 aktivering. Polariserede makrofager kan vurderes på grundlag af ændringer i cellemorfologi, overflade markør præsentation, cytokin produktion og celle signalering aktiveret pathway.

Figur 2. Flowcytometrianalyse af BMDM dannelse. (A) BMDMs blev først gated på FSC og SSC at fjerne snavs og konjugater. (B) Ældre BMDMs blev defineret som CD11 + F4/80 + delpopulationer (øverst til højre) med renheden vises som en procentdel af forælder befolkning gated på FSC / SSC.
s/ftp_upload/50323/50323fig3highres.jpg "/>
Figur 3. . Makrofag polarisering analyse Tissue infiltrerede makrofager er defineret som CD11 + F4/80 + celler, M1 makrofager er CD11 + F4/80 + CD11c + CD206-celler, mens M2 makrofager er CD11 + F4/80 + CD11c-CD206 + celler.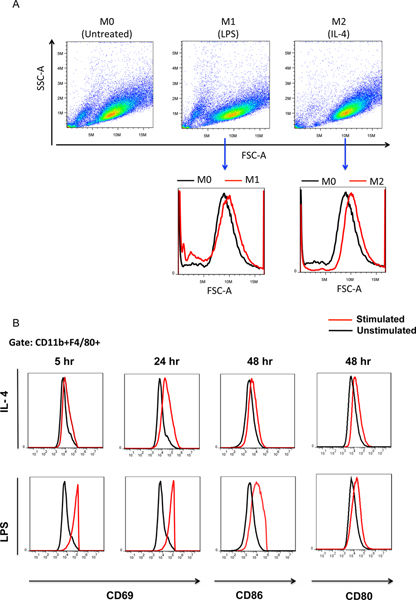 Figur 4.. Makrofagaktivering analyse ved flowcytometri. (A) Ved aktivering øge størrelsen af makrofager som det fremgår af forskydning af FSC-A M1 eller M2 makrofager ved 24 timer efter stimulering sammenlignet med M0 (ubehandlet) makrofager. (B) Aktiveringen -relaterede flademarkører blev analyseret ved flowcytometri efter IL4 eller LPS-stimulering. De tidlige reagerer markør CD69 blev evalueret ved 5 eller 24 timer efter stimulation, CD80 og CD86 markers blev analyseret ved 48 timer efter stimulering. Klik her for at se større figur .

Figur 5. Alternativ aktivering af makrofager. Makrofager stimuleret med 10 ng / ml IL-4 i 24 timer blev opsamlet og total RNA ekstraheret. Forhøjede arginase 1 (arg1) og PPARy-ekspression blev detekteret i M2 makrofager sammenlignet med ubehandlede makrofager anvender kvantitativ RT-PCR-analyse.

Figur 6.. Klassisk aktivering af makrofager. (A) Totalt RNA blev ekstraheret fra makrofager stimuleret med 100 ng / ml LPS i 24 timer og anvendes i kvantitative RT-PCR-analyser. Ekspression af proinflammatoriske cytokiner, herunder IL-1β og TNFa steg i M1 makrofager. (B) Aktivering af NFKB vejen blev induceret med LPS som bestemt ved anvendelse af antistoffer til p65 og phosphoryleret p65 i western-blotting analyser.
Subscription Required. Please recommend JoVE to your librarian.
Discussion
Vi rapporterer her en enkel og let tilpasses in vitro procedure til at inducere aktivering af makrofager afledt af knoglemarven. Denne procedure kan anvendes til undersøgelse af mekanismerne bag polarisering af makrofager. Renheden af ​​modne makrofager opnået ved hjælp af denne protokol gennemsnit 95-99%, og ingen yderligere rensning procedurer er påkrævet. At undersøge funktionen af ​​specifikke gener af interesse i forbindelse med makrofag polarisering, ektopisk udtryk eller genspecifik knockdown kan gennemføres efter transfektion af cellerne på dag 7.. Denne protokol vil også give en 7-dages kultur-vinduet for at undersøge virkningerne af visse faktorer eller gener, der påvirker dannelsen, modning og fænotype af makrofager.
Aktiverede makrofager vise komplicerede cellulære og molekylære profiler med stor plasticitet som reaktion på forskellige stimuli 3, 9, 19. Foreksempel LPS fremkalder potente pro-inflammatoriske M1 responser, som kan blive yderligere styrket ved tilstedeværelsen af ​​IFNy eller tumor-nekrose faktor (TNF) og IL-4 og IL-13 både stimulerer M2 aktivering, men ikke af aktiveringen profilerne ikke fuldstændigt overlapper 3, 4, 9, 15, 19, 20. Resultaterne præsenteret i denne protokol kun repræsenterer typiske resultater af forsøg med knoglemarv afledte makrofager analyseret ved flowcytometri, kvantitativ RT-PCR og western blotting. Overfladeantigen præsentation og celle signalveje forbundet med aktivering af makrofager varierer som nævnt i den omfattende litteratur om makrofag polarisering 1-8.
Subscription Required. Please recommend JoVE to your librarian.
Disclosures
Ingen interessekonflikter erklæret.
Acknowledgments
Dette arbejde blev støttet af American Heart Association (BGIA 7.850.037 til Dr. Beiyan Zhou).
Materials
| | | | |
| --- | --- | --- | --- |
| Name | Company | Catalog Number | Comments |
| IMDM | Thermo Scientific | SH30259.01 | |
| Fetal bovine serum | Invitrogen | 10438-026 | |
| Murine GM-CSF | PeproTech | 315-03 | |
| NH4Cl | StemCell Technologies | 7850 | |
| L-929 | ATCC | CCL-1 | |
| 70 μm cell strainer | BD Biosciences | 352350 | |
| 10 x PBS | Thermo Scientific | AP-9009-10 | |
| Anti-mouse CD11b-APC | eBioscience | 17-0112-81 | |
| Anti-mouse F4/80-FITC | eBioscience | 11-4801-81 | |
| Anti-mouse CD69-PE | eBioscience | 12-0691-81 | |
| Anti-mouse CD86-PE | eBioscience | 12-0862-81 | |
| Propidium Iodine | Invitrogen | P3566 | |
References
Meng, Z. X., Wang, G. X., Lin, J. D. A microrna circuitry links macrophage polarization to metabolic homeostasis. Circulation. (2012).
Lumeng, C. N., Bodzin, J. L., Saltiel, A. R. Obesity induces a phenotypic switch in adipose tissue macrophage polarization. J. Clin. Invest. 117, 175-184 (2007).
Gordon, S., Taylor, P. R. Monocyte and macrophage heterogeneity. Nat. Rev. Immunol. 5, 953-964 (2005).
Gordon, S. Alternative activation of macrophages. Nat. Rev. Immunol. 3, 23-35 (2003).
Tabas, I. Macrophage death and defective inflammation resolution in atherosclerosis. Nat. Rev. Immunol. 10, 36-46 (2010).
Odegaard, J. I., Ricardo-Gonzalez, R. R., Goforth, M. H., Morel, C. R., Subramanian, V., Mukundan, L., Eagle, A. R., Vats, D., Brombacher, F., Ferrante, A. W., Chawla, A. Macrophage-specific pparg controls alternative activation and improves insulin resistance. Nature. 447, 1116-1120 (2007).
Odegaard, J. I., Ricardo-Gonzalez, R. R., Red Eagle, A., Vats, D., Morel, C. R., Goforth, M. H., Subramanian, V., Mukundan, L., Ferrante, A. W., Chawla, A. Alternative m2 activation of kupffer cells by ppard ameliorates obesity-induced insulin resistance. Cell Metabolism. 7, 496-507 (2008).
Vats, D., Mukundan, L., Odegaard, J. I., Zhang, L., Smith, K. L., Morel, C. R., Greaves, D. R., Murray, P. J., Chawla, A. Oxidative metabolism and pgc-1[beta] attenuate macrophage-mediated inflammation. Cell Metabolism. 4, 13-24 (2006).
Mosser, D. M., Edwards, J. P. Exploring the full spectrum of macrophage activation. Nat Rev Immunol. 8, 958-969 (2008).
Arkan, M. C., Hevener, A. L., Greten, F. R., Maeda, S., Li, Z. -W., Long, J. M., Wynshaw-Boris, A., Poli, G., Olefsky, J., Karin, M. Ikk-b links inflammation to obesity-induced insulin resistance. Nat. Med. 11, 191-198 (2005).
Saberi, M., Woods, N. -B., de Luca, C., Schenk, S., Lu, J. C., Bandyopadhyay, G., Verma, I. M., Olefsky, J. M. Hematopoietic cell-specific deletion of toll-like receptor 4 ameliorates hepatic and adipose tissue insulin resistance in high-fat-fed mice. Cell Metab. 10, 419-429 (2009).
Kang, K., Reilly, S. M., Karabacak, V., Gangl, M. R., Fitzgerald, K., Hatano, B., Lee, C. -H. Adipocyte-derived th2 cytokines and myeloid ppard regulate macrophage polarization and insulin sensitivity. Cell Metabolism. 7, 485-495 (2008).
Bouhlel, M. A., Derudas, B., Rigamonti, E., Dievart, R., Brozek, J., Haulon, S., Zawadzki, C., Jude, B., Torpier, G., Marx, N., Staels, B., Chinetti-Gbaguidi, G. Pparg activation primes human monocytes into alternative m2 macrophages with anti-inflammatory properties. Cell Metabolism. 6, 137-143 (2007).
Bronte, V., Zanovello, P. Regulation of immune responses by l-arginine metabolism. Nat. Rev. Immunol. 5, 641-654 (2005).
Zhuang, G., Meng, C., Guo, X., Cheruku, P. S., Shi, L., Xu, H., Li, H., Wang, G., Evans, A. R., Safe, S., Wu, C., Zhou, B. A novel regulator of macrophage activation: Mir-223 in obesity-associated adipose tissue inflammation. Circulation. 125, 2892-2903 (2012).
Kradin, R. L., McCarthy, K. M., Preffer, F. I., Schneeberger, E. E. Flow-cytometric and ultrastructural analysis of alveolar macrophage maturation. J. Leukoc. Biol. 40, 407-417 (1986).
Stein, M., Keshav, S., Harris, N., Gordon, S. Interleukin 4 potently enhances murine macrophage mannose receptor activity: A marker of alternative immunologic macrophage activation. J. Exp. Med. 176, 287-292 (1992).
Strassmann, G., Bertolini, D. R., Kerby, S. B., Fong, M. Regulation of murine mononuclear phagocyte inflammatory products by macrophage colony-stimulating factor. Lack of il-1 and prostaglandin e2 production and generation of a specific il-1 inhibitor. J. Immunol. 147, 1279-1285 (1991).
Biswas, S. K., Mantovani, A. Macrophage plasticity and interaction with lymphocyte subsets: Cancer as a paradigm. Nat. Immunol. 11, 889-896 (2010).
Sica, A., Mantovani, A. Macrophage plasticity and polarization: In vivo veritas. J. Clin. Invest. 122, 787-795 (2012).