Overview
Deze video beschrijft de smaakvoorkeurstest, een gedragsmethode die wordt gebruikt om aantrekkingskracht of vermijding te meten voor gekleurde oplossingen die anders smaken door de buikkleuring van de vlieg na inname van de voorkeursstof te beoordelen. Het aanbevolen protocol toont de procedure aan die wordt gebruikt om de voorkeur van vliegen te meten voor oplossingen van verschillende sacharoseconcentraties.
Protocol
Dit protocol is een fragment uit Bantel and Tessier, Taste Preference Assay for Adult Drosophila, J. Vis. Exp. (2016).
1. Hongersnood
Bereid vliegenuithongeringsflacons voor door een wattenbolletje te verzadigen met 18,2 MΩ water op de bodem van een standaard vliegenflacon. U kunt ook een kleine strook filterpapier verzadigen met 18,2 MΩ water en onder een hoek in de flacon plaatsen.
Verzamel vliegen in sets van ~ 100 dieren op een CO2-pad en voeg de vliegen vervolgens toe aan een voorbereide flacon.
OPMERKING: De beste resultaten worden verkregen bij dieren die jonger zijn dan 5 dagen. De exacte leeftijd van de dieren kan echter worden gecontroleerd als een experimentele variabele om veranderingen in smaakvoorkeur in de loop van de tijd te bepalen.
Gebruik een wattenbolletje of schuimstopper om de flacons gesloten te houden. Plaats flacons op hun kant in een milieuvriendelijke incubator. Houd de temperatuur op 25 °C en de luchtvochtigheid boven de 70%. Laat flacons 24 uur onaangeroerd.
2. Smaakvoorkeurstest
Bereid alle smaakstoffen voor op de test op dezelfde dag als het testen.
OPMERKING: De exacte smaakstoffen die moeten worden gebruikt, variëren afhankelijk van de experimentele vraag die wordt gesteld. Hieronder volgen voorbeelden van smaakstoffen die in dit protocol worden gebruikt. Zie sectie 4 voor optimalisaties.

Bereid de controle lekkers (1 mM sucrose) door 10 μl 100 mM sacharoseoplossing, 13 μl rode voedselkleurstof en 977 μl 18,2 MΩ water te combineren.
Bereid experimentele smaakstof (5 mM sucrose) door 50 μl 100 mM sacharoseoplossing, 10 μl blauwe voedselkleurstof en 940 μl 18,2 MΩ water te combineren.

Maak testkamers met behulp van een standaard plastic petrischaal van 100 mm x 15 mm, bereid op de volgende manier:

Plaats drie druppels van 10 μl controle op 12 uur het dichtst bij de rand van de plaat en nog eens 3 druppels op 6 uur. Zorg ervoor dat de afstand tussen druppels gelijk is.
Plaats drie druppels van 10 μl experimentele smaakstof het dichtst bij de rand van de plaat op 3 uur en nog eens 3 druppels op 9 uur. Zorg ervoor dat de afstand tussen druppels gelijk is.
Herhaal stap 2.2.1 en 2.2.2 voor zoveel herhalingen als gewenst.

Leeg 1 flacon van ~100 uitgehongerde vliegen op een CO2 pad net lang genoeg om alle dieren te verdoven (ongeveer 10 sec). Borstel de dieren in het midden van een voorbereide testkamer en dek af met het deksel van de schaal.
OPMERKING: Langere perioden van CO2-blootstelling moeten worden vermeden om de hersteltijd te verbeteren en interferentie met het voedingsgedrag te beperken. Blootstelling aan ijs (~ 5 min) kan worden gebruikt voor anesthesie om CO2-gedragseffecten te voorkomen die kunnen voortvloeien uit zelfs beperkte blootstelling.
Plaats de testkamer in een ondoorzichtige kartonnen doos. Zorg ervoor dat u de buitenkant van de doos labelt met de conditie en het genotype dat wordt getest.
Plaats de gehele opstelling (testkamer in kartonnen doos vanaf stap 2.4) in een incubator van 25 °C met een luchtvochtigheid van ten minste 70% gedurende 2 uur.
Herhaal stap 2.3 tot en met 2.5 voor alle replica's.
Plaats na 2 uur de testkamers, die zich nog steeds in kartonnen dozen bevinden, direct in een vriezer van -20 °C totdat ze klaar zijn voor kwantificering.
3. Taste Preference Assay Kwantificering
Laat een enkele testkamer opwarmen tot kamertemperatuur (ongeveer 5 min).
Onder een dissectiemicroscoop, met behulp van een borstel of tang, groeperen dieren op basis van de kleur van hun buik: rood, blauw, paars of helder (figuur 1).
Noteer het aantal dieren in elke groepering. Houd er rekening mee dat duidelijke dieren niet aan de test hebben deelgenomen en neem ze daarom niet op in berekeningen.
Bereken de voorkeursindex aan de hand van een van de volgende vergelijkingen:

Als de experimentele smaakstof van belang wordt toegevoegd aan de rode kleurstof, gebruik dan (Nrood + 0,5Npaars)/(Nrood + Nblauw + Npaars).
Als de experimentele smaakstof aan de blauwe kleurstof wordt toegevoegd, pas dan de vergelijking aan op (Nblauw + 0,5Npaars)/(Nblauw + Nrood + Npaars).

Herhaal de berekeningen voor alle experimentele omstandigheden en replicates.
4. Optimalisatie van smaakvoorkeurstest
Empirisch bepalen van de concentratie van voedselkleuringsindicatoren die moeten worden gebruikt, zodat voedselkleuring de uitkomst van de smaaktest niet beïnvloedt, als volgt:

Bereid 4 smaakstoffen met dezelfde basisverbinding(bijv. 5 mM sucrose) zoals aangegeven in stap 2.1, maar laat de kleurstof weg.
Voeg 1,3% rode kleurstof toe aan een van de smaakstoffen. Maak de overige 3 smaakstoffen met blauwe kleurstof van verschillende concentraties in elke tube(bijv. 0,6%, 1% en 1,3%).
Voltooi protocolstappen 2.2 tot en met 3.4 voor elk smakelijk paar: 1,3% rood versus 0,6% blauw; 1,3% rood vs. 1% blauw en 1,3% rood vs. 1,3% blauw.
Herhaal stap 4.1.1-4.1.3 met verschillende percentages blauwe voedselkleuring totdat de voorkeursindex gemiddeld een waarde van 0 (Figuur 2) bedraagt.
OPMERKING: Als uitgangspunt levert 1,3% rode kleurstof in combinatie met 1% blauwe kleurstof meestal goede resultaten op. Als geen bevredigende concentratie blauwe voedselkleurstof kan worden gekoppeld aan 1,3% kleurstof, kan stap 4.1.1 tot en met 4.1.3 worden herhaald met verschillende concentraties rode kleurstoffen en een constante concentratie blauwe voedselkleuring.
Analyseer alle omstandigheden die moeten worden getest met dezelfde geoptimaliseerde voedselkleuringsconcentraties.
Subscription Required. Please recommend JoVE to your librarian.
Representative Results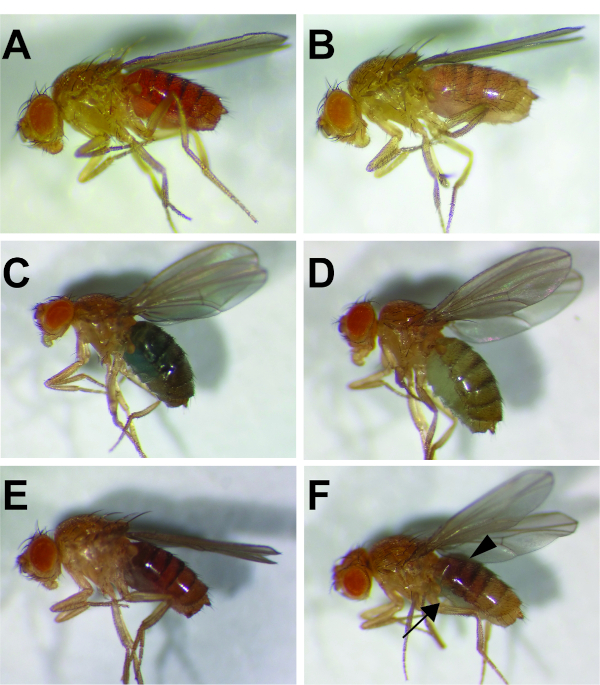 Figuur 1: Resultaten van smaakvoorkeurstesten. Enkele voorbeelden in de variatie van abdominale kleuring worden getoond. Donkerrood ingenomen (A). Lichtrood ingenomen (B). Donkerblauw ingenomen (C). Lichtblauw ingenomen (D). Paarse buiken worden overwogen wanneer de hele kleuring paars (E) lijkt, of wanneer afzonderlijke delen van de buik delen rood (pijlpunt) en afzonderlijke delen blauw (pijl) (F) vertonen. Klik hier om een grotere versie van deze afbeelding te bekijken.

Figuur 2: Controle voor voedselkleuringseffecten. De toevoeging van voedselkleurstoffen aan de smaakstoffen mag geen effect hebben op de smaakvoorkeur van de dieren. Het variëren van de concentratie blauwe kleurstof met behoud van een constante concentratie rode kleurstof onthulde een optimale combinatie van 1,3% rood tot 1,0% blauw. Dit wordt aangegeven door een voorkeursindexwaarde van bijna 0,5. Waarden zijn de gemiddelde ± standaarddeviatie. *p < 0,05, ***p < 0,001 uit de tweezijdige t-toets van de student. Klik hier om een grotere versie van deze afbeelding te bekijken.
Subscription Required. Please recommend JoVE to your librarian.
Materials
| | | | |
| --- | --- | --- | --- |
| Name | Company | Catalog Number | Comments |
| Blue Food Coloring (Water, Propylene Glycol, FD&C Blue 1 and Red 40, Propylparaben) | McCormick | N/A | |
| Cryo/Freezer Boxes w/o Dividers | Fisher | 03-395-455 | |
| Dumont #5 Forceps | Fine Science Tools | 11251-20 | |
| Leica S6 E Stereozoom 0.63X-4.0X microscope | W. Nuhsbaum, Inc. | 10446294 | |
| Petri dish (100 mm x 15 mm) | BD Falcon | 351029 | Reuseable if thoroughly washed and dried |
| Quick-Snap Microtubes | Alkali Scientific Inc. | C3017 | |
| Red Food Coloring (Water, Propylene Glycol, FD&C Reds 40 and 3, Propylparaben) | McCormick | N/A | |
| Sucrose | IBI Scientific | IB37160 | |