Overview
Dieses Video beschreibt den Geschmackspräferenz-Assay, eine Verhaltensmethode, die verwendet wird, um Anziehung oder Vermeidung von farbigen Lösungen zu messen, die anders schmecken, indem die Bauchfärbung der Fliege nach der Einnahme der bevorzugten Substanz beurteilt wird. Das vorgestellte Protokoll zeigt das Verfahren zur Messung der Präferenz von Fliegen gegenüber Lösungen unterschiedlicher Saccharosekonzentrationen.
Protocol
Dieses Protokoll ist ein Auszug aus Bantel und Tessier, Taste Preference Assay for Adult Drosophila, J. Vis. Exp. (2016).
1. Hunger
Bereiten Sie Fliegenhungerfläschchen vor, indem Sie eine Wattekugel mit 18,2 Mio. Wasser am Boden einer Standard-Fliegenfläschchen sättigen. Alternativ können Sie einen kleinen Streifen Filterpapier mit 18,2 Mio. Wasser ähnlich sättigen und in einem Winkel innerhalb der Durchstechflasche platzieren.
Sammeln Sie Fliegen in Sets von 100 Tieren auf einem CO2-Pad und fügen Sie die Fliegen dann zu einer vorbereiteten Durchstechflasche hinzu.
HINWEIS: Die besten Ergebnisse werden mit Tieren erzielt, die weniger als 5 Tage alt sind. Das genaue Alter der Tiere kann jedoch als experimentelle Variable gesteuert werden, um Veränderungen der Geschmackspräferenz im Laufe der Zeit zu bestimmen.
Verwenden Sie eine Baumwollkugel oder Schaumstopfen, um die Fläschchen geschlossen zu sichern. Legen Sie Fläschchen auf ihre Seite in einen umweltkontrollierten Inkubator. Halten Sie die Temperatur bei 25 °C und die Luftfeuchtigkeit über 70%. Lassen Sie Fläschchen 24 Stunden lang unberührt.
2. Geschmackspräferenz-Assay
Bereiten Sie alle Tastanten für den Test am selben Tag wie tests vor.
HINWEIS: Die genauen Tastanten, die verwendet werden sollen, variieren je nach der gestellten experimentellen Frage. Im Folgenden finden Sie Beispiel-Tastanten, die in diesem Protokoll verwendet werden. Siehe Abschnitt 4 für Optimierungen.

Bereiten Sie Kontrolltastant (1 mM Saccharose) vor, indem Sie 10 l mit 100 mM Saccharoselösung, 13 l rote Lebensmittelfärbung und 977 l 18,2 Mio. Wasser kombinieren.
Bereiten Sie experimentelles Tastant (5 mM Saccharose) vor, indem Sie 50 l mit 100 mM Saccharoselösung, 10 l blaue Lebensmittelfärbung und 940 l 18,2 M Wasser kombinieren.

Stellen Sie Assaykammern mit einer Standard-Petrischale aus 100 mm x 15 mm Kunststoff auf folgende Weise her:

Legen Sie drei 10 l Tropfen Steuertastant am nächsten der Kante der Platte bei 12 Uhr und weitere 3 Tropfen bei 6 Uhr. Stellen Sie sicher, dass der Abstand zwischen den Tropfen ähnlich ist.
Legen Sie drei 10 l Tropfen experimentellen Tastant am nächsten der Kante der Platte bei 3 Uhr und weitere 3 Tropfen bei 9 Uhr. Stellen Sie sicher, dass der Abstand zwischen den Tropfen ähnlich ist.
Wiederholen Sie die Schritte 2.2.1 und 2.2.2 für beliebig viele Replikationen.

Leere 1 Durchstechflasche mit 100 verhungerten Fliegen auf einCO2-Pad gerade lang genug, um alle Tiere zu beächen (ca. 10 Sek.). Bürsten Sie die Tiere in die Mitte einer vorbereiteten Assaykammer und decken Sie sie mit dem Tellerdeckel ab.
HINWEIS: Längere Zeiten derCO2-Exposition sollten vermieden werden, um die Erholungszeit zu verbessern und Störungen des Fütterungsverhaltens zu begrenzen. Die Exposition gegenüber Eis (ca. 5 min) kann zur Anästhesisierung verwendet werden, umCO2-Verhaltenseffekte zu vermeiden, die auch nur durch eine begrenzte Exposition entstehen können.
Legen Sie die Assaykammer in einen undurchsichtigen Karton. Achten Sie darauf, die Außenseite der Box mit dem Zustand und Genotyp zu beschriften, der getestet wird.
Legen Sie das gesamte Setup (Assaykammer im Karton ab Schritt 2.4) in einen 25 °C-Inkubator mit mindestens 70% Luftfeuchtigkeit für 2 Stunden.
Wiederholen Sie die Schritte 2.3 bis 2.5 für alle Replikationen.
Legen Sie die noch in Kartons enthaltenen Assaykammern nach 2 Stunden direkt in einen -20 °C-Gefrierschrank, bis sie quantitiert werden können.
3. Geschmackspräferenz-Assay-Quantifizierung
Lassen Sie eine einzelne Assaykammer auf Raumtemperatur (ca. 5 min) erwärmen.
Unter einem Seziermikroskop gruppieren Tiere mit einem Pinsel oder einem Zangenpaar basierend auf der Farbe ihres Bauches: rot, blau, lila oder klar (Abbildung 1).
Zeichnen Sie die Anzahl der Tiere in jeder Gruppierung auf. Betrachten Sie klare Tiere, die nicht an der Prüfung teilgenommen haben, und nehmen Sie daher sie nicht in Berechnungen auf.
Berechnen Sie den Präferenzindex nach einer der folgenden Gleichungen:

Wenn dem roten Farbstoff der experimentelle Tastant von Interesse hinzugefügt wird, dann verwenden Sie (Nrot + 0,5Nviolett)/(Nrot + Nblau + Nlila).
Wenn das experimentelle Tastant dem blauen Farbstoff hinzugefügt wird, passen Sie die Gleichung auf (Nblau + 0,5N violett)/(Nblau + Nrot + Nlila).

Wiederholen Sie die Berechnungen für alle Versuchsbedingungen und Replikationen.
4. Optimierung des Geschmackspräferenz-Assays
Empirisch bestimmen Die Konzentration der Lebensmittelfärbung Indikatoren verwendet werden, so Dass Lebensmittel Färbung hat keinen Einfluss auf das Ergebnis der Geschmacks-Assay, wie folgt:

Bereiten Sie 4 Tastanten mit der gleichen Grundverbindung(z. B. 5 mM Saccharose) wie in Schritt 2.1 angegeben, aber lassen Sie die Lebensmittelfärbung weg.
Fügen Sie 1,3% rote Lebensmittelfarbe zu einem der Tastanten hinzu. Machen Sie die restlichen 3 Tastanten mit blauer Lebensmittelfärbung mit unterschiedlichen Konzentrationen in jeder Röhre(z. B. 0,6%, 1% und 1,3%).
Vollständige Protokollschritte 2.2 bis 3.4 für jedes Tastant-Paar: 1,3% rot vs. 0,6% blau; 1,3% rot vs. 1% blau und 1,3% rot vs. 1.3% blau.
Wiederholen Sie Schritt 4.1.1-4.1.3 mit unterschiedlichen Prozentsätzen der blauen Lebensmittelfarbe, bis der Präferenzindex einen Durchschnittlichwert von 0(Abbildung 2) beträgt.
HINWEIS: Als Ausgangspunkt, 1,3% rote Lebensmittelfärbung gekoppelt mit 1% blaue Lebensmittelfärbung in der Regel liefert gute Ergebnisse. Wenn keine zufriedenstellende Konzentration der blauen Lebensmittelfärbung auf 1,3% Farbstoff abgestimmt werden kann, dann kann Schritt 4.1.1 bis 4.1.3 mit unterschiedlichen Konzentrationen roter Färbung und einer konstanten Konzentration von blauer Lebensmittelfärbung wiederholt werden.
Analysieren Sie alle zu testenden Bedingungen mit den gleichen optimierten Lebensmittelfarbkonzentrationen.
Subscription Required. Please recommend JoVE to your librarian.
Representative Results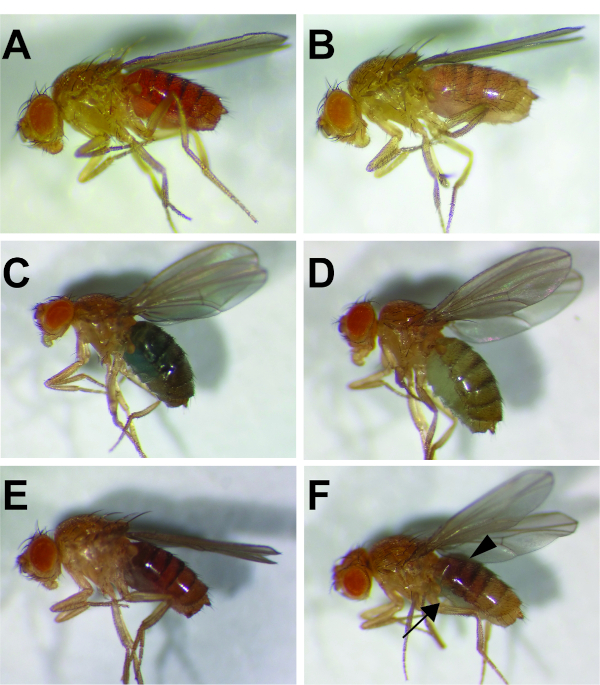 Abbildung 1: Geschmackspräferenz-Assay-Ergebnisse. Einige Beispiele in der Variation der Bauchfärbung werden gezeigt. Dunkelrot aufgenommen (A). Hellrot aufgenommen (B). Dunkelblau aufgenommen (C). Hellblau aufgenommen (D). Lila Bauch ungeniert, wenn die gesamte Färbung violett erscheint (E), oder wenn verschiedene Bereiche des Bauches Teile von Rot (Pfeilspitze) und separate Teile von blau (Pfeil) (F) zeigen. Bitte klicken Sie hier, um eine größere Version dieser Abbildung anzuzeigen.

Abbildung 2: Steuerung von Lebensmittelfärbungseffekten. Die Zugabe von Lebensmittelfarbstoffen zu den Tastanten sollte keinen Einfluss auf die Geschmackspräferenz der Tiere haben. Die Konzentration des blauen Farbstoffs bei konstanter Konzentration von rotem Farbstoff zu variieren, ergab eine optimale Kombination von 1,3% rot bis 1,0% blau. Dies wird durch einen Präferenzindexwert nahe 0,5 angezeigt. Werte sind der Mittelwert ± Standardabweichung. *p < 0.05, ***p < 0.001 aus dem beidseitigen Schüler-T-Test. Bitte klicken Sie hier, um eine größere Version dieser Abbildung anzuzeigen.
Subscription Required. Please recommend JoVE to your librarian.
Materials
| | | | |
| --- | --- | --- | --- |
| Name | Company | Catalog Number | Comments |
| Blue Food Coloring (Water, Propylene Glycol, FD&C Blue 1 and Red 40, Propylparaben) | McCormick | N/A | |
| Cryo/Freezer Boxes w/o Dividers | Fisher | 03-395-455 | |
| Dumont #5 Forceps | Fine Science Tools | 11251-20 | |
| Leica S6 E Stereozoom 0.63X-4.0X microscope | W. Nuhsbaum, Inc. | 10446294 | |
| Petri dish (100 mm x 15 mm) | BD Falcon | 351029 | Reuseable if thoroughly washed and dried |
| Quick-Snap Microtubes | Alkali Scientific Inc. | C3017 | |
| Red Food Coloring (Water, Propylene Glycol, FD&C Reds 40 and 3, Propylparaben) | McCormick | N/A | |
| Sucrose | IBI Scientific | IB37160 | |