Overview
Deze video beschrijft een methode om reukgedrag in de fruitvlieg te testen, het Y-doolhof. De aanbevolen protocolclip laat zien hoe u de test instelt en uitvoert.
Protocol
Deze protocoltekst is een fragment uit Simonnet et al., Testing Drosophila Olfaction with a Y-maze Assay, J. Vis. Exp. (2014).
1. Voordat u begint
Gebruik een geïnogeniseerde referentievoorraad met stabiele en robuuste gedragsfenotypes. Er is geen algemene regel voor het kiezen van dit bestand, omdat alle potentiële controles heterogene achtergrond allelen kunnen dragen.
Gebruik deze controlestam om elke andere voorraad die nodig is voor latere stappen te doorkruisen. Deze backcrossing-stap wordt meestal vertegenwoordigd door ten minste 5 opeenvolgende kruisingen van een enkele maagdelijke vrouw (om mogelijke kruising tussen homologe chromosomen mogelijk te maken) tot 2-3 isogene referentiemannetjes. Deze stap is belangrijk om de genetische achtergrond tussen de verschillende vliegbestanden te homogeniseren.
Houd drosophilavoorraden aan op een standaard maïsmeel (9%), gist (10%) en agar medium (1,5%) aangevuld met antibioticum (0,4% methylpara-hydroxy-benzoaat) in een licht/donkere cyclus van 12 uur bij 25 °C.
Voer chemosensorische experimenten uit in een temperatuurgecontroleerde ruimte (25 °C) onder ver rood licht (om de bijdrage van visuele signalen te elimineren en om te focussen op chemosensorische signalen). Vernieuw regelmatig de lucht van de ruimte om de ruimte tussen elk experiment te ventileren.
2. Olfactory Response met behulp van een Y-doolhof assay
Verhonger de vliegen gedurende 16-18 uur bij 25 °C in glazen buizen met nat keukenpapier voordat u gaat testen.
Verbind een Y-vormige connector met twee glazen flacons en met een kleinere plastic flacon (laadflacon). Gebruik 1 ml pipettips die door de schuimstoppen gaan om de connector aan de drie flacons te koppelen en om een goed afgesloten Y-doolhof te verkrijgen. Snijd de smalle uiteinden van twee pipetpunten (~ 2 mm diameter, om elke terugkeer van de vlieg te voorkomen zodra deze zijn beslissing heeft genomen) om twee "val"-flacons te vormen, en een groot uiteinde van één pipetpunt om de "laad"-buis te vormen (figuur 1A).
Vlak voor het aansluiten van de "val"-flacons(afbeelding 1B),plaatst u één filterpapier met een diameter van ~ 6 mm in elke flacon. Voeg 40 μl geuroplossing toe op één filterpapier en 40 μl van het overeenkomstige oplosmiddel op het tweede filterpapier.
Introduceer tien vliegen van 4 tot 9 dagen oud in de "ladende" flacon. Gebruik geen CO2-anesthesie tijdens deze overdracht, omdat het een sterk effect heeft op het gedrag. Gebruik liever korte koeling op ijs. Een goede manipulatie van verdoofde vliegen is belangrijk om de stress op de proefpersonen zoveel mogelijk te beperken.

Voer een reeks Y-doolhoftests uit bij 25 °C onder verrood licht (met behulp van LED-lampen om mogelijke verwarmingsbronnen te beperken) om visuele stimuli zoveel mogelijk te vermijden. Zorg ervoor dat u de oriëntaties van de Y-mazen afwisselt (geurige buis aan de linkerkant of aan de rechterkant en laadbuis voor of achter; Figuur 1C).
Laat de vliegen enkele uren in de valflacon komen die de geurstof of het oplosmiddel bevat. Count vliegt na 24 uur om de deelname te verhogen tot meer dan 80% en de maximale olfactorische indexwaarde te bieden (Simonnet, persoonlijke communicatie).
Bereken de resulterende reukindex met behulp van de volgende formule: (aantal in de geurbuis - getal in de oplosmiddelbuis)/totaal aantal geladen vliegen.

Was de Y-doolhofopstelling als volgt: week de gedemonteerde opstelling 's nachts in de RBS 35 MD. Spoel grondig uit met kraanwater. Spoel ten slotte af met gedeioneerd water en laat uitdrogen.
3. Statistische analyse van de gegevens
Voer een t-test, een eenrichtings-ANOVA of een tweerichtings-ANOVA uit, afhankelijk van gegevens en variabelen.
Subscription Required. Please recommend JoVE to your librarian.
Representative Results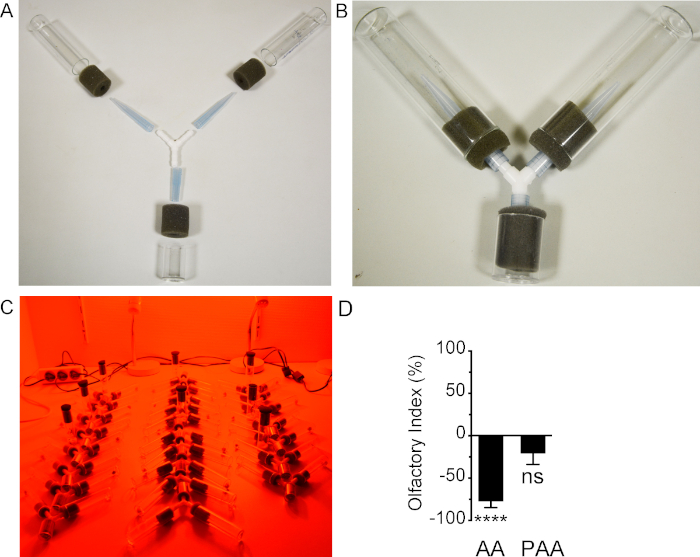 Figuur 1: Mannelijke reukrespons beoordeeld met een Y-doolhof opstelling. A) Gesplitst apparaat. B) Gemonteerd apparaat. C) Opstelling in werkende staat onder verrood licht. D) Kwantificering van mannelijke reukreacties op azijnzuur (AA) of fenyzijnzuur (PAA) beide verdund in gedestilleerd water (10% v/v) (N = 11, wat een totaal van 110 vliegen vertegenwoordigt). Statistische analyse werd uitgevoerd met behulp van een t-test waarbij de gegevens werden vergeleken met 0. 0 betekent geen voorkeur. Een negatieve waarde duidt op een afkeer van de geurstof en een positieve waarde op een aantrekkingskracht. : p < 0,0001; ns: niet significant (p = 0,1680). Klik hier om een grotere versie van deze afbeelding te bekijken.
Subscription Required. Please recommend JoVE to your librarian.
Materials
Name
Company
Catalog Number
Comments
Drosophila Polystyrene tube
VWR europe
734-2255
30 x 25 mm Y-maze
Drosophila Borosilicate tube
Dijon verre
95 X 25 mm Y-maze
Foam stopper
Dutscher
999038
Y-maze
Y-shaped connector
Europrix
11020605
Y-maze
100-1,000 µl pipette tips
Corning
4868
Join the following pipette tips to the Y-shaped connector.
Cut 2 pipette tips at 65 mm from the wide end, and connect the narrow end (with a ~2 mm opening) to 2 test vials.
These openings will limit the U-turns once the flies enter the tubes containing the odors.
Cut 1 pipette tip at 35 mm from the wide end, and connect it to the loading vial.
Far-Red LED Bulb
Rubin-Lacaque
0RB180238
625-630 nm
Acetic Acid
Sigma-Aldrich
45725
Phenylacetic Acid
Sigma-Aldrich
P16621
Yeast
Sensient Flavors Strasbourg
1018880464
Cornmeal
eurogerm
Farine de maïs
Agar
Kalys
HP-697-25
Methyl hydroxy 4 benzoate
VWR international
25605293