Overview
Este vídeo descreve um método para testar o comportamento exploratório olfativo na mosca das frutas, chamado Y-maze. O clipe de protocolo em destaque demonstra como configurar e conduzir o ensaio.
Protocol
Este texto de protocolo é um trecho de Simonnet et al., Testando Drosophila Olfaction com um Ensaio Y-maze, J. Vis. Exp. (2014).
1. Antes de começar
Use um estoque de referência isogenizado com fenótipos comportamentais estáveis e robustos. Não há uma regra geral para a escolha deste estoque, uma vez que todos os controles potenciais podem carregar alelos de fundo heterogêneos.
Use esta cepa de controle para cruzar todas as outras ações necessárias para etapas posteriores. Esta etapa de backcrossing é tipicamente representada por pelo menos 5 cruzes sucessivas de uma única fêmea virgem (para permitir possível cruzamento entre cromossomos homólogos) para 2-3 machos de referência isogênica. Este passo é importante para homogeneizar o fundo genético entre os diferentes estoques de moscas.
Manter os estoques de Drosophila em farinha de milho padrão (9%), levedura (10%) e ágar médio (1,5%) complementado com antibiótico (0,4% de metila para-hidroxi-benzoato) em um ciclo claro/escuro de 12 horas a 25 °C.
Realize experimentos de quimioensory em uma sala controlada pela temperatura (25 °C) sob luz vermelha distante (para eliminar a contribuição de sinais visuais, e para se concentrar em sinais de quimioensory). Renove regularmente o ar da sala para ventilar a área entre cada experimento.
2. Resposta olfativa usando um ensaio Y-maze
Passe a fome as moscas por 16-18 horas a 25 °C em tubos de vidro contendo papel toalha molhada antes do teste.
Junte um conector em forma de Y a dois frascos de vidro e a um frasco de plástico menor (frasco de carregamento). Use pontas de pipeta de 1 ml que passam pelas rolhas de espuma para ligar o conector aos três frascos, e para obter um labirinto Y bem selado. Corte as extremidades estreitas de duas pontas de pipeta (~2 mm de diâmetro, para evitar qualquer retorno da mosca uma vez que tenha tomado sua decisão) para formar dois frascos de "armadilha" e uma grande extremidade de uma ponta de pipeta para formar o tubo de "carregamento"(Figura 1A).
Pouco antes de conectar os frascos de "armadilha"(Figura 1B),coloque um papel filtro de ~6 mm de diâmetro em cada frasco. Adicione 40 μl de solução de odorant em um papel filtro e 40 μl do solvente correspondente no segundo papel filtro.
Introduza dez moscas de 4 a 9 dias de idade no frasco de "carregamento". Não utilize anestesia de CO2 durante esta transferência, pois tem um forte efeito no comportamento. Em vez disso, use um breve resfriamento no gelo. A manipulação adequada de moscas anestesiadas é importante para limitar o estresse nos sujeitos o máximo possível.

Realize uma série de testes de labirinto Y a 25 °C sob luz distante vermelha (usando lâmpadas LED para limitar possíveis fontes de aquecimento) para evitar estímulos visuais tanto quanto possível. Tenha cuidado para alternar as orientações dos labirintos Y (odor contendo tubo à esquerda, ou à direita, e tubo de carregamento na frente ou atrás; Figura 1C).
Deixe várias horas para as moscas entrarem no frasco de armadilha contendo o odorante ou o solvente. A contagem voa após 24 horas para aumentar a participação em mais de 80% e fornecer o valor máximo do índice olfativo (Simonnet, comunicação pessoal).
Calcule o índice olfativo resultante utilizando a seguinte fórmula: (número no tubo de odor - número no tubo de solvente)/número total de moscas carregadas.

Wash Y-maze set-up da seguinte forma: mergulhe a configuração desmontada em RBS 35 MD durante a noite. Enxágue completamente com água da torneira. Por fim, enxágue com água deionizada e deixe secar.
3. Análise estatística dos Dados
Realize um teste t, um ANOVA unidirecional ou um ANOVA bidirecional, dependendo de dados e variáveis.
Subscription Required. Please recommend JoVE to your librarian.
Representative Results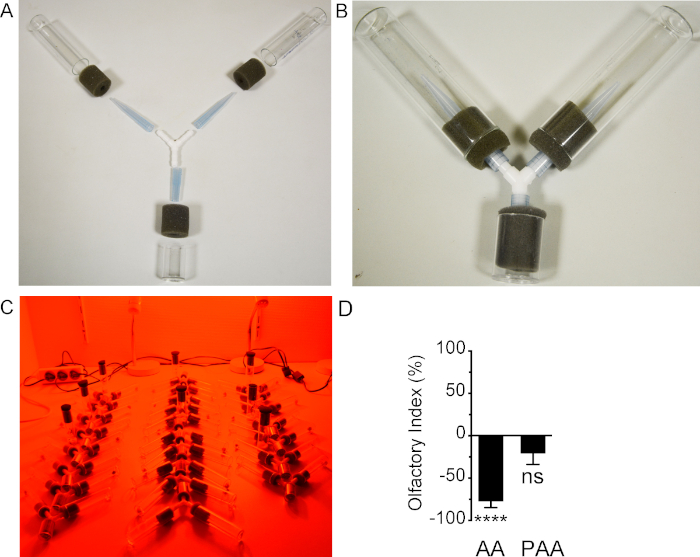 Figura 1: Resposta olfativa masculina avaliada com uma configuração de labirinto Y. A) Dispositivo dividido. B) Dispositivo montado. C) Configuração em condições de trabalho sob luz vermelha. D) Quantificação das respostas olfativas masculinas em direção ao ácido acético (AA) ou ácido feniláctico (PAA) ambos diluídos em água destilada (10% v/v) (N = 11, representando um total de 110 moscas). A análise estatística foi realizada utilizando-se um teste t comparando os dados a 0. 0 significa nenhuma preferência. Um valor negativo indica uma aversão ao odorante, e um valor positivo uma atração. : p < 0,0001; ns: não significante (p = 0,1680). Clique aqui para ver uma versão maior desta figura.
Subscription Required. Please recommend JoVE to your librarian.
Materials
Name
Company
Catalog Number
Comments
Drosophila Polystyrene tube
VWR europe
734-2255
30 x 25 mm Y-maze
Drosophila Borosilicate tube
Dijon verre
95 X 25 mm Y-maze
Foam stopper
Dutscher
999038
Y-maze
Y-shaped connector
Europrix
11020605
Y-maze
100-1,000 µl pipette tips
Corning
4868
Join the following pipette tips to the Y-shaped connector.
Cut 2 pipette tips at 65 mm from the wide end, and connect the narrow end (with a ~2 mm opening) to 2 test vials.
These openings will limit the U-turns once the flies enter the tubes containing the odors.
Cut 1 pipette tip at 35 mm from the wide end, and connect it to the loading vial.
Far-Red LED Bulb
Rubin-Lacaque
0RB180238
625-630 nm
Acetic Acid
Sigma-Aldrich
45725
Phenylacetic Acid
Sigma-Aldrich
P16621
Yeast
Sensient Flavors Strasbourg
1018880464
Cornmeal
eurogerm
Farine de maïs
Agar
Kalys
HP-697-25
Methyl hydroxy 4 benzoate
VWR international
25605293