Overview
Bu videoda, meyve sineğindeki koku keşif davranışını test etmek için Y labirenti adı verilen bir yöntem açıklanmaktadır. Öne çıkan protokol klibi, tahlillerin nasıl kurulayıp yürütüleceklerini gösterir.
Protocol
Bu protokol metni Simonnet ve ark.'dan bir alıntıdır, Drosophila Olfaction'ı bir Y-labirent Testi ile test etmek, J. Vis. Exp. (2014).
1. Başlamadan Önce
Kararlı ve sağlam davranışsal fenotipler taşıyan izojenli bir referans stoğu kullanın. Bu stoğu seçmek için genel bir kural yoktur, çünkü tüm potansiyel kontroller heterojen arka plan alelleri taşıyabilir.
Sonraki adımlar için gerekli olan diğer tüm stokları ters döndürmek için bu kontrol zorluğunu kullanın. Bu geri dönüş adımı tipik olarak tek bir bakire dişinin en az 5 ardışık çaprazı (homolog kromozomlar arasında olası geçişe izin vermek için) ile 2-3 izojenik referans erkeği temsil eder. Bu adım, farklı sinek stokları arasındaki genetik arka planı homojenize etmek için önemlidir.
Drosophila stoklarını standart bir mısır unu (%9), maya (%10) ve agar ortamı (%1,5) üzerinde muhafaza edin 25 °C'de 12 saatlik bir ışık/karanlık döngüde antibiyotik (%0,4 metil para-hidroksi-benzoat) ile tamamlanır.
Uzak kırmızı ışık altında sıcaklık kontrollü bir odada (25 °C) kemosentez deneyleri elde edin (görsel ipuçlarının katkısını ortadan kaldırmak ve kemosentezyel sinyallere odaklanmak için). Her deney arasındaki alanı havalandırmak için odanın havasını düzenli olarak yenileyin.
2. Bir Y-labirent Tahlil kullanarak Koku Tepkisi
Testten önce ıslak kağıt havlu içeren cam tüplerde sinekleri 25 °C'de 16-18 saat aç bırakın.
Y şeklindeki bir konektörü iki cam şişeye ve daha küçük bir plastik şişeye (şişe yükleme) birleştirin. Konnektörü üç şişeye bağlamak ve sıkıca kapatılmış bir Y labirenti elde etmek için köpük durduruculardan geçen 1 ml pipet uçlarını kullanın. İki pipet ucunun dar uçlarını kesin (~2 mm çapında, kararını verdikten sonra sineğin geri dönmesini önlemek için) iki "tuzak" şişesi oluşturmak için ve "yükleme" tüpünü oluşturmak için bir pipet ucunun büyük bir ucunu(Şekil 1A).
"Tuzak" şişelerini bağlamadan hemen önce (Şekil 1B), her şişeye bir ~ 6 mm çapında filtre kağıdı yerleştirin. Bir filtre kağıdına 40 μl koku çözeltisi ve ikinci filtre kağıdına karşılık gelen çözücüden 40 μl ekleyin.
"Yükleme" şişesine on 4 ila 9 günlük sinek tanıtın. Bu transfer sırasında CO2 anestezisi kullanmayın, çünkü davranış üzerinde güçlü bir etkisi vardır. Aksine buz üzerinde kısa soğutma kullanın. Anestezi edilmiş sineklerin uygun manipülasyonu, denekler üzerindeki stresi mümkün olduğunca sınırlamak için önemlidir.

Görsel uyaranları mümkün olduğunca önlemek için 25 °C'de uzak kırmızı ışık altında (olası ısıtma kaynağını sınırlamak için LED ampuller kullanarak) bir dizi Y-labirent testi gerçekleştirin. Y labirentlerinin yönelimlerini (solda veya sağda tüp içeren koku verici ve önde veya arkada yükleme tüpü) değiştirmeye dikkat edin; Şekil 1C).
Sineklerin kokuyu veya çözücüyü içeren tuzak şişesine girmesi için birkaç saat izin verin. Kont, katılımı % 80'den fazla artırmak ve maksimum koku indeksi değerini (Simonnet, kişisel iletişim) sağlamak için 24 saat sonra uçar.
Elde edilen koku indeksini aşağıdaki formülü kullanarak hesaplayın: (koku tüpündeki sayı - çözücü tüpündeki sayı)/toplam yüklü sinek sayısı.

Y-labirent kurulumını aşağıdaki gibi yıkayın: sökülen kurulumu bir gecede RBS 35 MD'de ıslatın. Musluk suyu ile iyice durulayın. Son olarak deiyonize su ile durulayın ve kurumasına izin verin.
3. Verilerin İstatistiksel Analizi
Verilere ve değişkenlere bağlı olarak bir t testi, tek yönlü bir ANOVA veya iki yönlü bir ANOVA gerçekleştirin.
Subscription Required. Please recommend JoVE to your librarian.
Representative Results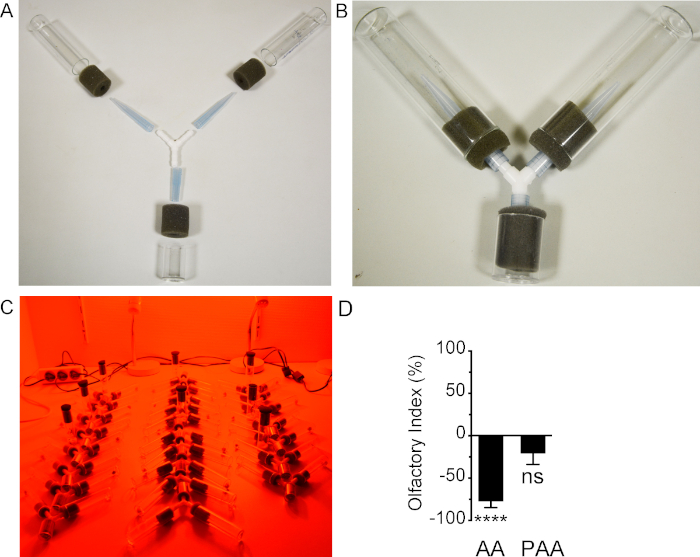 Şekil 1: Erkek koku alma yanıtı bir Y-labirent kurulumu ile değerlendirildi. A) Cihazı bölün. B) Monte edilmiş cihaz. C) Uzak kırmızı ışık altında çalışma durumunda kurulum. D) Her ikisi de damıtılmış suda seyreltilmiş asetik asit (AA) veya fenilosetik aside (PAA) yönelik erkek koku alma yanıtlarının nicelleştirilmesi (N = 11, toplam 110 sinek temsil eder). İstatistiksel analiz, verileri 0 ile karşılaştıran bir t testi kullanılarak gerçekleştirildi. 0, tercih yok anlamına gelir. Negatif bir değer kokuya karşı bir nefreti ve olumlu bir değeri bir cazibeyi gösterir. : p < 0.0001; ns: önemli olmayan (p = 0.1680). Bu rakamın daha büyük bir sürümünü görüntülemek için lütfen buraya tıklayın.
Subscription Required. Please recommend JoVE to your librarian.
Materials
Name
Company
Catalog Number
Comments
Drosophila Polystyrene tube
VWR europe
734-2255
30 x 25 mm Y-maze
Drosophila Borosilicate tube
Dijon verre
95 X 25 mm Y-maze
Foam stopper
Dutscher
999038
Y-maze
Y-shaped connector
Europrix
11020605
Y-maze
100-1,000 µl pipette tips
Corning
4868
Join the following pipette tips to the Y-shaped connector.
Cut 2 pipette tips at 65 mm from the wide end, and connect the narrow end (with a ~2 mm opening) to 2 test vials.
These openings will limit the U-turns once the flies enter the tubes containing the odors.
Cut 1 pipette tip at 35 mm from the wide end, and connect it to the loading vial.
Far-Red LED Bulb
Rubin-Lacaque
0RB180238
625-630 nm
Acetic Acid
Sigma-Aldrich
45725
Phenylacetic Acid
Sigma-Aldrich
P16621
Yeast
Sensient Flavors Strasbourg
1018880464
Cornmeal
eurogerm
Farine de maïs
Agar
Kalys
HP-697-25
Methyl hydroxy 4 benzoate
VWR international
25605293
Tags
Boş Değer
Sorun