Overview
Denna video beskriver en metod för att testa lukt undersökande beteende i fruktflugan, kallad Y-labyrinten. Det presenterade protokollklippet visar hur du ställer in och utför analysen.
Protocol
Denna protokolltext är ett utdrag från Simonnet et al., Testing Drosophila Olfaction with a Y-maze Assay, J. Vis. Exp. (2014).
1. Innan du börjar
Använd ett isogeniserat referenslager med stabila och robusta beteendemässiga fenotyper. Det finns ingen allmän regel för att välja detta lager, eftersom alla potentiella kontroller kan bära heterogena bakgrunds alleler.
Använd denna kontrollstam för att backcross alla andra lager som behövs för senare steg. Detta backcrossing steg representeras vanligtvis av minst 5 på varandra följande kors av en enda jungfrulig kvinna (för att möjliggöra eventuell övergång mellan homologa kromosomer) till 2-3 isogena referenshanar. Detta steg är viktigt för att homogenisera den genetiska bakgrunden mellan de olika flugbestånden.
Behåll Drosophila-bestånden på ett vanligt majsmjöl (9%), jäst (10%) och agarmedium (1,5%) kompletterat med antibiotika (0,4% metylparoxi-bensoat) i en 12-timmars ljus/mörk cykel vid 25 °C.
Uppnå kemosensoriska experiment i ett temperaturkontrollerat rum (25 °C) under långt rött ljus (för att eliminera bidraget från visuella signaler och för att fokusera på kemosensoriska signaler). Förnya regelbundet luften i rummet för att ventilera området mellan varje experiment.
2. Luktsvar med hjälp av en Y-labyrintanalys
Svält flugorna i 16–18 timmar vid 25 °C i glasrör som innehåller våt pappershandduk innan du testar.
Anslut en Y-formkontakt till två glasflaskor och till en mindre plastflaska (lastflaska). Använd 1 ml pipettspetsar som passerar genom skumpropparna för att koppla kontakten till de tre injektionsflaskan och för att få en tätt förseglad Y-labyrint. Kapa de smala ändarna på två pipettspetsar (~2 mm diameter, för att undvika att flugan återvänder när den har fattat sitt beslut) för att bilda två "fälla" injektionsflaska och en stor ände av en pipettspets för att bilda "lastningsröret"(figur 1A).
Strax innan du ansluter injektionsflaskan "fälla"(bild 1B)placerar du ett filterpapper med diametern ~6 mm i varje injektionsflaska. Tillsätt 40 μl luktlösning på ett filterpapper och 40 μl av motsvarande lösningsmedel på det andra filterpapperet.
Introducera tio 4 till 9 dags gamla flugor i "ladda" flaskan. Använd inte CO2 anestesi under denna överföring, eftersom det har en stark effekt på beteendet. Använd hellre kort kylning på is. Korrekt manipulering av bedövade flugor är viktigt för att begränsa stressen på ämnena så mycket som möjligt.

Utför en serie Y-labyrinttester vid 25 °C under långt rött ljus (med hjälp av LED-lampor för att begränsa eventuell värmekälla) för att undvika visuella stimuli så mycket som möjligt. Var noga med att alternera orienteringarna för Y-labyrinterna (lukt som innehåller rör till vänster, eller till höger, och laströr fram eller bak; Figur 1C).
Låt flugorna komma in i injektionsflaskan som innehåller illalukten eller lösningsmedlet i flera timmar. Räkningen flyger efter 24 timmar för att öka deltagandet upp till mer än 80% och ge maximalt luktindexvärde (Simonnet, personlig kommunikation).
Beräkna det resulterande luktindexet med hjälp av följande formel: (tal i luktröret - nummer i lösningsmedelsröret)/totalt antal lastade flugor.

Tvätta Y-labyrinten enligt följande: blötlägg den demonterade uppsättningen i RBS 35 MD över natten. Skölj noggrant med kranvatten. Skölj slutligen med avjoniserat vatten och låt torka ut.
3. Statistisk analys av uppgifterna
Utför ett t-test, en enkelriktad ANOVA eller en tvåvägs-ANOVA beroende på data och variabler.
Subscription Required. Please recommend JoVE to your librarian.
Representative Results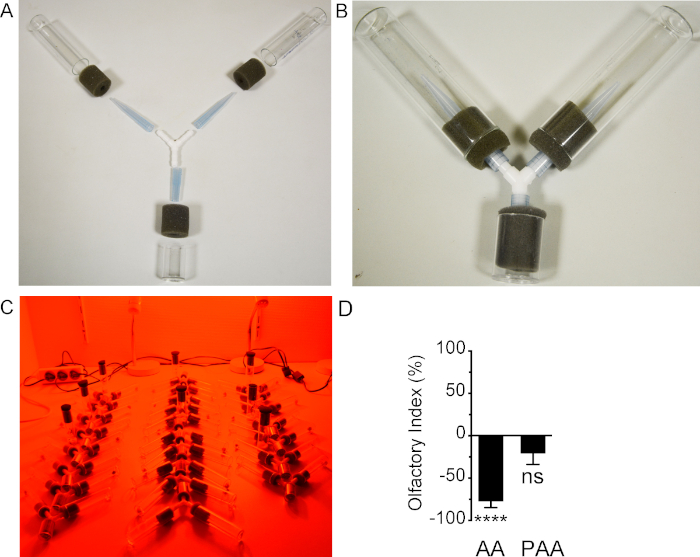 Figur 1: Manligt luktsvar bedömt med en Y-labyrintuppsättning. A) Delad enhet. B) Monterad enhet. C) Uppsättning i arbetsskick under vitt rött ljus. D) Kvantifiering av manliga luktsvar mot ättiksyra (AA) eller fenylacetikasyra (PAA) som båda späds ut i destillerat vatten (10 % v/v) (N = 11, vilket motsvarar totalt 110 flugor). Statistisk analys utfördes med hjälp av ett t-test som jämförde data med 0. 0 betyder ingen preferens. Ett negativt värde indikerar en motvilja mot lukten och ett positivt värde en attraktion. : p < 0.0001; ns: icke-signifikant (p = 0,1680). Klicka här om du vill visa en större version av den här figuren.
Subscription Required. Please recommend JoVE to your librarian.
Materials
Name
Company
Catalog Number
Comments
Drosophila Polystyrene tube
VWR europe
734-2255
30 x 25 mm Y-maze
Drosophila Borosilicate tube
Dijon verre
95 X 25 mm Y-maze
Foam stopper
Dutscher
999038
Y-maze
Y-shaped connector
Europrix
11020605
Y-maze
100-1,000 µl pipette tips
Corning
4868
Join the following pipette tips to the Y-shaped connector.
Cut 2 pipette tips at 65 mm from the wide end, and connect the narrow end (with a ~2 mm opening) to 2 test vials.
These openings will limit the U-turns once the flies enter the tubes containing the odors.
Cut 1 pipette tip at 35 mm from the wide end, and connect it to the loading vial.
Far-Red LED Bulb
Rubin-Lacaque
0RB180238
625-630 nm
Acetic Acid
Sigma-Aldrich
45725
Phenylacetic Acid
Sigma-Aldrich
P16621
Yeast
Sensient Flavors Strasbourg
1018880464
Cornmeal
eurogerm
Farine de maïs
Agar
Kalys
HP-697-25
Methyl hydroxy 4 benzoate
VWR international
25605293