Summary
Mänskliga trombocyter lysat är en rik källa av tillväxtfaktorer och ett potent tillskott i cellkultur. Detta protokoll visar att förbereda en stor pool av mänskliga trombocyter lysat genom att utgå från trombocyter rich plasma, utför flera frys-tö cykler och en uttunning av trombocyter fragment.
Cite this Article
Copy Citation | Download Citations

Schallmoser, K., Strunk, D. Preparation of Pooled Human Platelet Lysate (pHPL) as an Efficient Supplement for Animal Serum-Free Human Stem Cell Cultures. J. Vis. Exp. (32), e1523, doi:10.3791/1523 (2009).
Abstract
Trombocyter derived growth faktorer har visat att stimulera celltillväxt effektivt
Protocol
1. Utgångsmaterial
Börja med trombocyter rich plasma (PRP) enheter som utarbetats av cytapheresis eller härrör från buffy rockar.
2. Sterilitet kontrollera
För sterilitet kontrollera att ta ett prov på 20 ml från varje PRP enhet genom att överföra volymen till en ansluten liten väska (Baxter). Koppla denna väska genom svetsning.
3. Frysning av PRP enheter
Omedelbart efter beredning, frysa PRP enheterna ned till minst -20 ° C i originalförpackningen förvaringsväska utan vidare manipulation.
4. Upptining av HPL enheter
När bakteriella tester är negativa, tina mänskliga trombocyter lysat enheter, som nu kallas HPL enheter vid 37 ° C (vattenbad) tills isen blodproppar försvinna. Värm inte HPL.
5. Sammanslagning av HPL enheter
Ta med minst tio till femton tinas HPL enheter för ett trombocyter lysat bassäng för att förbereda en standardiserad produkt. Anslut HPL påsar i följd för sammanslagning dubbla påsen (MacoPharma) och överför HPL i dessa två väskor. Koppla bort den tomma HPL väskor genom svetsning. Skaffa en slutlig volym på 3 till 4 L av poolade humana trombocyter lysat (pHPL) genom att blanda innehållet i två väskor. Anslut en liten väska (Baxter) och ta ett prov på 20 ml pHPL för sterilitet kontroll av poolade produkten. Koppla denna väska genom svetsning.
6. Portionering av pHPL
Del av pHPL att få lämpliga alikvoter för vidare bearbetning. Anslut små påsar (Baxter) till sammanslagning dubbla påsen (MacoPharma) och överföring volymer på upp till 250 ml till de små förvaringspåsar (Baxter). Koppla den fyllda påsar genom svetsning.
7. Re-frysning av pHPL alikvoter
Öka graden av blodplättar fragmentering och mängden utsläppt tillväxtfaktorer med ytterligare frysning / tina steg. Frysa små påsar med portionerade pHPL igen på minst -20 ° C.
8. Re-upptining och portionering av pHPL alikvoter
Tina pHPL väskor vid 37 ° C (vattenbad). Överför innehållet till 50 ml injektionsflaskor (Falcons BD) genom att skära röret i påsen med steril sax och hälla pHPL i injektionsflaskor. Utför detta steg i ett laminärt flöde bänk för att undvika bakterie-eller svampinfektioner kontamination.
9. Borttagning av blodplättar fragment
Eftersom trombocyter fragment tenderar att aggregera och kan framkalla alloimmunisering, ta bort dem från pHPL. Centrifugera pHPL flaskorna därför vid 4000 g (15 minuter, 4 ° C). I ett laminärt flöde bänk pipett supernatant plasma till slutförvar flaskor (Falcons BD) och släng trombocyter pellets för att undvika fragment i cellkultur.
10. Lagring av pHPL
Freeze alikvoter av 50 ml pHPL ampullerna igen minst-20 ° C och lagra dem för experimentell användning.
11. Användning av pHPL i cellodling
Inledningsvis lägger konserveringsmedel heparin till mediet för att undvika gel bildas. Tina en pHPL alikvot vid 37 ° C och komplettera odlingsmediet genom tillsats av 8 - 10%.
Medier
MSC-Medium:
Använd 500 ml a-MEM, tillsätt 56 ml av den upptinade pHPL (se även referens 1 för ytterligare information) och 2 IU / ml (= 224 ìl av stamlösning) av konserveringsmedel Heparin (undviker koagulering av mediet genom klumpar av fibrinogen i plasma) för att nå en slutlig koncentration på 10% pHPL. Dessutom lägger Penicillin (100U/mL) / streptomycin (100μg/mL) lösning och 2mm av L-Glutamin (båda Sigma).
Filtrera medium genom en 20 m-porstorlek vakuumfilter (Millipore). Märk flaskan lämpligt (innehåll, datum).
ECFC-Medium:
Använd en flaska (500 ml) av EBM, lägg till cytokin-alikvoter, 56 ml pHPL, 10 IE / ml (= 1120μl av stamlösning) av konserveringsmedel Heparin, penicillin (100U/mL) / streptomycin (100 g / ml) och 2mm av L-Glutamin för att bassubstratets och filter med en 20 l-porstorlek vakuumfilter (Millipore). Märk flaskan lämpligt (innehåll, datum).

Figur 1: Förberedelse av platelet-rich plasma från helblod donation från en lokal blodbank eller någon annan godkänd leverantör. Efter centrifugering blodet kan delas upp i plasma, buffy coat och röda blodkroppar. Fyra buffy coat enheter, blodgrupp O och en blodgrupp AB plasma kan samlas innan centrifugering för att separera trombocyter rich plasma. En vanlig kvalitet platelet-rich plasma enhet på ca 300ml bör innehålla 1x10 9 trombocyter per ml eller 3x10 11 platelets totalt.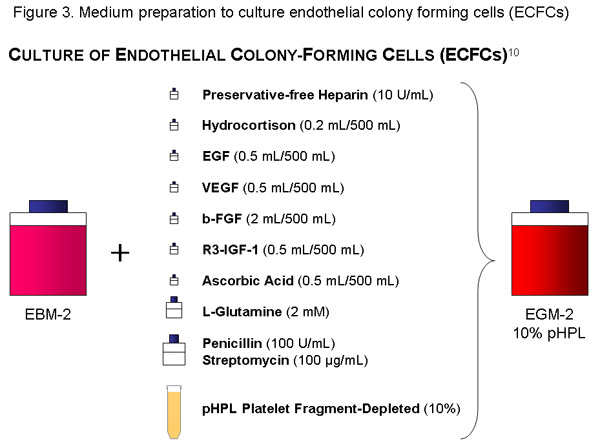 Subscription Required. Please recommend JoVE to your librarian.
Discussion
I vissa regioner trombocyter rich plasma (PRP) kan erhållas från buffy-rockar annars vara en restprodukt av packade röda blodkroppar från undersökta blod (Figur 1). Optimalt är PRP användas omedelbart för vidare beredning av pHPL, som i föråldrade blodplättar koncentrerar tillgängligheten av tillväxtfaktorer kan minskas på grund av trombocyter lagring skador och nedbrytning 20. Det rekommenderas vidare att producera PRP genom att matcha trombocyter av blodgrupp O med plasma av blodgrupp AB för att undvika eventuell påverkan av ABH antigener och isoagglutinins. Hittills har cellkulturer används mest fetalt bovinserum (FBS) som bär risken för xenoimmunization 21 och överföring av kända och okända patogener. Alternativ som autologa serum eller serum-fria medier ännu inte lyckas ersätta FBS i många applikationer. 22 I tidigare studier har vi jämfört effekterna av pHPL och FBS på expansion av mesenkymala stromaceller avslöjar en verkningsgrad på pHPL i cell förökning. 7,8,23 Isoleringen och storskalig expansion av endotelceller stamceller i djur serumfritt förhållanden in EGM-2 kompletteras med pHPL har visats av Reinisch et. al. 11 och är dessutom presenteras som en JUPITER protokoll av Nicole A. Hofmann. Protokollen för att förbereda MSC och ECFC förberedelser medelstora beskrivs i figur 2 och 3.
Användningen av pHPL som en potent ersättning för FBS utgör en attraktiv steg mot ett djur serumfritt Good Manufacturing Practice (GMP)-kompatibel utvecklingen av Cell Therapeutics för klinisk tillämpning. 9,24
Subscription Required. Please recommend JoVE to your librarian.
Acknowledgments
Detta arbete har fått stöd av den österrikiska Research Foundation (FWF, bevilja N211-NAN till DS) och den österrikiska Research Promotion Agency (FFG bevilja N200 till DS). Författarna tackar Claudia Url för utmärkt tekniskt bistånd och Monica Farrell för språklig redigering.
Materials
| | | | |
| --- | --- | --- | --- |
| Name | Company | Catalog Number | Comments |
| Double bag (2 x 3.5L) | MacoPharma | VDL 8000XQ | originally for ascites puncture |
| 50 mL Falcon tube | Falcon BD | 2098 | |
| 50 mL Stripettes | Costar | 4501 | |
| Plasma bags (600mL) | Baxter Internationl Inc. | R4R2021 | |
| Sterile tubing welder | Terumo Medical Corp. | TSCD-II | |
| Welding equipment | Fresenius Kabi | Compo Seal | |
| Water bath | | | |
| Sterile scissors | | | |
| Clamps | | | |
| Centrifuge | | | |