Summary
Vi skissere metoder for effektiv og rask isolering / kultur levedyktig microglia fra neonatal cerebral cortex og voksne ryggmargen. Disseksjon og platekledning av kortikale microglia kan oppnås innen 90 minutter, med påfølgende microglial innhøstingen foregår ~ 10 dager etter første disseksjon.
Abstract
Mikroglia er resident makrofag-lignende celler i det sentrale nervesystem (CNS) og, som sådan, har kritisk viktige roller i fysiologiske og patologiske prosesser som CNS modning i utvikling, multippel sklerose, og ryggmargsskade. Microglia kan aktiveres og rekruttert til handling ved neuronal skade eller stimulering, for eksempel aksonal skade sett i MS eller iskemisk hjerneskade som følge av slag. Disse immunkompetente medlemmer av sentralnervesystemet er også antatt å ha roller i synaptisk plastisitet under ikke-patologiske tilstander. Vi benytter protokoller for dyrking microglia fra nyfødte og voksne vev som har som mål å maksimere levedyktig celle tall samtidig minimere konfunderende variabler, for eksempel tilstedeværelse av andre CNS celletyper og cellekultur rusk. Vi bruker store og synbare CNS komponenter (f.eks cortex, ryggmargssegmenter), noe som gjør hele prosessen gjennomførbar og reproduserbar. Bruken av voksen celles er et egnet alternativ til bruk av neonatale hjerne mikroglia, som mange patologier studert hovedsakelig påvirke den postnatale ryggmargen. Disse kultursystemer er også nyttige for direkte testing av effekten av forbindelser som enten hemmer eller fremmer microglial aktivering. Siden microglial aktivering kan forme resultatene av sykdom i voksen CNS, er det behov for in vitro-systemer hvor nyfødte og voksne mikroglia kan dyrkes og studert.
Introduction
Microglia er de fastboende immunceller i CNS, mest tett likner perifere makrofager i struktur og funksjon en. Det har nylig blitt demonstrert at postnatal microglial cellene stammer fra primitive myeloide stamceller, og blir generert før den åttende dagen av embryogenesen upending den forrige forestillingen om at postnatal blodkreft stamceller er kilden til microglia i den voksne hjernen to. De spiller sentrale roller i flere nevrologiske sykdommer og kan raskt svare på infeksjon eller skade ved å slippe pro-inflammatorisk eller anti-inflammatorisk cytokiner tre. Dermed microglia omfatte en frittstående enhet i CNS som kan manipuleres til å påvirke sykdomsutvikling. Utvikle robuste og reproduserbare metoder for å isolere og kultur nyfødte eller voksen microglial celler er viktig for fremtidige studier.
Mikroglia er kjent for å være kritiske aktører i en rekke hjernesykdommer. Flere nylig, roles dukker opp for cellene i normal hjernens utvikling og funksjon som microglia phagocytose overskytende nevrale stamceller fra dentate gyrus av hippocampus 1, 4. Microglia kan også modulere en rekke nevrologiske tilstander som påvirker ryggmargen, for eksempel MS, nevropatisk smerte, og ryggmargsskade 5-7. Ryggmargen mikroglia reagerer forskjellig i forhold til hjernen mikroglia svar på aktiveringssignaler 8, 9, trolig på grunn av forskjeller i nærmiljøet. Derfor er det viktig å etablere en hensiktsmessig in vitro-system til kulturen og studere ryggmarg mikroglia. Neonatal mikroglia produsere betydelig mer av de pro-inflammatoriske cytokin nitrogenoksid sammenlignet med voksne celler etter in vitro stimulering med IFN-γ eller TNF-a-10,11 ytterligere understreker behovet for å benytte voksne celler for å studere mikroglia i sammenheng med visse sykdommer.
Protokollen vi bruker i laboratoriet til cuLTURE neonatal mikroglia er en variant av nyere fremgangsmåter som anvender rister av blandede glial kulturer i et forsøk på å fjerne den mikroglia fra overflaten av cellekultur kolbe 12.. Vi beskriver også en metode for å kultur microglia fra den voksne musen ryggmargen basert på en protokoll først beskrevet av Yip, et al 13. Denne metoden gir en raskere måte å kultur voksne celler sammenlignet med andre tilgjengelige protokoller 14. Det resulterende preparatet er 70% mikroglia, gjenværende andel består av astrocytter. Selv om renhet i vår kultur er lavere i forhold til andre publiserte metoder 13, er denne kulturen system nyttig for å utforske microglial i kultur respons på ulike aktiverende stimuli samt for studiet av sykdommer som i hovedsak påvirker ryggmargen og der en sterk betennelsesreaksjon er en viktig funksjon.
Alle protokoller beskrevet har blitt godkjent av Stony Brook University IACUC.
Subscription Required. Please recommend JoVE to your librarian.
Protocol
En. Disseksjon (Dag 0)
Indusere anestesi til p0-2 mus valper med hypotermi. Tørk hodene på valpene med en Kimwipe dynket i 70% etanol for å desinfisere vev.
Fjern hodene med en saks, ved hjelp av fire unger per 10 cm kultur plate. Plasser hodene i en petriskål inneholdende iskald Hanks buffer.
Forankre hodene med buede tang gjennom øyehulene og forsiktig fjerne huden som dekker skallen med rette microforceps.
Fjern kraniebein med rette microforceps, ved hjelp av forsiktighet for ikke å punktere eller skade cortices. Den mest effektive måten er å starte fjerningen med utgangspunkt ved lillehjernen, som er plassert på undersiden av hodet, som denne region vil bli forkastet.
Fjern hjernen med en liten spatel, og plasser (4) hjerner i en petriskål inneholdende frisk iskald Hanks buffer.
Alle trinn fra dette punktet på utnytte microforceps og utføres under en disseDette skjer mikroskop. Starting på den ventrale side av hjernen, forankre vev ved å holde i lillehjernen og foreta to små snitt på hver side av midthjernen. Vær forsiktig med å kutte hele veien gjennom vevet, som cortices dekke midthjernen i denne regionen.
Forsiktig erte midthjernen og lillehjernen i ett stykke fra de to cortices. De to cortices bør danne en konkav form.
Skille de to halvdelene og orientere én cortex med den mediale siden opp for videre disseksjon. Hippocampus kan være vanskelig å observere, men det er plassert motsatt av den olfactory bulb som vises som en liten nodul på den spisse enden av hjernebarken.
Fjern hippocampus, som har en halvmåne-form. Vend cortex over for å vise dorsal side.
Bruke olfactory pære som utgangspunkt, fjerne alle hjernehinnene og olfactory pære seg fra hjernebarken.
De dissekerte cortices bør plasseres inn i 15 ml koniske rør med 14 ml cold Hanks bufret saltvann på is.
2. Cell Culture (Dag 0)
Pre-coat 10 cm vevskultur-retter med 5 ug / ml poly-D-lysin (PDL) fortynnet i autoklavert vann i 3 timer ved 37 ° C.
Sug PDL, og vask plater gang med autoklavert vann. Tørr plate under UV i vevskultur hette i 20 min. Dette trinnet bør utføres like før disseksjon prosessen.
Aspirate Hanks buffer fra rør som inneholder cortices fra 4 hjerner hver, gjelder 4 ml 1x trypsin / EDTA-løsning, triturate vev med P1000 tips, og plassere rør i 37 ° C inkubator i 15 min.
Tilsett 4 ml av komplette microglial media per tube for å stoppe enzymatisk fordøyelse, mix, og spinner ned innholdet på 1.5K rpm i 5 min.
Aspirer supernatanten og gjenta vask med 4 ml av komplette media. Resuspender cellene i 10 ml av komplette mikrogliale medium (DMEM med 10% FBS, 1% natrium-pyruvat, 0,08% gentamycin), og filtreres gjennom en 40 mikron mesh celle sil.
Plate med en tetthet på 8 kortekser per 10 ml i en 10 cm vevskultur plate, og plasser i en vevskultur inkubator ved 37 ° C og 5% CO 2 (se Voksen Microglia protokoll).
(Dag 3)
Endre medier i alle cellekultur retter med komplette microglial media.
(Dag 10)
Legg 400 mikroliter 60 mM lidokain i HBSS (for å løsne microglia) i medium av 10-cm vevskulturplater og ruge ved romtemperatur (RT) for 10-15 min.
Samle media / celle suspensjon fra platen, og vaske platen en gang med Hanks buffer. Samle vaskebufferen å gjenopprette gjenværende microglia.
Tilsett 5 mM EDTA (pH 8,0) til cellesuspensjonen til en endelig konsentrasjon på 50 uM eller ved en 1/100 fortynning.
Spinn ned cellesuspensjon ved 1.000 xg (1500 rpm) i 5 minutter og suspensjonen igjen i 1 ml DMEM med 1% FBS.
Telle levedyktig celle nummer (som per voksen Microglia 3.1/3.2) og dele celler i vevskulturplater på ønsket eksperimentell tetthet. Ca 1x10 6 mikroglia er høstet fra en 10 cm plate som inneholder cortices fra 4 hjerner. For immunofluorescens, er en densitet på 2.5x10 4 celler pr 18 mm dekkglass anbefales.
Tillat i minst 24 timer for mikrogliale celler til fullt ut vende tilbake til sin ramified, hvilende tilstand før bruk.
Protokoll Tekst: (Adult Microglia)
En. Tissue Collection
Coat vevskulturplater med poly-D-lysin (PDL) i 3 timer ved 37 ° C eller over natten ved 4 ° C. Vask platene en gang med autoklavert vann umiddelbart før bruk.
Avlive mus med CO 2 kvelning og konstatere at eutanasi er fullført. Rens ryggmarg område med 70% etanol.
Ved hjelp av en saks kutte huden på toppen av ryggmargen, deretter fortsette å kutte ryggmargen ut fra regionens T1 til T12. Kuttden gjenværende muskler av av sidene av ryggmargen.
Sakte skåret ryggvirvlene hjelp microscissors som du forsiktig holder ryggmargen med fingertuppene. Vær forsiktig så du ikke å punktere ryggmargen som vevet er veldig myk. Sakte trekke ryggmargen hjelp microforceps.
Senk ryggmargen i en petriskål inneholder iskalde HBSS. Ved hjelp av et lysmikroskop fjerne alle synlige hjernehinnene hjelp microforceps
Kutt ryggmargen inn tverrgående segmenter små nok til å generere flere fragmenter. Tykkelsen av fragmentene bør ikke være mer enn 2 mm for å lette effektiv fordøyelse. Overfør ryggmargen brikkene til en 15 ml konisk rør som inneholder 1 ml iskald HBSS. Hold røret på is inntil fordøyelsen trinn.
2. Fordøyelsen av Tissue
Sug HBSS fra 15 ml konisk rør som inneholder ryggmargen vev. Vær forsiktig så du ikke å suge noen stykke vev.
Tilsett 1 ml av trypsin (2.5 g / l bestrålt porcine trypsin og 0,2 g / l EDTA i HBSS) og inkuberes ved 37 ° C i 30 min.
For å stoppe fordøyelsen fjerne trypsin og tilsett 3 ml av primær microglia medium som inneholder serum for å stoppe den enzymatiske fordøyelsen.
Pipettér opp og ned for å løsne vev. Filtrer den celle suspensjonen med en 40 mikrometer celle sil.
3. Celletellingen og Plating
Bland like volum av cellesuspensjon og DAPI løsning.
Telle celler ved hjelp av en hemocytometer.
Plate med en tetthet mellom 5-7x10 5 celler / ml i PDL-belagte 35 x 10 mm retter. Plettering med lavere densitet forhindret cellevekst selv når cellene ble dyrket i 12 brønns plater som har et mindre areal sammenlignet med 35 x 10 mm skåler.
Subscription Required. Please recommend JoVE to your librarian.
Representative Results
Et eksempel på hvilende og aktiverte mikrogliale celler er vist i figur 1.. Den microglia ble visualisert 24 timer etter plating (Figur 1a) og viser ramified (hvile) morfologi. Eksponering for priming reagens, blir bakteriell lipopolysakkarid (LPS) resulterer i endringer i microglial morfologi som cellene aktiveres (Figur 1b).
Et eksempel på telling av cellene for plating er vist i figur 2.. På grunn av tilstedeværelsen av cellerester, ble DAPI Fluoromount (istedenfor trypanblått) ble tilsatt til et likt volum av cellesuspensjonen og plasseres i et hemocytometer for Celletellingen som beskrevet i 4, 13. DAPI positive celler ble visualisert ved hjelp av et fluorescerende mikroskop. Bruk av den lyse felt innstilling lettes en nøyaktig telling av cellene tilstede (figur 2). Rundt 7x10 5 celler ble innhentet per mus ryggmargen.
innhold "> Cellene ble belagt i PDL-belagte 35 x 10 mm vev kultur retter. Vi fant at belegget med PDL var et kritisk punkt, som celler ikke holder seg / vokse med mindre platene var belagt. Microglia fullt feste til kultur plate etter omtrent to dager i kultur
(figur 3).
ryggmargen av MacGreen mus som uttrykker GFP under kontroll av den mikroglia / makrofag promoter CSF-1R, ble brukt til dette eksperiment.

Figur 1. Representativt bilde av neonatal microglia etter to dager i kultur. Microglia ble dyrket fra p0 C57/BL6 mus unger, og belagt på ubestrøket Dekkglass med en tetthet på 2,5 x 10 5 celler / ml. A, C. Ubehandlet mikroglia som har returnert til en hvile, ramified tilstand, b, d . Microglia behandlet med 100 ng / ml LPS i 4 timer, og viser et aktivert, amoeboid form; Iba1 (grønn, en markør spesifikk for et makrofager / microglia celleoverflate-protein) er blitt brukt til å visualisere cellene, mens lyse felt bilder ble brukt til å viser samlede celle populasjoner. DAPI Fluoromount ble anvendt for å visualisere kjerner og indikerer renheten av kulturen.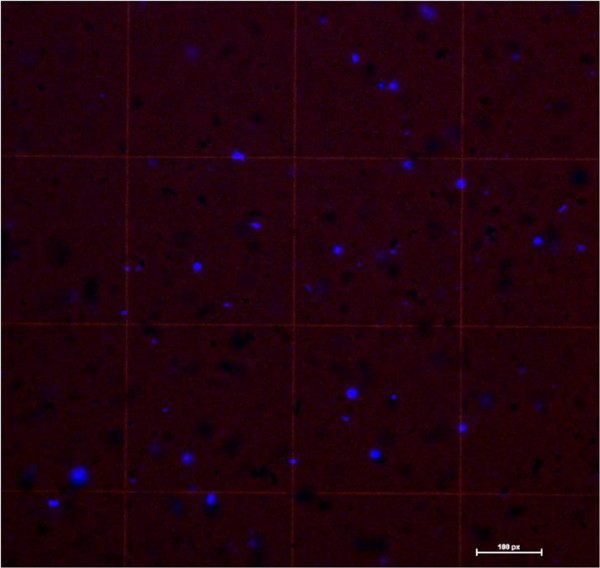 Figur 2. Celletelling. DAPI Fluoromount ble blandet med et likt volum av cellesuspensjon og plassert i et hemocytometer. Vi har kombinert fluorescens og lysfelt innstilling å visualisere DAPI positive celler og hemocytometer gitteret for en nøyaktig celletall.
"Fo: src =" / files/ftp_upload/50647/50647fig3highres.jpg "src =" / files/ftp_upload/50647/50647fig3.jpg "/>
Figur 3. Representative bilder av voksne ryggmargen microglia etter to dager i kultur. en. i ryggmarg av en MacGreen mus ble anvendt for kulturen prosedyre. Celler ble platet ut i en PDL-belagt 35 x 10 mm vevskultur tallerken med en tetthet på 7x10 5 celler / ml. B.. Mørkefelt bilde av ryggmargen mikroglia etter to dager i kultur. Microglia (blå piler) og astrocytes (røde piler) vises. Klikk her for å se større figur .
Subscription Required. Please recommend JoVE to your librarian.
Discussion
Microglia modulere CNS normal funksjon samt inflammatoriske responser til ulike sykdommer. Funksjonell synaptiske ombygging av mikroglia har vært innblandet i vedlikehold av normal hjerne homeostase 15. Under nevrogen kaskade deltar de i clearance av nevrale stamceller fra dentate gyrus av hippocampus 4, 16. Derfor er det nødvendig å utvikle en kultur-system for å studere nyfødte og voksne mikroglia, som vil dekke alle de skjærer utvikling og voksen alder, gjennom hvilken mikroglia har flere diskrete funksjoner. Vi har skissert en rask og effektiv metode for å kultur microglia fra den voksne ryggmargen og neonatal hjernen. Vi var i stand til å skaffe cellepreparater i voksen som var 70% mikroglia med den resterende andel som består av astrocytter, og renheten av den neonatale mikrogliale preps som nærmer seg 100%.
Med den rollen that astrocytter har i regulering av aktiveringen tilstand av mikroglia 17-19, er det viktig å optimere dyrkingsbetingelsene for å forbedre renheten av kulturen. Selv om kombinasjon av cellesuspensjonen med et likt volum av DAPI Fluoromount muliggjør en nøyaktig celletall, er det ikke mulig å skille mikroglia fra andre celletyper ved hjelp av denne metoden. For å forbedre renheten av den voksne microglial forberedelse, kan GFP-belagte Dynabeads bli inkubert med cellen suspensjon avledet fra MacGreen mus, hvis myeloid celler allerede uttrykke GFP 20. Et annet forslag er å plate blandet cellesuspensjon i kultur retter som ikke har blitt tidligere belagt med PDL å hindre astrocytisk feste 13.. Vi har imidlertid funnet at ingen celler vokser på plate med mindre de har blitt tidligere belagt, som i våre hender kan anvendes både på nyfødte og voksne celler.
Mange protokoller som beskriver metoder for ISOLasjon og platekledning av primær microglia fra enten rotte eller mus hjernevev utnytte risting av blandede glial kulturer å ta av microglia og dermed få et renset befolkning for nedstrøms eksperimenter 12. Vår protokoll skiller mest merkbart i eksklusive risting trinnet, og i stedet fokusere på rensing av en microglial bare befolkningen gjennom nettopp titrert dyrking forhold. I vår erfaring, risting blandede glial kulturer for å fjerne microglia er effektiv, men har en betydelig ulempe - det faktum at rystet microglia ta mange dager å gå tilbake til en fullstendig hvile morfologi 12. Dette kan være problematisk gitt at aktivert microglia har en vesentlig forskjellig cytokin profilen 21. Vår protokollen, mens du tar litt lengre tid å få ren microglia, vedlikeholder cellene i en hviletilstand hele. Som med den voksne prep diskutert i neste avsnitt, er det en ulempe med metoden vår et eventueltsynligheten for lite forurensing av andre celletyper, nemlig astrocytes.
Vår teknikk for dyrking voksen microglia varierer betydelig fra allerede eksisterende metoder. Mange protokoller krever bruk av tetthetsgradient-sentrifugering (Percoll ®), så vel som anvendelse av strømningscytometri for å oppnå en ren populasjon microglial 22.. I vår metode for å skape en stabil microglial kultur fra voksen ryggmargen vi ikke bruke enten teknikk, som gjør for en betydelig mindre tidkrevende og komplisert protokoll for forskeren å følge. Mens de aller fleste av voksne mikrogliale preparater kommer fra hjernevev, ryggmarg er sammensatt av de samme celletyper - og derfor vår protokoll presenterer en rettferdig sammenligning med tidligere beskrevne fremgangsmåter 22. En kompromisset i protokollen vår er en litt mindre rene microglial forberedelse, som består av 70% microglia, med de resterende brøkdel av celler blir det meste av astrocytic orin. Dette avviket kan potensielt bli overvunnet ved hjelp av et ekstra trinn med isolering av mer ren microglia bruke svært spesifikke celletype markører for microglial avstamning som Iba-en og F4/80 konjugert til magnetiske kuler.
De fleste studier som vurderer rollen som microglia i nevrologiske sykdommer som påvirker har ryggmargen blitt gjennomført ved hjelp av celler fra neonatal hjernen, og mens dette er en solid tilnærming for å svare på spørsmål om en rolle for mikroglia i normal utvikling samt patologi som påvirker hjernen spesielt, følte vi at en mer spesifikk metode måtte bli etablert for å studere microglia funksjon i den voksne ryggmargen. Vår neonatal metoden er en meget effektiv måte til å svare på de fleste spørsmål angående den normale funksjon av hjernen såvel som i visse patologiske tilstander, og den voksne metoden er et godt alternativ til bruk av neonatal celler for slike studier gitt variasjon i immunologiske responss mellom neonatal mikroglia og voksne celler og mellom microglia fra hjernen og ryggmargen 6-9. Microglia oppnådd fra begge fremgangsmåter som er beskrevet er også egnet for in vitro-ko-kultur studier (vi primært kultur dem med neurons eller oligodendrocytes i vårt laboratorium) som adresse effekten av mikroglia på andre celletyper, så vel som den nyfødte og voksne microglial respons på aktivering stimuli.
Subscription Required. Please recommend JoVE to your librarian.
Disclosures
Forfatterne har ikke noe å avsløre.
Acknowledgments
Vi vil gjerne takke medlemmene av Tsirka lab for deres råd og nyttige kommentarer. Dette arbeidet ble støttet av R01NS42168 til SET, 12PRE12060489 til RB, en NSF-3mt IGERT og en Turner avhandling fellesskap til LT, og NSF-3mt IGERT til JCN.
Materials
| | | | |
| --- | --- | --- | --- |
| Name | Company | Catalog Number | Comments |
| EDTA, 5mM | Invitrogen | 15567-028 | |
| Lidocaine, 60mM | Sigma | L-5647 | |
| Trypan Blue | Sigma | T8154 | |
| Trypsin/EDTA | Cellgro | 25-052-CI | |
| DMEM, 1X | Cellgro | 10-017 | |
| Sodium Pyruvate | Cellgro | 25-000-Cl | |
| Gentamycin Sulfate | Biowittaker | 17-518Z | |
| 35 x 10mm tissue culture dish | Falcon | 353001 | |
| Poly-D-Lysine, 100 μg/ml | | | Dilute 1:20 |
| HBSS, 1X | Cellgro | 20-023-CV | |