Summary
Vi skitserer metoder til effektiv og hurtig isolation / kultur af levedygtige microglia fra det neonatale hjernebarken og voksne rygmarven. Dissektion og plating kortikal microglia kan opnås inden for 90 minutter med efterfølgende microglial høst finder sted ~ 10 dage efter den første dissektion.
Abstract
Mikroglia er de bosiddende makrofag-lignende celler i det centrale nervesystem (CNS), og som sådan kritisk vigtige roller i fysiologiske og patologiske processer, såsom CNS modning i udvikling, multipel sklerose, og rygmarvsskade har. Mikroglia kan aktiveres og rekrutteres til handling ved neuronal skade eller stimulering, såsom axonal skade set i MS eller iskæmisk hjerne traumer forårsaget af slagtilfælde. Disse immunkompetente medlemmer af CNS er også menes at have roller i synaptisk plasticitet under ikke-patologiske tilstande. Vi beskæftiger protokoller for dyrkning microglia fra neonatale og voksne væv, der tager sigte på at maksimere de levedygtige celletal samtidig minimere forstyrrende variabler, såsom tilstedeværelsen af ​​andre CNS-celletyper og cellekultur vragrester. Vi udnytter store og let mærkbar CNS-komponenter (f.eks cortex, rygmarv segmenter), hvilket gør hele processen gennemførlig og reproducerbar. Brugen af ​​voksne celles er en egnet alternativ til anvendelsen af ​​neonatale hjerne mikroglia, da mange sygdomme, hovedsagelig studerede påvirke postnatal rygmarven. Disse dyrkningssystemer er også anvendelige til direkte at teste virkningen af ​​forbindelser, der kan enten hæmmer eller fremmer mikroglial aktivering. Da mikroglial aktivering kan forme resultaterne af sygdom i de voksne CNS, er der behov for in vitro-systemer, i hvilke neonatale og voksne mikroglia kan dyrkes og undersøges.
Introduction
Microglia er de bosiddende immunceller af CNS, mest sammenlignelige perifere makrofager i struktur og funktion 1.. Det er for nylig blevet påvist, at postnatal mikrogliaceller stammer fra primitive myeloide stamceller og genereres før den ottende dag embryogenese upending den tidligere opfattelse, at postnatal hæmatopoietiske progenitorer er kilden til mikroglia i den voksne hjerne 2. De spiller centrale roller i flere neurologiske sygdomme og kan hurtigt reagere på infektion eller skade ved at frigive pro-inflammatoriske eller anti-inflammatoriske cytokiner 3.. Således mikroglia omfatte en selvstændig enhed i CNS, der kan manipuleres til at påvirke sygdomsprogression. Udvikle robuste og reproducerbare metoder til at isolere og kultur neonatale eller voksen microglial celler er vigtig for fremtidige undersøgelser.
Mikroglia er kendt for at være kritiske spillere i en række hjernen patologier. For nylig, roles dukker for cellerne i normal hjernens udvikling og funktion som mikroglia fagocytere overskydende neurale stamceller fra dentatgyrus af hippocampus 1, 4. Mikroglia kan også modulere adskillige neurologiske forhold, der påvirker rygmarven, såsom MS, neuropatisk smerte, og rygmarvsskade 5-7. Rygmarv microglia reagerer forskelligt i forhold til hjernen mikroglia som reaktion på aktiveringssignaler 8, 9, sandsynligvis på grund af forskelle i det lokale miljø. Derfor er det vigtigt at etablere en passende in vitro-system til kultur og studere rygmarven microglia. Neonatale mikroglia producere væsentligt flere af de pro-inflammatoriske cytokin nitrogenoxid sammenlignet med voksne celler efter in vitro-stimulering med IFN-γ eller TNF-a 10,11 yderligere fremhæver behovet for at anvende voksne celler til at studere mikroglia i forbindelse med visse sygdomme.
Protokollen vi anvender i laboratoriet til cuLTURE neonatal mikroglia er en variation af nyere metoder, som udnytter rystning af blandede gliaceller kulturer i et forsøg på at fjerne mikroglia fra overfladen af cellen dyrkningskolbe 12. Vi beskriver også en metode til kulturen mikroglia fra voksne mus rygmarven baseret på en protokol først beskrevet af Yip et al 13.. Denne metode giver en hurtigere måde at kultur voksne celler i forhold til andre tilgængelige protokoller 14. Den resulterende præparat er 70% mikroglia og den resterende procentdel består af astrocytter. Selv renheden af vores kultur er lavere i forhold til andre publicerede metoder 13, dette dyrkningssystem er nyttig for at udforske mikroglial i kultur respons på forskellige aktiverende stimuli samt til undersøgelse af sygdomme, der hovedsageligt rammer rygmarven og i hvilken en stærk inflammatorisk respons er en vigtig funktion.
Alle de beskrevne protokoller er endeligt godkendt af Stony Brook Universiteternety IACUC.
Subscription Required. Please recommend JoVE to your librarian.
Protocol
1.. Dissektion (dag 0)
Fremkald anæstesi til P0-2 museungers med hypotermi. Tør lederne af hvalpene med en Kimwipe dyppet i 70% ethanol til at desinficere vævet.
Fjern hoveder med en saks, med 4 unger per 10 cm agarplade. Placer hovedet i en petriskål indeholdende iskold Hanks buffer.
Forankre de hovederne hjælp buede pincet gennem øjenhuler og fjern forsigtigt huden, der dækker kraniet med lige microforceps.
Fjern de kranieknogler med lige microforceps, ved hjælp af forsigtighed for ikke at punktere eller beskadige cortex. Den mest effektive måde er at starte fjernelsen begyndende nær lillehjernen, der er placeret i bunden af ​​hovedet, da denne region vil blive kasseret.
Fjern hjerne med en lille spatel, og placere (4) hjerner i en frisk petriskål indeholdende iskold Hanks puffer.
Alle trin fra dette punkt udnytte microforceps og er udført under en theseIndsatsen mikroskop. Begyndende på den ventrale side af hjernen, vævet forankre ved at holde lillehjernen og gøre to små snit på hver side af midthjernen. Vær forsigtig med ikke at skære hele vejen gennem vævet, da cortex dækker midthjernen i denne region.
Forsigtigt drille midthjernen og cerebellum i ét stykke fra de to cortex. De to cortex bør udgøre en konkav form.
Adskil de to cortex og orientere et enkelt cortex med den mediale side op til yderligere dissektion. Hippocampus kan være vanskeligt at iagttage, men det er placeret modsat af lugtekolben der vises som et lille knude på den spidse ende af cortex.
Fjern hippocampus, som har en halvmåne-formet. Vend cortex i at se den dorsale side.
Brug lugtekolben som udgangspunkt, fjerne alle hjernehinderne og lugtekolben sig fra cortex.
De dissekerede cortex bør placeres i 15 ml koniske rør med 14 ml cold Hanks pufrede saltopløsning på is.
2.. Cell Culture (dag 0)
Pre-coat 10 cm vævsdyrkningsskåle med 5 ug / ml poly-D-Lysin (PDL) fortyndet i autoklaveret vand i 3 timer ved 37 ° C.
Aspirere PDL, og vask plader gang med autoklaveret vand. Tør pladen under UV i vævskultur hætte i 20 min. Dette trin skal udføres lige før dissektion processen.
Aspirat Hanks buffer fra rørene indeholdende cortex fra 4 hjerner hver, gælder 4 ml 1x trypsin / EDTA-opløsning, tritureres væv med P1000 tip og placere rør i 37 ° C inkubator i 15 min.
Tilsæt 4 ml komplette microgliale medier pr rør for at stoppe enzymatisk fordøjelse, blandes, og spin ned indhold på 1.5K rpm i 5 min.
Aspirere supernatanten og gentag vask med 4 ml af komplette medier. Resuspender cellerne i 10 ml af komplette microglial medier (DMEM med 10% FBS, 1% natriumpyruvat, 0,08% gentamycin), og filtreres gennem et 40 micron maskecelle si.
Plade med en densitet på 8 cortex pr 10 ml i en 10 cm vævskulturplade og sted i en vævsdyrkningsinkubator ved 37 ° C og 5% CO 2 (se Voksen Mikroglia protokol).
(Dag 3)
Skift medier i alle celle dyrkningsskåle med komplet microgliale medier.
(Dag 10)
Tilføj 400 mikroliter 60 mM lidocain i HBSS (at frigøre mikroglia) i medium 10 cm vævskulturplader og der inkuberes ved stuetemperatur (RT) i 10-15 min.
Saml medie / celle suspension fra pladen, og vask pladen en gang med Hanks buffer. Saml vaskepufferen at inddrive de resterende microglia.
Tilsæt 5 mM EDTA (pH 8,0) til cellesuspensionen til en slutkoncentration på 50 uM eller en 1/100 fortynding.
Spin ned cellesuspension ved 1.000 xg (1.500 rpm) i 5 min og re-suspendere 1 ml DMEM med 1% FBS.
Tæl levedygtige celle nummer (som pr voksen Microglia 3.1/3.2) og opdele celler i vævskulturplader ved den ønskede eksperimentel tæthed. Ca. 1x10 6 mikroglia høstes fra en 10 cm plade indeholder cortex fra 4 hjerner. Til immunofluorescens er en densitet på 2.5x10 4 celler pr 18 mm dækglas anbefales.
Tillad mindst 24 timer for mikrogliaceller til vende fuldstændigt tilbage til deres forgrenet, hvilende tilstand før brug.
Protokol Text: (Adult Mikroglia)
1.. Tissue Collection
Coat vævskulturplader med Poly-D-Lysin (PDL) i 3 timer ved 37 ° C eller natten over ved 4 ° C. Pladerne skylles en gang med autoklaveret vand umiddelbart før brug.
Afliv musen ved CO 2 kvælning og konstatere, at eutanasi er færdig. Rens rygmarv område med 70% ethanol.
Ved hjælp af en saks skære huden på toppen af ​​rygmarven og derefter videre til skære rygmarven ud fra regionen T1 til T12. Skærden resterende muskel ud af siderne af rygmarven.
Langsomt skære ryghvirvler hjælp microscissors mens du forsigtigt holde rygmarven med fingerspidserne. Vær omhyggelig med ikke at punktere rygmarven, da vævet er meget blød. Langsomt udtrække rygmarven ved hjælp microforceps.
Sænk rygmarven i en petriskål indeholdende iskolde HBSS. Ved hjælp af et lysmikroskop fjerne alle synlige meninges bruger microforceps
Skær rygmarven i tværgående segmenter små nok til at generere flere fragmenter. Tykkelsen af ​​fragmenterne bør ikke være mere end 2 mm for at lette effektiv fordøjelse. Overfør rygmarv brikker til en 15 ml konisk rør indeholdende 1 ml iskold HBSS. Hold røret på is indtil fordøjelsen trin.
2.. Fordøjelse af væv
Aspirer HBSS fra 15 ml koniske rør indeholdende rygmarv væv. Vær omhyggelig med ikke at aspirere et stykke væv.
Tilsæt 1 ml trypsin (2..5 g / L bestrålet porcin trypsin og 0,2 g / L EDTA i HBSS) og inkuberes ved 37 ° C i 30 min.
At stoppe fordøjelsen fjerne trypsin og tilsættes 3 ml primær mikroglia medium, som indeholder serum at standse den enzymatiske fordøjelse.
Pipette op og ned for at løsne vævet. Filtreres cellesuspensionen ved hjælp af en 40 um cellefilter.
3.. Celletælling og Plating
Bland lige volumen af ​​cellesuspension og DAPI opløsning.
Tæl celler under anvendelse af et hæmocytometer.
Plade ved en tæthed mellem 5-7x10 5 celler / ml i PDL-overtrukne 35 x 10 mm-skåle. Udpladning ved en lavere tæthed forhindrede cellevækst, selv når cellerne blev dyrket i plader med 12 brønde, som har et mindre område i forhold til 35 x 10 mm-skåle.
Subscription Required. Please recommend JoVE to your librarian.
Representative Results
Et eksempel på hvilende og aktiverede mikrogliaceller er vist i figur 1.. Mikroglia blev visualiseret 24 timer efter udpladning (figur 1a) og udviser forgrenet (hvilende) morfologi. Udsættelse for priming reagens bliver bakterielt lipopolysaccharid (LPS) resulterer i ændringer i mikroglial morfologi som cellerne aktiveres (figur 1b).
Et eksempel på at tælle celler til plettering er vist i figur 2.. På grund af tilstedeværelsen af cellerester blev DAPI Fluoromount (i stedet for trypanblåt) blev tilsat til et tilsvarende volumen af cellesuspensionen og anbringes i et hæmocytometer til celletælling som beskrevet i 4, 13. DAPI positive celler blev visualiseret under anvendelse af et fluorescerende mikroskop. Anvendelse af lysfelt indstilling lettet en nøjagtig optælling af tilstedeværende celler (figur 2). Omkring 7x10 5 celler blev opnået pr mus rygmarven.
indhold "> Cellerne blev udpladet i PDL-overtrukne 35 x 10 mm vævskulturskåle. Vi fandt, at belægningen med PDL var et kritisk trin, som cellerne ikke klæbe / vokse medmindre pladerne var coatet. Mikroglia fuldt vedhæfte til agarpladen efter ca to dage i kultur
(figur 3).
rygmarv fra MacGreen mus, som udtrykker GFP under kontrol af mikroglia / makrofag-promotor CSF-1R, blev anvendt til dette eksperiment.

Figur 1. Repræsentativt billede af neonatal mikroglia efter to dage i kultur. Mikroglia blev dyrket fra p0 C57/BL6 museungers, og belagt på uovertrukne dækglas med en tæthed på 2,5 x 10 5 celler / ml. A, c. Ubehandlede mikroglia der er vendt tilbage til en hvile, forgrenet tilstand, b, d . Mikroglia behandlet med 100 ng / ml LPS i 4 timer og vise en aktiveret, amoeboid form; Iba1 (grøn, en markør specifik for et makrofager / mikroglia celleoverfladeprotein) er blevet anvendt til at visualisere de celler, medens lyse field billeder blev anvendt til viser overordnede cellepopulationer. DAPI Fluoromount blev anvendt til at visualisere kerner og angive renheden af ​​kulturen.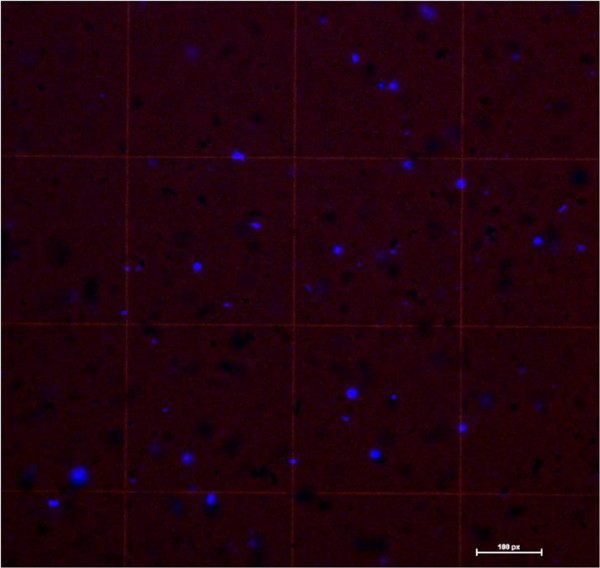 Figur 2. Celletælling. DAPI Fluoromount blev blandet med et tilsvarende volumen af cellesuspension og anbringes i et hæmocytometer. Kombineret vi lysfelt og fluorescensen indstilling at visualisere DAPI positive celler og hæmocytometeret nettet for en nøjagtig celletælling.
"Fo: src =" / files/ftp_upload/50647/50647fig3highres.jpg "src =" / files/ftp_upload/50647/50647fig3.jpg "/>
Figur 3. Repræsentative billeder af voksne rygmarv microglia efter to dage i kultur. en. Rygmarven af en MacGreen mus blev anvendt til dyrkning procedure. Celler blev udpladet i en PDL-belagt 35 x 10 mm vævsdyrkningsskål ved en densitet på 7x10 5 celler / ml. B.. Bright field billede af rygmarven mikroglia efter to dage i kultur. Microglia (blå pile) og astrocytter (røde pile) er vist. Klik her for at se større figur .
Subscription Required. Please recommend JoVE to your librarian.
Discussion
Mikroglia modulere CNS normale funktion samt inflammatoriske responser til forskellige patologier. Funktionel synaptisk remodellering af mikroglia er blevet impliceret i opretholdelse af normal hjerne homeostase 15. Under den neurogene kaskade de deltager i clearance af neurale stamceller fra dentatgyrus af hippocampus 4, 16. Derfor er det nødvendigt at udvikle en kultur, i hvilket at studere neonatal og voksne microglia, som vil dække det store skår af udvikling og voksenalderen, hele som microglia har flere diskrete funktioner. Har vi skitseret en hurtig og effektiv metode til kulturen mikroglia fra den voksne rygmarven og neonatal hjerne. Vi var i stand til at opnå cellepræparationer i den voksne, der var 70% microglia med den resterende procentdel består af astrocytter, og renheden af ​​de neonatale microglial preps nærmer 100%.
Lyset af den rolle THAt astrocytter har at regulere aktiveringen staten mikroglia 17-19, er det vigtigt at optimere dyrkningsbetingelser til at forbedre renheden af kulturen. Selvom kombinere cellesuspensionen med et lige volumen af ​​DAPI Fluoromount muliggør en nøjagtig celletælling, er det ikke muligt at skelne mikroglia fra andre celletyper ved hjælp af denne metode. At forbedre renheden af den voksne mikroglial tilberedning kan GFP-coatede Dynabeads inkuberes med cellesuspensionen afledt fra MacGreen mus, hvis myeloide celler, der allerede udtrykker GFP 20.. Et andet forslag ville være at pladen blandet cellesuspension i dyrkningsskåle, der ikke tidligere er blevet belagt med PDL at forhindre astrocytisk fastgørelse 13.. Imidlertid har vi fundet, at ingen celler vokser på pladen, medmindre de tidligere er blevet overtrukket, som i vore hænder kan anvendes til både neonatale og voksne celler.
Mange protokoller beskriver metoder til isolation og forkromning af primær microglia enten fra rotte eller mus hjernevæv udnytte ryste af blandede gliaceller kulturer at afmontere microglia og derved opnå en renset population for downstream eksperimenter 12. Vores protokol adskiller mest mærkbart i eksklusive ryste skridt, og i stedet fokusere på rensning af mikrogliale kun befolkning gennem præcist titrerede dyrkningsbetingelser. Det er vores erfaring, er at ryste blandede gliaceller kulturer med henblik på at fjerne microglia effektive, men har en betydelig ulempe - det faktum, at rystet microglia tage mange dage at vende tilbage til en komplet hvile morfologi 12.. Dette kan være problematisk, da aktiverede mikroglia har en væsentlig anderledes cytokinprofil 21.. Vores protokol, samtidig med at lidt længere for at opnå rene microglia fastholder cellerne i en hviletilstand hele. Som med den voksne prep diskuteres i næste afsnit, er den ene ulempe ved vores metode en muheden af ​​lille kontaminering af andre celletyper, nemlig astrocytter.
Vores teknik til dyrkning voksen microglia varierer betydeligt fra allerede eksisterende metoder. Mange protokoller kræver anvendelse af densitetsgradientcentrifugering (Percoll) samt anvendelse af flowcytometri til at opnå en ren mikroglial befolkning 22.. I vores metode til at skabe en stabil microglial kultur fra voksne rygmarven vi ikke udnytte enten teknik, som gør det til en betydeligt mindre tidskrævende og kompliceret protokol for forskeren at følge. Mens det store flertal af voksne microgliale præparater kommer fra hjernevæv, er rygmarven består af de samme celletyper - og derfor vores protokol præsenterer en rimelig sammenligning med tidligere beskrevne fremgangsmåder 22. Én tradeoff i vores protokol er en lidt mindre rent mikroglial forberedelse, bestående af 70% mikroglia, med den resterende fraktion af celler er hovedsagelig af astrocytisk oprinn. Denne forskel kan potentielt overvindes med et yderligere trin med isolering af mere ren mikroglia hjælp af meget specifik celletype markører af mikroglial afstamning såsom Iba-1 og F4/80 konjugeret til magnetiske perler.
De fleste undersøgelser, der vurderer rolle mikroglia i neurologiske sygdomme, der påvirker rygmarven er blevet udført ved celler fra neonatal hjerne, og mens dette er en solid tilgang for at besvare spørgsmål om en rolle for mikroglia i normal udvikling samt patologier, der påvirker hjerne specifikt, følte vi, at en mere specifik metode skulle etableres for at studere microglia funktion i den voksne rygmarven. Vores neonatal metode er en meget effektiv måde at besvare de fleste spørgsmål vedrørende den normale funktion af hjernen samt i visse patologiske forhold, og den voksne metoden er et godt alternativ til brugen af ​​neonatale celler til sådanne undersøgelser givet variation i immunologiske responss mellem neonatal microglia og voksne celler og mellem microglia fra hjernen og rygmarven 6-9. Mikroglia opnået fra begge beskrevne metoder kan også anvendes til in vitro co-kultur undersøgelser (vi primært kultur dem med neuroner eller oligodendrocytter i vores laboratorium), der er rettet mod virkningen af ​​mikroglia på andre celletyper samt den neonatale og voksne mikroglial reaktion på aktivering stimuli.
Subscription Required. Please recommend JoVE to your librarian.
Disclosures
Forfatterne har ikke noget at afsløre.
Acknowledgments
Vi vil gerne takke medlemmerne af Tsirka laboratorium for deres råd og nyttige kommentarer. Dette arbejde blev støttet af R01NS42168 til SET, 12PRE12060489 til RB, en NSF-3MT IGERT og Turner afhandling stipendium til LT, og NSF-3MT IGERT til JCN.
Materials
| | | | |
| --- | --- | --- | --- |
| Name | Company | Catalog Number | Comments |
| EDTA, 5mM | Invitrogen | 15567-028 | |
| Lidocaine, 60mM | Sigma | L-5647 | |
| Trypan Blue | Sigma | T8154 | |
| Trypsin/EDTA | Cellgro | 25-052-CI | |
| DMEM, 1X | Cellgro | 10-017 | |
| Sodium Pyruvate | Cellgro | 25-000-Cl | |
| Gentamycin Sulfate | Biowittaker | 17-518Z | |
| 35 x 10mm tissue culture dish | Falcon | 353001 | |
| Poly-D-Lysine, 100 μg/ml | | | Dilute 1:20 |
| HBSS, 1X | Cellgro | 20-023-CV | |