Overview
Fruitvliegen hebben een complex reuksysteem, kunnen honderden geurstoffen onderscheiden en hun reukvermogen gebruiken om gedragsbeslissingen te sturen. Deze video beschrijft de vierweg olfactometertest, een methode om reukgedragsreacties bij vliegen te bestuderen. De uitgelichte protocolclip laat zien hoe om te gaan met testvliegen en wat kritieke stappen zijn tijdens het uitvoeren van de test.
Protocol
Dit protocol is een fragment uit Lin et al., Olfactory Behaviors Assayed by Computer Tracking Of Drosophila in a Four-quadrant Olfactometer, J. Vis. Exp. (2016).
1. Gedragsreacties op aantrekkelijke en afstotende geurstoffen
Schakel de temperatuurregelaar in en stel deze in op 25 °C.
Sluit de geurkamers (controle- en testgeurstoffen) aan door de slang in de uitlaat van de geurkamer en op de push-to-connect-fitting op de gedragsbox te plaatsen.
Controleer het debiet in elk kwadrant met behulp van de luchtstroommeter om er zeker van te zijn dat de regel- en geurige luchtstroomen gelijk zijn aan 100 ml/min.
Reinig de PTFE fly arena en de glazen platen 2-3 keer met 70% ethanol en laat ze volledig aan de lucht drogen (~ 3-4 min).
Bevestig de glasplaten met klemmen op de arena.
Breng vliegen zonder CO2-anesthesie door het gat in een van de glasplaten de arena in. Plaats na de overdracht een cirkelvormig gaas op het gat om te voorkomen dat vliegen ontsnappen.
OPMERKING: Het is aangetoond dat CO2-anesthesie het gedrag van Drosophila beïnvloedt en mag niet binnen 24 uur na een gedragsexperiment worden gebruikt.
Plaats de arena met vliegen in de lichtdichte kamer, sluit de vier regelluchtstromen aan door de slang die is bevestigd aan de push-to-connect-fitting op de gedragsbox aan te sluiten op de arenahoeken, sluit de deur van de kamer en wacht 10-15 minuten om de vliegen te laten acclimatiseren aan de nieuwe omgeving. Schakel indien mogelijk de lichten uit in de ruimte waar de experimenten worden uitgevoerd, om mogelijke minimale lichtlekken te voorkomen die de experimentele uitkomst kunnen beïnvloeden.
Voer een controle-experiment van 5-10 minuten uit, waarbij vliegen worden blootgesteld aan 4 controleluchtstromen.
Analyseer de gegevens onmiddellijk (zie de sectie Gegevensanalyse hieronder) om ervoor te zorgen dat de vliegen gelijkmatig in de arena worden verdeeld en dat de Attraction Index dicht bij 0 ligt. Deze stap is essentieel, omdat het controleert of er geen ongecontroleerde bronnen van voorkeur of vermijding in de arena zijn(bijv. licht dat van buitenaf lekt, ongelijke temperatuurverdeling, ongelijke arena, geurverontreiniging, enz.). Als de vliegen ongelijk verdeeld zijn of hun motorische activiteit laag is, gooi de vliegen dan weg, maak de arena opnieuw schoon (stap 1.4) en gebruik een nieuwe partij vliegen om het experiment te herhalen.
Sluit de testgeurkamer aan op de opstelling door de 3-wegkleppen in te schakelen of de connectorbuizen opnieuw aan te sluiten.
Voer het testexperiment gedurende 5-10 minuten uit en analyseer de gegevens zoals besproken in sectie 2 hieronder (figuur 1). Opnames langer dan 20 minuten kunnen resulteren in gegevensbestanden die moeilijk rekenkundig te verwerken zijn. Als langere experimentele opnames gewenst zijn, stop dan snel en start het trackingprogramma opnieuw. Dit resulteert in een gat van ~10 sec tussen experimentele opnames.
Gooi vliegen weg.
Reinig arena- en glasplaten met 70% ethanol (stap 1.4) en vervang verbindingsbuizen in de lichtdichte behuizing. Om experimenten te versnellen, kan een nieuwe schone arena worden gebruikt en de vuile arena worden schoongemaakt tijdens het uitvoeren van experimentele runs.
Voer indien nodig nog een experiment uit met een nieuwe partij vliegen. Als er meerdere experimenten op dezelfde dag worden uitgevoerd, wees er dan uiterst voorzichtig mee om ervoor te zorgen dat er geen geurstof in het systeem achterbleef van een eerdere testrun. Dit is normaal gesproken geen probleem met lage concentraties geurstoffen of met CO2,maar voor sterk geconcentreerde stimuli kan een kloof van 24 uur tussen experimentele runs nodig zijn. Bovendien kunnen alle slangen na de stroombuizen worden vervangen als geurverontreiniging wordt vermoed tijdens controle-experimenten. Laat de droge lucht altijd tussen de experimenten staan om het systeem continu door te spoelen.
2. Gegevensanalyse
OPMERKING: De voorgestelde software voor het volgen van vliegen (gedetailleerd in Materialen), volgt vliegen in realtime tijdens de acquisitie en bespaart de tijdstempel en coördinaten van alle gedetecteerde vliegen in *.dat formaat. We hebben een op maat gemaakte Matlab-routine ontwikkeld om de gegevens om te zetten in een Matlab-formaat en om de gegevens te analyseren. Codevoorbeelden worden gegeven in aanvullend materiaal, maar details over de implementatie zijn afhankelijk van de software die wordt gebruikt voor het verkrijgen van gegevens.
Laad de onbewerkte gegevens. Maak een ruimtelijk masker dat de contouren van de arena volgt en pas het masker toe op de onbewerkte gegevens om alle gegevenspunten te verwijderen die buiten de arena vallen omdat ze ruis vertegenwoordigen(figuur 2A, Aanvullende codemaskerSpatialFiltering.m, Score.m, DrawCircularMask.m).
Verwijder alle gegevenspunten die langer dan 3s met een snelheid van minder dan 0,163 cm/s bewegen, omdat deze gegevens waarschijnlijk ruis zijn of worden gegenereerd door niet-bewegende vliegen(figuur 2B, Aanvullende code temporalfiltering.m).
Visualiseer resterende gegevenspunten door ze allemaal tegelijk of als afzonderlijke trajecten uit te stippelen(figuur 1, Aanvullende code SingleTrajectoryViewer.m).
OPMERKING: De locatie van geurgrenzen in het vierveld hangt waarschijnlijk af van een aantal factoren, zoals de kenmerken van elke geurstof en de luchtstromingssnelheden die worden gebruikt. Zeer vluchtige geurstoffen zullen bijvoorbeeld waarschijnlijk het geurkwadrant vollediger vullen dan minder vluchtige geurstoffen. Het is dus waarschijnlijk dat elke geurstof iets andere geurgrenzen kan vertonen. Het gebruik van een fotoionisatiedetector om geurgrenzen te meten kan problematisch zijn omdat het een vacuüm gebruikt om lucht van een bepaalde plek te bemonsteren en zo de geurconcentratie op die plek verstoort. Niettemin kunnen geurgrenzen snel worden geschat op basis van vlieggedragsgegevens. Een geurgrens op basis van gecumuleerde vliegsporen als reactie op verschillende geuren kan bijvoorbeeld duidelijk worden waargenomen in figuur 1C en 1D.
Bereken een aantrekkingsindex om te bepalen of controle-experimenten geen voorkeursrespons genereren en ook om toegang te krijgen tot de reactie op een geurige (of optogenetische) stimulus. Gebruik de laatste 5 minuten van een controle- of testopname om een Attraction Index (AI) te berekenen. Om een aantrekkingskracht te verkrijgen die tussen +1 (absolute aantrekkingskracht) en -1 (absolute afstoting) valt, wordt de volgende formule gebruikt om de AI te berekenen:

wanneer deN-test het aantal gegevenspunten in het testkwadrant is, is N-controle het gemiddelde aantal gegevenspunten in de drie controlekwadranten. Deze meting is intuïtief omdat geen voorkeur zou worden aangegeven door bijna-nulwaarden. Het geeft echter niet correct het aandeel aan van het totale aantal vliegen dat zich in het geurige kwadrant bevindt. Om deze maatregel te verkrijgen, kan een percentageindex (PI) worden gebruikt:

waarbij deN-test het aantal gegevenspunten in het testkwadrant is en N het totale aantal gegevenspunten in alle vier de kwadranten. Deze formule biedt een maat die tussen 0 en 1 valt, waarbij 0,25 overeenkomt met geen gedragsvoorkeur(figuur 1E en 2C, Aanvullende code AttractionIndex.m).
Voer 5-10 herhalingen uit van elke experimentele aandoening, met behulp van een nieuwe groep vliegen voor elke herhaling. Vergelijk de attractie-indexen tussen omstandigheden of tegen bedieningselementen met behulp van de kolmogorov-Smirnov niet-parametrische test(figuur 1F, kstest2 functie in Matlab).
Subscription Required. Please recommend JoVE to your librarian.
Representative Results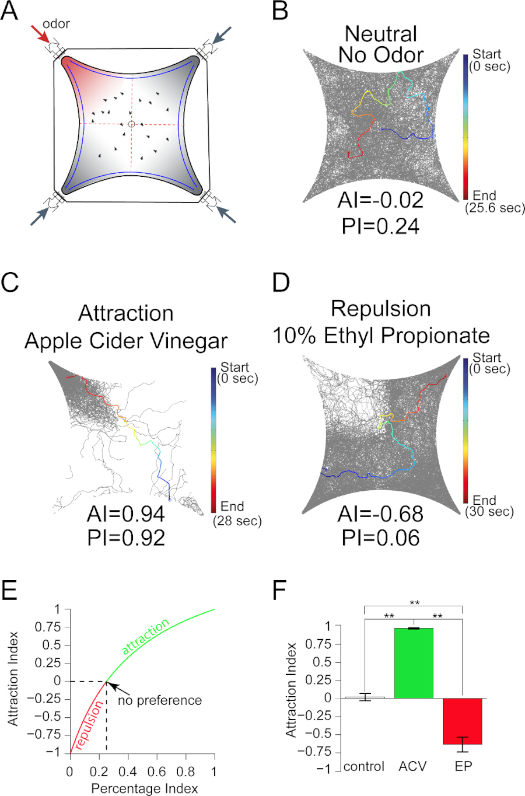 Figuur 1: Voorbeeldgegevens die zijn gegenereerd met behulp van een olfactorische test met vier velden. (A) Schematisch van de vier-veld arena. (B) Neutrale reacties worden waargenomen wanneer alle vier de kwadranten alleen droge luchtperfusie bevatten. (C) Aantrekkingsreacties op een verdunning van 6,25% appelciderazijn doordrenkt uit het linker bovenste kwadrant. (D) Afstotingsgedrag veroorzaakt door 10% ethylpropionaat. In figuur 2B-2D wordt één traject van de verkregen gegevens uitgezet. Een kleurverloop wordt gebruikt om het tijdsverloop van de opname aan te geven, waarbij blauwe en rode kleuren respectievelijk het begin en het einde van opnamen zijn. (E) Vergelijking van de Attraction Index (AI) en de Percentage Index (PI). (F) Gemiddelde AI's van 3-6 experimenten zonder geur (Control), Apple Cider Vinegar (ACV) en 10% Ethyl Propionaat (EP). Foutbalken geven SEM aan. Statistisch verschil werd geëvalueerd door de Kolmogorov-Smirnov-test. Klik hier om een grotere versie van deze afbeelding te bekijken.

Figuur 2: Voorbeeldgegevens die zijn gegenereerd door de stappen voor gegevensanalyse. (A) Ruimtelijke filtering van de gegevens, uitgevoerd door MaskSpatialFiltering.m om gegevenspunten te verwijderen die buiten de arena vallen. Rode cirkels tonen de beginposities van de cirkels die worden gebruikt om de randen van de arena te definiëren. Zwarte cirkels zijn de laatste posities, verkregen door de cirkelcontouren aan de gegevens aan te passen (grijs gearceerd gebied binnen het vierveld). Rode stippen en zwarte pijlpunten geven gegevenspunten aan die na deze filterstap uit de gegevensset worden verwijderd. (B) Tijdelijke filtering van gegevens, uitgevoerd door TemporalFiltering.m. Deze filterstap verwijdert gegevenspunten die heel langzaam of helemaal niet bewegen, omdat ze waarschijnlijk worden gegenereerd door niet-bewegende vliegen of door vuil / reflecties uit de arena. Een rode stip omgeven door een onderbroken rood vak geeft posities aan van ~6.000 gegevenspunten met identieke coördinaten die door deze filterstap worden verwijderd. (C) Attraction Index (AI) en Percentage Index (PI), berekend in bakken van 10 seconden in de laatste 5 minuten van een experiment door AttractionIndex.m. Tijdelijke profielen van deze indexen bevatten informatie over de dynamiek van gedragsreacties en kunnen worden gebruikt voor gedetailleerde analyse van gedrag. Klik hier om een grotere versie van deze afbeelding te bekijken.
Aanvullend codebestand. Klik hier om dit bestand te bekijken (Klik met de rechtermuisknop om te downloaden).
Subscription Required. Please recommend JoVE to your librarian.
Materials
| | | | |
| --- | --- | --- | --- |
| Name | Company | Catalog Number | Comments |
| Air delivery system | | | (Quantity needed) |
| Tubing and connectors | | | |
| Thermoplastic NPT(F) Manifolds | Cole-Parmer, IL, USA | R-31522-31 | 1 |
| Hex reducing nipple (1/4MNPT->1/8MNPT) | McMaster-Carr, IL, USA | 5232T314 | 1 |
| Tubing (ID:1/8) | McMaster-Carr, IL, USA | 5108K43 | 50 Ft |
| Tubing (ID:1/16) | McMaster-Carr, IL, USA | 52355K41 | 100 Ft |
| Barbed tube fittings | McMaster-Carr, IL, USA | 5117K71 | 1 pack |
| Push-to-connect tube fittings | McMaster-Carr, IL, USA | 5779K102 | 4 |
| Barbed Tube Fittings (1/4MNPT->1/8BF) | McMaster-Carr, IL, USA | 5463K439 | 1 pack (10) |
| Barbed Tube Fittings (1/8MNPT->1/8BF) | McMaster-Carr, IL, USA | 5463K438 | 2 pack (10) |
| Barbed Tube Fittings (1/8MNPT->1/16BF) | McMaster-Carr, IL, USA | 5463K4 | 2 pack (10) |
| Barbed Tube Fittings (1/4MNPT->1/4BF) | McMaster-Carr, IL, USA | 5670K84 | 1 |
| Hex head plug | McMaster-Carr, IL, USA | 48335K152 | 1 |
| Air pressure regulator, air filter and flowmeters | | | (Quantity needed) |
| Labatory gas drying unit | W A HAMMOND DRIERITE CO LTD, OH, USA | Model: L68-NP-303; stock #26840 | 1 |
| Multitube frames for 150 mm flowtubes | Cole-Parmer, IL, USA | R03215-30 | 1 |
| Multitube frames for 150 mm flowtubes | Cole-Parmer, IL, USA | R03215-76 | 1 |
| 150 mm flowtubes | Cole-Parmer, IL, USA | R-03217-15 | 9 |
| Valve Cartridge | Cole-Parmer, IL, USA | R-03218-72 | 9 |
| Precision Air regulator | McMaster-Carr, IL, USA | 6162K13 | 1 |
| Soleniod valves | Automate Scientific, Berkeley, CA | 02-10i | 4 |
| Solenoid valve controller | ValveLink 8.2, Automate Scientific, Berkeley, CA | 18-Jan | 1 |
| Electronic flow meter | Honeywell | AWM3100V | 1 |
| DAQ (NI USB-6009, National Instruments) and a | National Instruments | NI USB-6009 | 1 |
| Power supply | Extech Instruments | 382200 | 1 |
| Odor chambers | | | |
| Polypropylene Wide Mouth jar 2 oz; 60 ml | Nalgene | 562118-0002 | At least 5 are required per experiment, but a separate chamber is required for each dillution of each odorant. Available at Container Store, part #635114) |
| Glass odor chamber, 0.25 oz | Sunburst Bottle | LB4B | At least 5 are required per experiment |
| "In" valve for odor chamber | Smart Products, Inc., CA, USA | 214224PB-0011S000-4074 | 1 of these parts is used per odor chamber but they need to be replaced frequently |
| "Out" valve for odor chamber | Smart Products, Inc., CA, USA | 224214PB-0011S000-4074 | 1 of these parts is used per odor chamber but they need to be replaced frequently |
| O ring | RT Dygert International, MN, USA | AS568-029 Buna-N O-R | 1 pack (100) |
| Fly arena, camera and behavior boxes | | | (Quantity needed) |
| Behavior and camera box material | Interstate plastics, CA, USA | ABS black extruded (https://www.interstateplastics.com/Abs-Black-Extruded-Sheet-ABSBE~~ST.php) | 1803 sq inch |
| Teflon for fly arena and odor chamber inserts, 3/8" thick, 12" x 12" | McMaster-Carr, IL, USA | 8545K27 | 1 |
| Glass plates, 1/8" Thick, 9" x 9" | McMaster-Carr, IL, USA | 8476K191 | 2 |
| Dual action thermoelectric controller | WAtronix Inc, CA, USA | DA12V-K-0 | 1 |
| IR LED array | Advanced Illumination, Rochester, VT, USA | AL4554-88024, PS24-TL | 2 LED arrays and one power supply |
| Air conditioner Unit | Melcor Store | MAA280T-12 | 1 |
| Imaging system | | | (Quantity needed) |
| Cosmicar/Pentax C21211TH (12.5 mm F/1.4) C-mount Lens | B AND H PHOTO AND ELECTRONICS CORP, NY, USA | PEC21211 KP | 1 |
| CCXC-12P05N Interconnect Cable | B AND H PHOTO AND ELECTRONICS CORP, NY, USA | SOCCXC12P05N | 1 |
| DC-700 Camera Adapter | B AND H PHOTO AND ELECTRONICS CORP, NY, USA | SODC700 | 1 |
| B+W 40,5 093 IR filter | B AND H PHOTO AND ELECTRONICS CORP, NY, USA | 65-072442 | 1 |
| TiFFEN 40.5 mm Circular polarizer | Amazon | | 1 |
| IR Videocamera | Industrial Vision Source, FL, USA | Sony XC-EI50 (SY-XC-E150) | 1 |
| USB video converter | The Imagingsource, NC, USA | DFG/USB2-It | 1 |
| iFlySpy2 (fly tracking software) | Julian Brown, Stanford, Calfornia: julianrbrown@gmail.com | iFlySpy2 | 1 |
| IC Capture software | The Imagingsource, NC, USA | (http://www.theimagingsource.com/) | |
| Miscellaneous | | | (Quantity needed) |
| Dremel rotary tool | Dremel, Racine, WI, USA | Dremel 8000-03 | 1 |
| Diamond-coated drill bits for glass cutting | Available from various suppliers; MSC industrial Supply Co, Melville, NY | 90606328 | 1 |