Overview
Meyve sinekleri karmaşık bir koku alma sistemine sahiptir, yüzlerce kokuyu ayırt edebilir ve koku duyularını davranışsal kararları yönlendirmek için kullanabilir. Bu video, sineklerdeki koku alma davranışsal tepkilerini incelemek için bir yöntem olan dört yönlü olfactometer testini açıklar. Öne çıkan protokol klibi, test sineklerinin nasıl ele alınacağını ve testi gerçekleştirirken kritik adımların neler olduğunu gösterir.
Protocol
Bu protokol Lin ve ark., Drosophila'nın Bilgisayar İzlemesi tarafından Dört Çeyrek olfactometer, J. Vis. Exp. (2016) tarafından test edilen Koku Davranışları'ndan bir alıntıdır.
1. Çekici ve Kovucu Kokulara Davranışsal Tepkiler
Sıcaklık kontrol cihazını kapatın ve 25 °C'ye ayarlayın.
Boruyu koku odasının çıkışına ve davranış kutusuna bağlanmak için itme bağlantısına yerleştirerek koku odalarını (kontrol ve test kokuları) bağlayın.
Kontrol ve koku alma hava akımlarının 100 ml/dk'ya eşit olduğundan emin olmak için hava akışı ölçerini kullanarak her çeyrekteki akış hızını kontrol edin.
PTFE sinek arenasını ve cam plakaları% 70 etanol ile 2-3 kez temizleyin ve tamamen kurumasını bekleyin (~3-4 dk).
Cam plakaları kelepçelerle arenaya yapıştırın.
CO2 anestezisi olmadan cam plakalardan birine delik açarak arenaya uçar. Transferden sonra, sineklerin kaçmasını önlemek için deliğe dairesel bir ağ yerleştirin.
NOT: CO2 anestezisinin Drosophila davranışını etkilediği ve davranışsal bir deneyden sonraki 24 saat içinde kullanılmaması gerektiği gösterilmiştir.
Sinekli arenayı ışık sıkı odaya yerleştirin, davranış kutusundaki push-to-connect bağlantısına bağlı boruyu arena köşelerine bağlayarak dört kontrol hava akışını bağlayın, odanın kapısını kapatın ve sineklerin yeni ortama alışması için 10-15 dakika bekleyin. Mümkünse, deneylerin yapıldığı odadaki ışıkları kapatın, deneysel sonucu önyargılı olabilecek olası minimum ışık sızıntısını önlemek için.
Sineklerin 4 kontrol hava akımına maruz kaldığı 5-10 dakikalık bir kontrol deneyi yapın.
Sineklerin arenada eşit olarak dağıtıldığından ve Cazibe Endeksi'nin 0'a yakın olduğundan emin olmak için verileri hemen analiz edin (aşağıdaki Veri analizi bölümüne bakın). Bu adım, arenada kontrolsüz bir tercih veya kaçınma kaynağı olmadığını doğruladığı için gereklidir(örneğin dışarıdan sızan ışık, düzensiz sıcaklık dağılımı, düzensiz arena, koku kirlenmesi vb.). Sinekler eşit olmayan şekilde dağıtılırsa veya lokomotor aktiviteleri düşükse, sinekleri atın, arenayı tekrar temizleyin (Adım 1.4) ve deneyi tekrarlamak için yeni bir sinek grubu kullanın.
3 yönlü vanaları açarak veya konektör tüplerini yeniden takarak test koku haznesini kuruluma bağlayın.
Test deneyini 5-10 dakika çalıştırın ve aşağıdaki bölüm 2'de anlatıldığı gibi verileri analiz edin (Şekil 1). 20 dakikadan uzun kayıtlar, hesaplamalı olarak işlenmesi zor olabilecek veri dosyalarına neden olabilir. Daha uzun deneysel kayıtlar isteniyorsa, izleme programını hızla durdurun ve yeniden başlatın. Bu, deneysel kayıtlar arasında ~10 saniyelik bir boşlukla sonuçlanır.
Sinekleri atın.
Arenayı ve cam plakaları % 70 etanol (Adım 1.4) ile temizleyin ve ışık geçirmez muhafaza içindeki konektör tüplerini değiştirin. Deneyleri hızlandırmak için yeni bir temiz arena kullanılabilir ve deneysel koşular yapılırken kirli arena temizlenebilir.
Gerekirse yeni bir sinek grubuyla başka bir deneme yapın. Aynı gün içinde birkaç deney çalıştırılırsa, önceki bir test çalışmasından sistemde koku alma olmadığından emin olmak için çok dikkatli olun. Bu normalde düşük konsantrasyonlarda koku alma veya CO2ile ilgili bir sorun değildir, ancak deneysel çalıştırmalar arasında 24 saate kadar bir boşluğa kadar yüksek konsantrasyonlu uyaranlar için gerekli olabilir. Ek olarak, kontrol deneyleri sırasında koku kontaminasyonundan şüphelenilirse akış tüplerinden sonraki tüm borular değiştirilebilir. Sistemi sürekli yıkamak için deneyler arasında kuru havayı her zaman açık bırakın.
2. Veri Analizi
NOT: Önerilen sinek izleme alma yazılımı (Malzemelerde ayrıntılı olarak açıklanmıştır), satın alma sırasında gerçek zamanlı olarak uçar ve tespit edilen tüm sineklerin zaman damgasını ve koordinatlarını *.dat biçiminde kaydeder. Verileri Matlab biçimine dönüştürmek ve verileri analiz etmek için özel yapım bir Matlab yordamı geliştirdik. Kod örnekleri Tamamlayıcı Malzemeler'de verilmiştir, ancak uygulamanın ayrıntıları veri toplama için kullanılan yazılıma bağlı olacaktır.
Ham verileri yükleyin. Arenanın hatlarını izleyen bir mekansal maske oluşturun ve gürültüyü temsil ettikleri için arenanın dışına düşen tüm veri noktalarını kaldırmak için maskeyi ham verilere uygulayın(Şekil 2A, Tamamlayıcı Kod MaskesiSpatialFiltering.m, Puan.m, DrawCircularMask.m).
0,163 cm/sn'nin altında hareket eden tüm veri noktalarını 3s'den daha uzun bir süre boyunca kaldırın, çünkü bu verilerin gürültü olması veya hareket etmeyen sinekler tarafından üretilmesi muhtemeldir(Şekil 2B, Tamamlayıcı Kod Zamansal Filtreleme.m).
Kalan veri noktalarını hepsini aynı anda veya tek yörüngeler olarak çizerek görselleştirin(Şekil 1, Tamamlayıcı Kod SingleTrajectoryViewer.m).
NOT: Koku sınırlarının dört alandaki konumu muhtemelen her kokunun özellikleri ve kullanılan hava akış hızları gibi bir dizi faktöre bağlıdır. Örneğin, son derece uçucu koku maddeleri büyük olasılıkla koku çeyreğini daha az uçucu kokulardan daha eksiksiz dolduracaktır. Bu nedenle, her koku verenin biraz farklı koku sınırları sergilemesi muhtemeldir. Koku sınırlarını ölçmek için bir fotoiyonizasyon dedektörünün kullanılması sorunlu olabilir, çünkü belirli bir noktadan hava örneklemek için bir vakum kullanır ve bu nedenle o noktadaki koku konsantrasyonunu bozar. Bununla birlikte, koku sınırları sinek davranışsal verilerine dayanarak hızlı bir şekilde tahmin edilebilir. Örneğin, farklı kokulara yanıt olarak kümülatif sinek izlerine dayanan bir koku sınırı Şekil 1C ve 1D'de açıkça gözlemlenebilir.
Kontrol deneylerinin tercih yanıtı oluşturup oluşturmadığını belirlemek ve ayrıca bir koku (veya optogenetik) uyarana yanıta erişmek için bir cazibe indeksi hesaplayın. Bir Çekim Dizini (AI) hesaplamak için, bir denetim veya test kaydının son 5 dakikasını kullanın. +1 (mutlak çekim) ve -1 (mutlak itme) arasında kalan bir çekim ölçüsü elde etmek için, yapay zekayı hesaplamak için aşağıdaki formül kullanılır:

burada Ntesti, test çeyreğindeki veri noktalarının sayısıdır, Nkontrolü üç kontrol çeyreğindeki ortalama veri noktası sayısıdır. Sıfıra yakın değerlerle hiçbir tercih belirtilmeyeceği için bu ölçü sezgiseldir. Bununla birlikte, koku çeyreğinde bulunan toplam sinek sayısının oranını doğru bir şekilde göstermez. Bu ölçüye sahip olmak için bir Yüzde Dizini (PI) kullanılabilir:

burada Ntesti, test çeyreğindeki veri noktalarının sayısıdır ve Ntoplamı dört kadrandaki toplam veri noktası sayısıdır. Bu formül, davranışsal tercihe karşılık gelen 0,25 ile 0 ile 1 arasında düşen bir ölçü sağlar(Şekil 1E ve 2C, Ek Kod AttractionIndex.m).
Her tekrar için yeni bir sinek grubu kullanarak her deneysel durumun 5-10 tekrarını çalıştırın. Kolmogorov-Smirnov parametrik olmayan testi(Şekil 1F, Matlab'da kstest2 işlevi) kullanarak koşullar arasındaki veya kontroller arasındaki çekim indekslerini karşılaştırın.
Subscription Required. Please recommend JoVE to your librarian.
Representative Results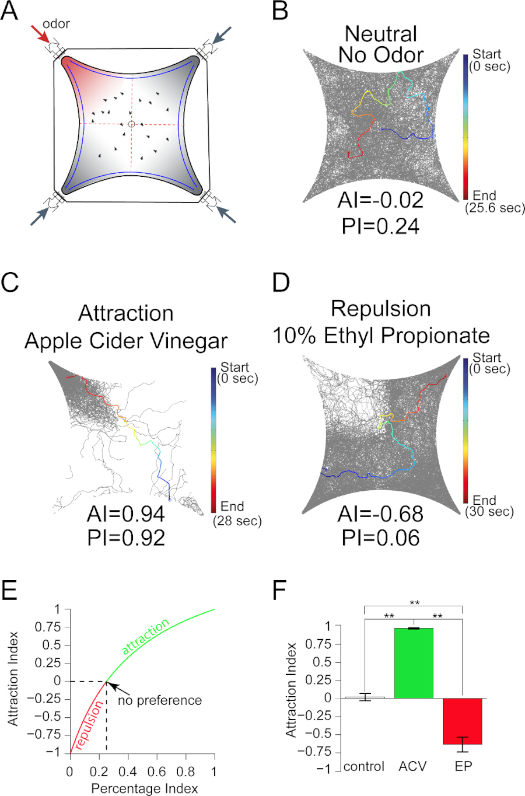 Şekil 1: Dört Alanlı Koku Tahlili Kullanılarak Oluşturulan Örnek Veriler. (A) Dört alanlı arenanın şeması. (B) Dört kadran da sadece kuru hava perfüzyonu içerdiğinde nötr yanıtlar gözlenir. (C) Sol üst kadrandan perfüzyonlu elma sirkesinin% 6.25 seyreltilmesine çekici tepkiler. (D)%10 etil propiyonat tarafından tetiklenen itme davranışları. Şekil 2B-2D'de, elde edilen verilerden tek bir yörünge çizilir. Mavi ve kırmızı renkler sırasıyla kayıtların başlangıcı ve sonu olmak üzere, kaydın zaman seyrini belirtmek için bir renk gradyanı kullanılır. (E) Cazibe Endeksi (AI) ve Yüzde Endeksinin (PI) Karşılaştırılması. (F) Kokusuz (Kontrol), Elma Sirkesi (ACV) ve% 10 Etil Propiyonat (EP) ile 3- 6 deneyin ortalama yapay zekası. Hata çubukları SEM'i gösterir. Bu rakamın daha büyük bir sürümünü görüntülemek için lütfen buraya tıklayın.

Şekil 2: Veri Çözümleme Adımları Tarafından Oluşturulan Örnek Veriler. (A) MaskSpatialFiltering tarafından gerçekleştirilen verilerin uzamsal filtrelemesi.m arenanın dışına düşen veri noktalarını kaldırmak için. Kırmızı daireler, arenanın sınırlarını tanımlamak için kullanılan dairelerin ilk konumlarını gösterir. Siyah daireler, daire ana hatlarını verilere (dört alanın içindeki gri gölgeli alan) uydurarak elde edilen son konumlardır. Kırmızı noktalar ve siyah ok uçları, bu filtreleme adımından sonra veri kümesinden kaldırılacak veri noktalarını gösterir. (B) Verilerin zamansal filtrelemesi, TemporalFiltering tarafından gerçekleştirilir.m. Bu filtreleme adımı, hareket etmeyen sinekler veya arenadaki kir/yansımalar tarafından oluşturulmaları muhtemel olduğundan, çok yavaş hareket eden veya hiç hareket etmeyen veri noktalarını kaldırır. Kesikli kırmızı bir kutuyla çevrili kırmızı nokta, bu filtreleme adımıyla kaldırılacak aynı koordinatlara sahip ~6.000 veri noktasının konumlarını gösterir. (C) Attraction Index (AI) ve Percentage Index (PI), AttractionIndex tarafından yapılan bir deneyin son 5 dakikası boyunca 10 saniyelik depo gözlerinde hesaplanır.m. Bu dizinlerin zamansal profilleri davranışsal yanıtların dinamikleri hakkında bilgi içerir ve davranışların ayrıntılı analizi için kullanılabilir. Bu rakamın daha büyük bir sürümünü görüntülemek için lütfen buraya tıklayın.
Tamamlayıcı Kod Dosyası. Bu dosyayı görüntülemek için lütfen tıklayınız (İndirmek için sağ tıklayınız).
Subscription Required. Please recommend JoVE to your librarian.
Materials
| | | | |
| --- | --- | --- | --- |
| Name | Company | Catalog Number | Comments |
| Air delivery system | | | (Quantity needed) |
| Tubing and connectors | | | |
| Thermoplastic NPT(F) Manifolds | Cole-Parmer, IL, USA | R-31522-31 | 1 |
| Hex reducing nipple (1/4MNPT->1/8MNPT) | McMaster-Carr, IL, USA | 5232T314 | 1 |
| Tubing (ID:1/8) | McMaster-Carr, IL, USA | 5108K43 | 50 Ft |
| Tubing (ID:1/16) | McMaster-Carr, IL, USA | 52355K41 | 100 Ft |
| Barbed tube fittings | McMaster-Carr, IL, USA | 5117K71 | 1 pack |
| Push-to-connect tube fittings | McMaster-Carr, IL, USA | 5779K102 | 4 |
| Barbed Tube Fittings (1/4MNPT->1/8BF) | McMaster-Carr, IL, USA | 5463K439 | 1 pack (10) |
| Barbed Tube Fittings (1/8MNPT->1/8BF) | McMaster-Carr, IL, USA | 5463K438 | 2 pack (10) |
| Barbed Tube Fittings (1/8MNPT->1/16BF) | McMaster-Carr, IL, USA | 5463K4 | 2 pack (10) |
| Barbed Tube Fittings (1/4MNPT->1/4BF) | McMaster-Carr, IL, USA | 5670K84 | 1 |
| Hex head plug | McMaster-Carr, IL, USA | 48335K152 | 1 |
| Air pressure regulator, air filter and flowmeters | | | (Quantity needed) |
| Labatory gas drying unit | W A HAMMOND DRIERITE CO LTD, OH, USA | Model: L68-NP-303; stock #26840 | 1 |
| Multitube frames for 150 mm flowtubes | Cole-Parmer, IL, USA | R03215-30 | 1 |
| Multitube frames for 150 mm flowtubes | Cole-Parmer, IL, USA | R03215-76 | 1 |
| 150 mm flowtubes | Cole-Parmer, IL, USA | R-03217-15 | 9 |
| Valve Cartridge | Cole-Parmer, IL, USA | R-03218-72 | 9 |
| Precision Air regulator | McMaster-Carr, IL, USA | 6162K13 | 1 |
| Soleniod valves | Automate Scientific, Berkeley, CA | 02-10i | 4 |
| Solenoid valve controller | ValveLink 8.2, Automate Scientific, Berkeley, CA | 18-Jan | 1 |
| Electronic flow meter | Honeywell | AWM3100V | 1 |
| DAQ (NI USB-6009, National Instruments) and a | National Instruments | NI USB-6009 | 1 |
| Power supply | Extech Instruments | 382200 | 1 |
| Odor chambers | | | |
| Polypropylene Wide Mouth jar 2 oz; 60 ml | Nalgene | 562118-0002 | At least 5 are required per experiment, but a separate chamber is required for each dillution of each odorant. Available at Container Store, part #635114) |
| Glass odor chamber, 0.25 oz | Sunburst Bottle | LB4B | At least 5 are required per experiment |
| "In" valve for odor chamber | Smart Products, Inc., CA, USA | 214224PB-0011S000-4074 | 1 of these parts is used per odor chamber but they need to be replaced frequently |
| "Out" valve for odor chamber | Smart Products, Inc., CA, USA | 224214PB-0011S000-4074 | 1 of these parts is used per odor chamber but they need to be replaced frequently |
| O ring | RT Dygert International, MN, USA | AS568-029 Buna-N O-R | 1 pack (100) |
| Fly arena, camera and behavior boxes | | | (Quantity needed) |
| Behavior and camera box material | Interstate plastics, CA, USA | ABS black extruded (https://www.interstateplastics.com/Abs-Black-Extruded-Sheet-ABSBE~~ST.php) | 1803 sq inch |
| Teflon for fly arena and odor chamber inserts, 3/8" thick, 12" x 12" | McMaster-Carr, IL, USA | 8545K27 | 1 |
| Glass plates, 1/8" Thick, 9" x 9" | McMaster-Carr, IL, USA | 8476K191 | 2 |
| Dual action thermoelectric controller | WAtronix Inc, CA, USA | DA12V-K-0 | 1 |
| IR LED array | Advanced Illumination, Rochester, VT, USA | AL4554-88024, PS24-TL | 2 LED arrays and one power supply |
| Air conditioner Unit | Melcor Store | MAA280T-12 | 1 |
| Imaging system | | | (Quantity needed) |
| Cosmicar/Pentax C21211TH (12.5 mm F/1.4) C-mount Lens | B AND H PHOTO AND ELECTRONICS CORP, NY, USA | PEC21211 KP | 1 |
| CCXC-12P05N Interconnect Cable | B AND H PHOTO AND ELECTRONICS CORP, NY, USA | SOCCXC12P05N | 1 |
| DC-700 Camera Adapter | B AND H PHOTO AND ELECTRONICS CORP, NY, USA | SODC700 | 1 |
| B+W 40,5 093 IR filter | B AND H PHOTO AND ELECTRONICS CORP, NY, USA | 65-072442 | 1 |
| TiFFEN 40.5 mm Circular polarizer | Amazon | | 1 |
| IR Videocamera | Industrial Vision Source, FL, USA | Sony XC-EI50 (SY-XC-E150) | 1 |
| USB video converter | The Imagingsource, NC, USA | DFG/USB2-It | 1 |
| iFlySpy2 (fly tracking software) | Julian Brown, Stanford, Calfornia: julianrbrown@gmail.com | iFlySpy2 | 1 |
| IC Capture software | The Imagingsource, NC, USA | (http://www.theimagingsource.com/) | |
| Miscellaneous | | | (Quantity needed) |
| Dremel rotary tool | Dremel, Racine, WI, USA | Dremel 8000-03 | 1 |
| Diamond-coated drill bits for glass cutting | Available from various suppliers; MSC industrial Supply Co, Melville, NY | 90606328 | 1 |