Cite this Article
Copy Citation | Download Citations

Suresh Kumar, V., Sadikot, R. T., Purcell, J. E., Malik, A. B., Liu, Y. Pseudomonas aeruginosa Induced Lung Injury Model. J. Vis. Exp. (92), e52044, doi:10.3791/52044 (2014).
Abstract
Om de menselijke acute longontsteking bestuderen, is het belangrijk om diermodellen te ontwikkelen om verschillende pathologische kenmerken van de ziekte na te bootsen. Hier hebben we een muis longbeschadiging model door intratracheale injectie van bacteriën Pseudomonas aeruginosa (P. aeruginosa of PA) ontwikkeld. Met behulp van dit model, waren we in staat om longontsteking te laten zien in de vroege fase van de blessure. Bovendien werd alveolaire epitheliale barrière lekkages waargenomen door analyse bronchoalveolaire lavage (BAL); en alveolaire celdood werd geobserveerd door Tunel assay met weefsel bereid uit gewond longen. In een latere fase na verwonding, observeerden we celproliferatie vereist voor het reparatieproces. De schade werd opgelost 7 dagen na de inleiding van P. aeruginosa injectie. Dit model bootst de sequentiële loop van long-ontsteking, letsel en reparatie tijdens longontsteking. Dit klinisch relevant diermodel is geschikt voor het bestuderen van de pathologie, het mechanisme van de reparatie, fadat acute longbeschadiging, en kan ook worden gebruikt om mogelijke therapeutische middelen te testen voor deze ziekte.
Introduction
Longen worden blootgesteld aan ziekteverwekkers uit de omgeving en zijn gevoelig voor ontstekingen en schade 1-3. Tijdens pathologische aandoeningen zoals longontsteking of Adult Respiratory Distress Syndrome (ARDS), pathogenen en ontstekingsfactoren vrijgegeven door leukocyten te induceren schade en dood van alveolaire cellen 1-3. Het is belangrijk om diermodellen van acute longbeschadiging te ontwikkelen voor de studie van pathologie schade en mechanisme van herstel bevorderen.
Momenteel hebben de meeste mensen gebruiken hyperoxia en bleomycine geïnduceerde muis longbeschadiging modellen 4. De mechanismen van hyperoxie veroorzaakte schade niet hetzelfde als meest voorkomende longaandoeningen die tijdens longontsteking of ARDS 5. Bleomycine geïnduceerde acute blessure is zeldzaam in een klinische context 4. Hier doen we verslag van een muis longbeschadiging model met behulp van intra-tracheale injectie van P. aeruginosa 6,7. Dit model is klinisch relevant, en bootst de processes die gebeuren na longontsteking 8.
Als een opportunistische, nosocomiale pathogeen van immuungecompromitteerde personen, P. aeruginosa infecteert meestal de longen, urinewegen, brandwonden, wonden, en veroorzaakt ook andere bloed infecties 6. De bacteriën produceren virulentie factor exotoxine A, te vermenigvuldigen en te activeren immuunsysteem 6 reacties. Intra-trachael toediening van P. aeruginosa zijn de gegevens betreffende blootstelling aan de bacteriën die pneumonie veroorzaken en de pathologie waarschijnlijk verschilt van de recent gerapporteerde influenza H1N1 geïnduceerde longbeschadiging model 9 zijn. Aangezien P. aeruginosa is een opportunistisch pathogeen, is relatief veilig te hanteren in vergelijking met sommige van de meer virulente pathogenen. Hier gebruikten we intratracheale injectie om de bacteriën te dienen omdat we geconstateerd dat deze methode meer bacteriën ingebracht in het distale gebied alveoli van de longen tegenandere procedures zoals het gebruik van een katheter via de mond.
Vergeleken met andere acute longbeschadiging modellen, de P. aeruginosa model beschreven is geschikt voor het bestuderen longbeschadiging geïnduceerd door bacteriën en overmatige ontsteking. In tegenstelling tot andere diermodellen die gebruikt P. aeruginosa sepsis 10,11 induceren hier gebruiken we intratracheale injectie van deze bacteriën gelokaliseerde acute longbeschadiging veroorzaken.
Subscription Required. Please recommend JoVE to your librarian.
Protocol
De dierproeven werden goedgekeurd door de Animal Care Committee en Institutionele bioveiligheid Comités van de Universiteit van Illinois in Chicago.
OPMERKING: Alle procedures waarbij pseudomonas moeten worden uitgevoerd met Biosafety Level 2 (BSL2) praktijken, die omvatten, maar zijn niet beperkt tot: masker, oogbescherming, jurk of jumpsuit, en dubbele handschoenen. Werken in gecertificeerde bioveiligheid kabinet. Behandel instrumenten in contact met bacteriën met bleekwater of chloor dioxide gebaseerd desinfectiemiddel. Gebruik een verzegelde doos voor het vervoer monsters.
1. P. aeruginosa Cultuur en Groei
Store P. aeruginosa PA103 als bacteriële voorraad op een schroefdop cryovial bij -80 ° C.
Plaats de flacon in een rek in een doos met 70% ethanol bevochtigd keukenpapier en neem aan het Biosafety Level 2 (BSL2) laboratorium.
Streak de bacteriën op agarplaten schapen en groeien bij 37 ° C gedurende ~ 15 uur in een incubator.
In een BSL2 kap, krassen op de bacteriën uit plaat met bacteriën lus en resuspendeer in 5 ml PBS.
Bewaar de voorraad bij 4 ° C gedurende maximaal 3 maanden. Bepalen echter de titer elke 2 weken.
Serieel verdunnen van de bacteriën in PBS (meestal van 01:10 tot 01:10 4 7) en de plaat uit de bekende verdunning van schapen bloed agarplaten.
Incubeer de platen gedurende ~ 15 uur. Telling kolonies en berekening kolonievormende eenheid (CFU) bacteriën concentratie bepalen.
Resuspendeer de juiste concentraties (~ 5 x 10 3 CFU / pl) in 0,5 ml PBS in 1,5 ml steriele schroefdop cryovials. Dicht de cryovials en plaats ze in een cryovial rek op ontsmettingsmiddel beladen papieren handdoeken in een handomdraai deksel doos.
Vervoer de doos om BSL2 dier faciliteit. Eenmaal daar, opent de doos in de BSL2 kast.
2. P. aeruginosa Blaasinstillatie
Voer survival chirurgie aseptisch (steriele handschoenen, steriele instrumentenEn aseptische technieken). Gebruik een steriel laken om een ​​werkende oppervlak voor steriele (autoclaaf) chirurgische instrumenten. Steriliseren instrumenten met een hete kraal sterilisator tussen elke tracheale instillatie procedure.
Weeg muizen vóór verdoving. Verdoven muizen met ketamine (100 mg / kg), xylazine (5 mg / kg) in 0,1-0,2 ml PBS intraperitoneaal (ip). De effectiviteit van de verdoving door niet-reactiviteit op teen knijpen. Gebruik een dierenarts zalf op de ogen tot droog onder narcose voorkomen.
Bedwingen muizen op een chirurgische boord in BSL2 kast.
Identificeer het gebied voor de snede naar beneden. Scheer dit gebied en de huid met behulp van afwisselende alcohol en povidonjood swabs 3 maal te bereiden.
Behandel de incisie met locale verdoving (lidocaïne) dit anesthesie is voldoende voor een kleine ingreep zoals een huid incisie om de luchtpijp.
Maak een kleine incisie (ongeveer 5 mm) op de middenlijn van de nek en stompe forceps zachtjes bewegen de spier voor de toegang tot de luchtpijp. Expose de luchtpijp door chirurgische dissectie.
Trekken bacteriën oplossing in een 1 ml wegwerpspuit met 27 G naald. Voor elke muis toedienen 20-30 pl kiemen bij de geschikte concentratie (tot 10 5 CFU per muis).
Steek de naald in de luchtpijp. Injecteer oplossing langzaam in de trachea.
Zorg ervoor dat het dier hapt, wat meestal aangeeft dat oplossing heeft bereikt in de longen.
Sluit de wond met steriel hechtingen (6-0 monofilament) onder aseptische omstandigheden.
Met 0,1 mg / kg buprenorfine door subcutane injectie als postoperatieve analgesie tot postoperatieve pijn te beheersen.
Zorg ervoor dat de benodigde tijd van de eerste verdoving inductie tot sluiting incisie wordt minder dan 15 min.
Na injectie, vervreemden van spuiten en naalden in een geschikte biohazard naaldcontainer.
Behandel de chirurgische instrumenten met chloordioxide gebaseerd disinfectant gedurende 15 min, spoelen en terug naar het laboratorium voor sterilisatie en opnieuw als nodig.
Huis de muizen alleen in schone kooien op warme omgeving.
Controle van het dier elke 30 minuten totdat het weer bij bewustzijn en begint te bewegen; en later 12 uur gedurende de eerste 3 dagen na de operatie.
Houd de muizen in het dier BSL2 inrichting gedurende het experiment. Zorg ervoor dat alleen het weefsel bevatte in verzegelde doos verlaat het dier BSL2 faciliteit. Wanneer de muizen tot expressie geven stervende gedrag (gedefinieerd als ademnood, lethargie, niet-ambulante reactie op zachte stimulatie) op elk punt in de studie, euthanaseren de muizen met CO2 inhalatie van een fles bron gevolgd door cervicale dislocatie.
Euthanaseren de proefpersoon door verbloeding onder verdoving.

Verzamel longweefsel uit geëuthanaseerd muizen. Het uitvoeren van deze procedures in een BSL2 kap. Indien nodig, breng het monster met behulp van gesloten buizen geplaatst in een rack op ontsmettingsmiddel beladen papieren handdoeken in een handomdraai deksel doos voor verdere proces.
Subscription Required. Please recommend JoVE to your librarian.
Representative Results
Vanaf 24-72 uur na P. aeruginosa injectie werd verhoogd cellulariteit waargenomen in longsecties (Figuur 1A-D). De longen begonnen te herstellen van 96 uur na verwonding (figuur 1E). Op 7 dagen na P. aeruginosa, normale alveoli morfologie werd grotendeels hersteld (Figuur 1F). Tunnel kleuring met behulp longcoupes voorbereid op 24 uur na P. aeruginosa toonden celdood in alveoli cellen (Figuur 1G-I). Om het herstelproces in dit letsel model te bestuderen, werd BrdU geïnjecteerd in muizen 3 dagen na P. aeruginosa. Longen werden geïsoleerd op 5 uur na BrdU-injectie en verwerkt voor BrdU antilichaamkleuring. Zoals getoond in figuur 1J en K, significant verhoogd aantal cellen opgenomen BrdU 72 uur na P. aeruginosa administratie aangeeft hyperproliferatie.
Om de verandering in barrière per studerenpermeabiliteit en ontsteking na letsel, bronchoalveolaire lavage (BAL) vloeistof werd verzameld op verschillende tijdstippen na P. aeruginosa injectie. De eiwitconcentratie in BAL was significant verhoogd bij 48 uur na P. aeruginosa injectie (Figuur 2A), met vermelding van epitheliale barrière leakiness. Het aantal cellen in BAL ook significant bij 48 uur na P. toegenomen aeruginosa injectie (figuur 2B), suggereert een ontstekingsreactie. Op 4 - 5 dagen na P. aeruginosa injectie, zowel de BAL eiwit niveau en het aantal cellen begonnen te suggereren recovery (Figuur 2A, B) te verlagen. Bovendien werd long lysaat verzameld op verschillende punten te posten P. aeruginosa toediening en de mate van macrofaag ontstekingsproteïne 2 (MIP2), een cytokine betrokken bij neutrofielen aantrekkingskracht 12, werd gemeten met ELISA. Overeen met de resultaten BAL analyse, MIP2 niveau aanzienlijk increa sed op 48 uur na P. aeruginosa injectie en keerde terug naar het basale niveau op 96 uur na P. aeruginosa injectie (figuur 2C). Verder cellen van BAL werden vastgesteld op glasplaatjes en onderworpen aan hematologie kleuring. Zonder P. aeruginosa, waren er slechts een klein aantal monocyten in BAL vloeistof (figuur 2D). Daarentegen grote hoeveelheid neutrofielen waren aanwezig in BAL geïsoleerd 48 uur na P. aeruginosa injectie (figuur 2E). Door 96 uur na P. aeruginosa injectie, de celsamenstelling van BAL terug naar het controleniveau (figuur 2F). Samenvattend resultaten in Figuur 2 aangegeven een neutrofiele acute ontstekingsreactie met verhoogde permeabiliteit en alveoli toename cytokine concentraties, die alle kenmerken van acute longbeschadiging 13 zijn. In alle experimenten, dat injectie van zoutoplossing werd gebruikt als controle.
ve_content "> Deel van de gegevens, waaronder H en E kleuring BrdU labeling, TUNEL assay BAL analyse en MIP2 niveaumeting werden eerder gepubliceerd
7.
In dit artikel, hebben we de rol van FoxM1, een transcriptiefactor in de reparatie van alveolaire letsel met behulp van de
P. aeruginosa
longbeschadiging model hier
7
beschreven.

Figuur 1. Histologie, celdood en proliferatie in P. aeruginosa gemedieerde muis longbeschadiging model. (AF) Lung isolatie, snijden en H / E-kleuring werden uitgevoerd met niet-P. aeruginosa-geïnjecteerde (niet-PA) control longen (A) en longen op 24 uur (B), 48 uur (C), 72 uur (D), 96 uur (E), 7 dagen (F) pool P. aeruginosa inprojectie (post-PA). (GI) Longsecties werden bereid uit controle longen (G) en 24 uur post- P. aeruginosa ingespoten longen (H, I) en rijd TUNEL assay voor celdood detecteren. Longcoupes werden gekleurd voor longepitheelcellen celmarker Sp-C (blauw), T1α (rood) naar morfologie vertonen en ook gekleurd voor TUNEL (groen). Pijlen in (H) geven TUNEL positieve cellen. (J, K) BrdU werd geïnjecteerd in niet-P. aeruginosa geïnjecteerde muizen (J) en 72 uur na P. aeruginosa geïnjecteerde muizen (K) door ip, werden longen voorbereid op 5 uur na BrdU-injectie en verwerkt voor antilichaamkleuring tegen BrdU (groene vlekken). Schaal bar = 60 urn voor AF, 50 urn voor G en H, 20 urn voor I, en 100 urn J en K. Dit cijfer is gewijzigd van Liu 7. Klik hier om een grotere versie van deze afbeelding te bekijken.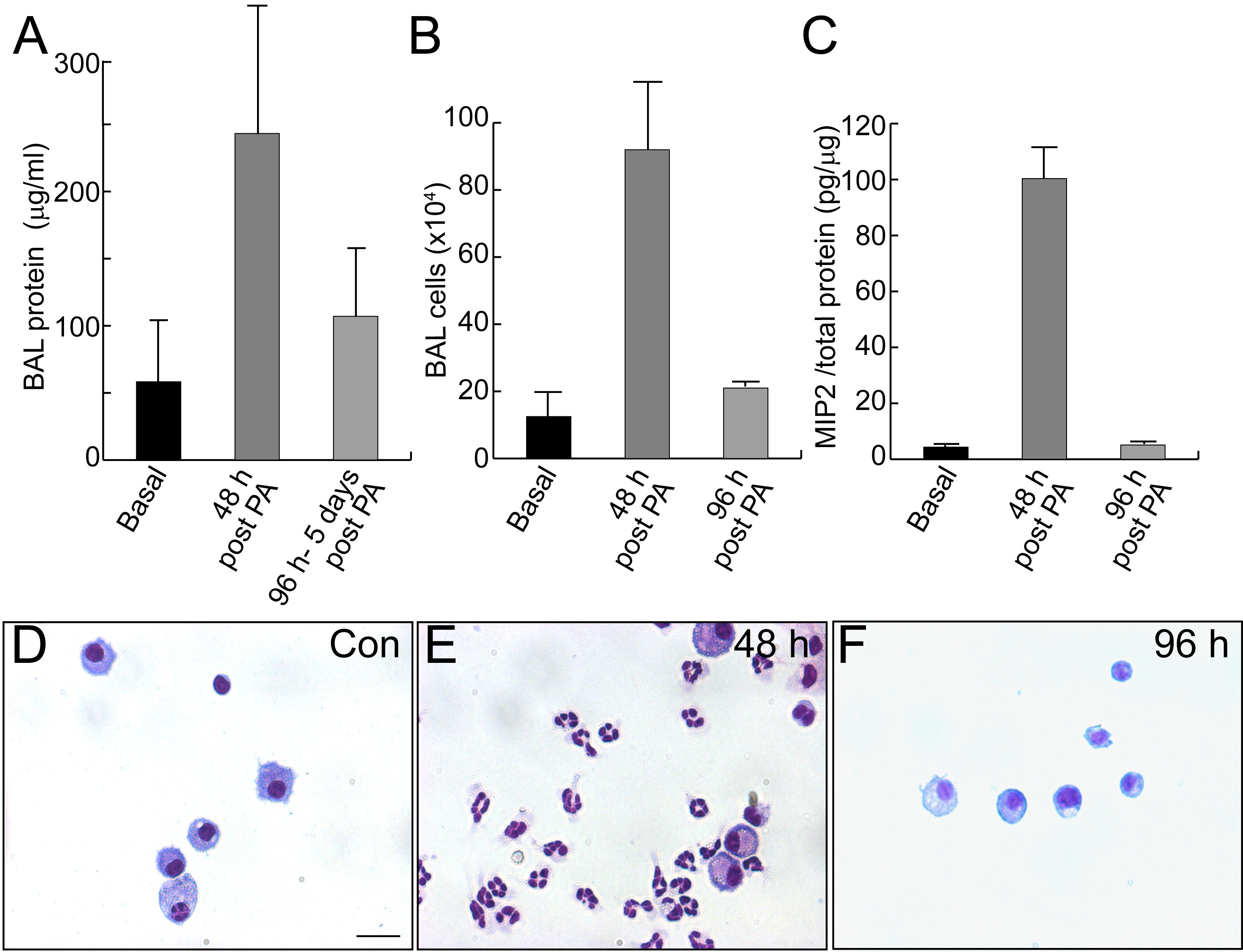 Figuur 2. alveolaire permeabiliteit en ontsteking na in P. aeruginosa geïnduceerde longbeschadiging. (A, B) BAL is vanuit controle en P. aeruginosa behandelde longen. (A) De eiwitconcentratie in BAL verhoogd 48 uur na P. aeruginosa injectie en gedaald op 96 uur, 5 dagen na P. aeruginosa injectie. (B) Totaal aantal cellen in BAL verhoogd bij 48 uur na P. aeruginosa injectie (B) en retuned besturingsniveau op 96 uur na P. aeruginosa injectie. (C) MIP-2 niveaus werden gemeten onsing long lysaten geïsoleerd van controle muizen als muizen op 48 uur en 96 uur na P. aeruginosa injectie. Gegevens werden gepresenteerd op gemiddelde ± SE, n ≥ 3 (DF) van BAL cellen werden gecentrifugeerd en op glasplaatjes bevestigd en aan hemA3 kleuring. Een klein aantal monocyten aanwezig in BAL van controlemuizen (D). Grote hoeveelheid neutrofielen aanwezig in BAL waren geïsoleerd op 48 uur na P. aeruginosa injectie (E). Door 96 uur na P. aeruginosa injectie waren een klein aantal monocyten in de BAL (F). Schaal bar = 10 urn, deze resultaten zijn representatief voor ten minste 5 onafhankelijke experimenten. Dit cijfer is gewijzigd van Liu et al. 7. Klik hier om een grotere versie van deze afbeelding te bekijken.
Subscription Required. Please recommend JoVE to your librarian.
Discussion
De Pseudomonas muis longbeschadiging model dat we hier beschrijven bootst het hele proces van ontsteking, longschade, reparatie, en de resolutie die optreden na acute lung injury of longontsteking. Het heeft unieke voordelen vergeleken met verscheidene andere schade modellen doordat het klinisch relevant en relatief veilig en gemakkelijk te hanteren.
De kritische stap in de procedure is dat de injectie van bacteriën oplossing moet zeer traag. Als de injectie te snel is, de muizen zijn kans om te sterven door stikken. Na een succesvolle injectie, de muizen tonen meestal een paar keer diep ademt en snik, die zal helpen de bacterie deeltjes krijgen in de longen.
De stam die we gebruikten was PA103 6. Eén van de kritieke punten van dit model is dat de titer van P. aeruginosa moet goed worden gecontroleerd. Batch van P. aeruginosa uit andere bron kunnen verschillende graden van ontsteking en beschadiging zelfs tonengebruikt op hetzelfde CFU. Derhalve wordt aanbevolen dat elke nieuwe partij bacteriën worden getest op hun oorzakelijke effecten (zoals ontsteking, celproliferatie, etc.), en de juiste aantal CFU te gebruiken. Als inconsistentie van de resultaten gebeurt door het gebruik van gekoelde bacteriën voorraad, kan men verse voorraad verkregen door groeiende bacteriën gebruiken van een verse plaat voor elk experiment. Bovendien kan de groeifase van de bacteriën en de keuze van media ook een impact hebben op het effect op de gastheer respons. Daarom moet ervoor worden gezorgd dat bacteriële entingen optreden tijdens dezelfde fase van de bacteriële groeicyclus.
Er kan een verschil in de reactie op P. zijn aeruginosa door verschillende stammen van muizen. De stam we gebruikten was een mengsel van C57BL / 6 en FVB / N. De juiste P. aeruginosa titer moeten worden bepaald voor verschillende muizenstammen.
Een factor om te overwegen voor dit model isdat de schade van de bacteriën niet beperkt tot een celtype. Bijvoorbeeld, epitheliale, endotheliale, fibroblasten kunnen allemaal beschadigd. Daarom is dit model niet geschikt voor de effecten van celtype specifieke longaandoeningen bestuderen. De bacteriën longschade celdood door het stimuleren ontstekingsreacties en secreteren toxinen in weefsel 6. Levende bacteriën worden meestal gewist uit de longen binnen 48 uur na verwonding 7,14. Een hoge concentratie van dode bacteriën kan veroorzaken door het induceren van ontstekingsreacties 15.
Het mechanisme van longbeschadiging en reparatie waarschijnlijk verschillend in reactie op verschillende longbeschadiging zijn. Daarom is het belangrijk om diverse verwondingen laten vergelijken. De P. aeruginosa model hier beschreven is een mooie aanvulling op de andere modellen.
Subscription Required. Please recommend JoVE to your librarian.
Materials
| | | | |
| --- | --- | --- | --- |
| Name | Company | Catalog Number | Comments |
| Anesthetic: Ketamin, xylazine, lidocaine, buprenorphine | | | pharmaceutical grade |
| 27 G needle | Fisher | 1482648 | |
| syringe | Fisher | 14823434 | 1 ml |
| scissors | Fine Science tools | | |
| forceps | Fine Science tools | | |
| suture | Fisher | 19-037-526 | |
| Eye gauge, glove, gown | | | |
| Biosafety Cabinet | | | |
| chlorine dioxide based disinfectant | | | Clidox |
| sheep blood agar plates | Medex supply | HL-1160 | |