Overview
Forskere kan udløse on-demand bevægelse i C. elegans ved at anvende et elektrisk felt, orme forstand og reagere på.  Denne video introducerer elektrotaktisk adfærd og viser en prøveprotokol, der udføres i en mikrofluidisk enhed.
Protocol
Denne protokol er et uddrag fra Tong et al, Microfluidic-baserede Electrotaxis for On-demand kvantitativ analyse af Caenorhabditis elegans' Bevægelse, J. Vis. Exp. (2013).
1. Elektrotaxis eksperiment
Placer mikrokanalen på scenen (helst XY-bevægelig) af et mikroskop med et monteret kamera tilsluttet en skærm (Figur 1).
Tilslut strømforsyningens eller forstærkerens udgangsledninger til mikrokanalens elektroder. En simpel DC strømforsyning er tilstrækkelig, hvis kun et DC-signal ønskes, men en forstærker tilsluttet en funktion generator tillader anvendelse af pulserende DC og AC-signaler så godt.
Fastgør mikrokanalens udgangsrør til en engangssprøjte. Nedsænk mundingen af indløbsrøret i M9 fysiologisk buffer og stræb forsigtigt væske ind i kanalen ved at anvende et undertryk inde i sprøjten (enten manuelt eller ved hjælp af en sprøjtepumpe). Når indløbs- og udløbsrørene begge er fyldt med M9, skal du frakoble sprøjten fra røret. Niveau begge rør i samme højde for at forhindre hydrostatisk drevet flow.
Påfør en DC-spænding på kanalen, og sørg for, at modstanden (R= V/I) er omkring 0,6 MΩ (i en 50 mm lang, 0,3 mm bred og ~0,1 mm dyb mikrokanal).
Hvis du er tilfreds med kanalens integritet, skal du følge ovenstående trin for at indlæse orme fra en fortyndet affjedring i kanalen.
Frakoble sprøjten og hydrostatisk manipulere strømmen ved at justere rørenes relative højde. Brug denne metode til at placere en orm i midten af kanalen og derefter lægge begge rør fladt i samme højde.
Indstil strømforsyningen til den relevante spænding: 4-12 V/cm for L3-trinsdyr, 4-10 V/cm for L4'ere og 2-4 V/cm for unge voksne. Aktiver det elektriske signal og lad ormen akklimatisere sig til marken i 1 min. Ormen skal begynde at bevæge sig mod katoden. Når minuttet er gået, skal du bruge kameraet til at begynde at optage.
For AC- og pulserende DC-eksperimenter kan det maksimale responsive elektriske felt vedtages ovenfra, og signalets frekvens- og arbejdscyklus kan moduleres efter ønske.
Når forsøget er afsluttet, fjernes al væske (og orme) fra kanalen, skylles med dH20, og enheden efterlades på en kogeplade ved 125 °C for at tørre.
Udtræk lokomotoriske data fra optagede videoer manuelt ved hjælp af NIH ImageJ (http://rsbweb.nih.gov/ij/) eller brugerdefineret MATLAB-baseret ormsporingssoftware.
Subscription Required. Please recommend JoVE to your librarian.
Representative Results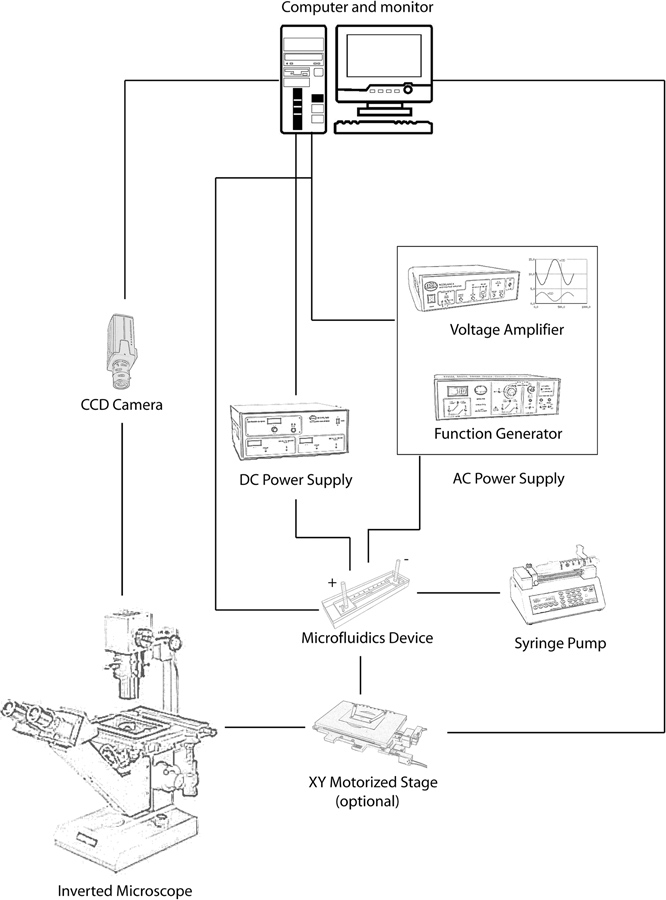 Figur 1. Skematisk af mikrofluidisk screening platform for nematode elektrotaxis assay. 
Subscription Required. Please recommend JoVE to your librarian.