Overview
Onderzoekers kunnen on-demand beweging in C. elegans activeren door een elektrisch veld toe te passen dat wormen voelen en erop reageren.  Deze video introduceert elektrotactisch gedrag en toont een voorbeeldprotocol dat wordt uitgevoerd in een microfluïdisch apparaat.
Protocol
Dit protocol is een uittreksel uit Tong et al, Microfluidic-based Electrotaxis for On-demand Quantitative Analysis of Caenorhabditis elegans' Locomotion, J. Vis. Exp. (2013).
1. Elektrotaxis Experiment
Plaats het microkanaal op het podium (bij voorkeur XY-beweegbaar) van een microscoop met een gemonteerde camera aangesloten op een monitor (Afbeelding 1).
Sluit de voedings- of versterkerdraden aan op de elektroden van het microkanaal. Een eenvoudige DC-voeding is voldoende als alleen een DC-signaal gewenst is, maar een versterker die is aangesloten op een functiegenerator maakt het ook mogelijk om gepulseerde DC- en AC-signalen toe te passen.
Bevestig de uitgangsbuis van het microkanaal aan een wegwerpspuit. Dompel de mond van de inlaatbuis onder in de fysiologische M9-buffer en aspireer voorzichtig vloeistof in het kanaal door een negatieve druk in de spuit uit te oefenen (handmatig of met behulp van een spuitpomp). Wanneer de inlaat- en uitlaatbuizen beide met M9 zijn gevuld, koppelt u de spuit los van de buis. Breng beide buizen op dezelfde hoogte om hydrostatisch aangedreven stroming te voorkomen.
Breng een gelijkspanning aan op het kanaal en zorg ervoor dat de weerstand (R= V/I) ongeveer 0,6 MΩ is (voor een 50 mm lang, 0,3 mm breed en ~0,1 mm diep microkanaal).
Als u tevreden bent met de integriteit van het kanaal, volgt u de bovenstaande stappen om wormen van een verdunde suspensie in het kanaal te laden.
Koppel de spuit los en manipuleer de stroom hydrostatisch door de relatieve hoogte van de buizen aan te passen. Gebruik deze methode om een worm in het midden van het kanaal te plaatsen en vervolgens beide buizen plat op dezelfde hoogte te leggen.
Stel de voeding in op de juiste spanning: 4-12 V/cm voor dieren in de L3-fase, 4-10 V/cm voor L4's en 2-4 V/cm voor jongvolwassenen. Activeer het elektrische signaal en laat 1 minuut voorbelichting toe dat de worm aan het veld acclimatiseert. De worm moet naar de kathode gaan. Wanneer de minuut is verstreken, gebruikt u de camera om te beginnen met opnemen.
Voor AC- en gepulseerde DC-experimenten kan het maximale responsieve elektrische veld van bovenaf worden overgenomen en kunnen de frequentie- en taakcyclus van het signaal naar wens worden gemoduleerd.
Wanneer het experiment is voltooid, verwijdert u alle vloeistof (en wormen) uit het kanaal, spoelt u het af met dH20 en laat u het apparaat op een hete plaat bij 125 °C drogen.
Extraheer locomotory gegevens uit opgenomen video's handmatig met behulp van NIH ImageJ(http://rsbweb.nih.gov/ij/)of aangepaste MATLAB-gebaseerde worm tracking software.
Subscription Required. Please recommend JoVE to your librarian.
Representative Results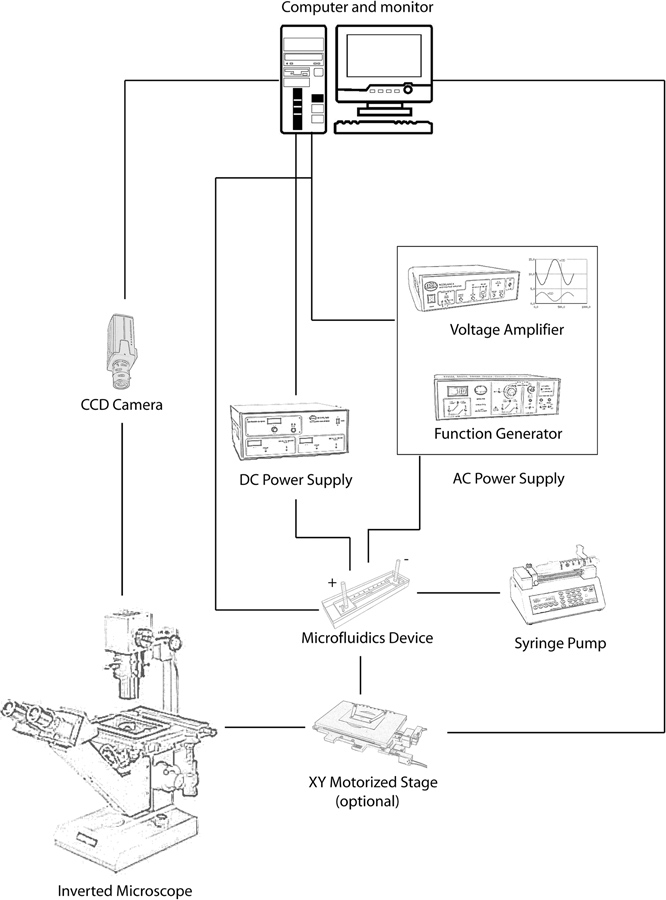 Figuur 1. Schematisch van microfluïdisch screeningsplatform voor nematodenelektrotaxistest. 
Subscription Required. Please recommend JoVE to your librarian.