Overview
Araştırmacılar, solucanların algılayıp yanıt verdiği bir elektrik alanı uygulayarak C. eleganlarda isteğe bağlı hareketi tetikleyebilirler.  Bu video elektroaktik davranışı tanıtır ve mikroakışkan bir cihazda yapılan örnek bir protokolü gösterir.
Protocol
Bu protokol,  Caenorhabditis elegans' Locomotion , J. Vis. Exp'in İsteğe Bağlı Nicel Analizi için Mikroakışkan tabanlı Elektrotaksiolan Tong ve ark.'dan bir alıntıdır. (2013).
1. Elektrotaksi Deneyi
Mikrokanaleyi bir monitöre bağlı monte edilmiş bir kamera ile bir mikroskobun sahnesine (tercihen XY-hareketli) yerleştirin(Şekil 1).
Güç kaynağını veya amplifikatörün çıkış tellerini mikrokananın elektrotlarına bağlayın. Sadece bir DC sinyali isteniyorsa basit bir DC güç kaynağı yeterlidir, ancak bir fonksiyon jeneratörüne bağlı bir amplifikatör, darbeli DC ve AC sinyallerinin de uygulanmasına izin verir.
Mikrokanel çıkış tüpünü tek kullanımlık bir şırıngaya takın. Giriş tüpünün ağzını M9 fizyolojik tamponuna batırın ve şırıngın içine negatif bir basınç uygulayarak (manuel olarak veya şırıngar pompası kullanarak) sıvıyı yavaşça kanala sokun. Giriş ve çıkış tüplerinin her ikisi de M9 ile dolduğunda, şırınnayı tüpten çıkarın. Hidrostatik tahrikli akışı önlemek için her iki tüpü de aynı yüksekliğe düzleyin.
Kanala bir DC voltajı uygulayın ve direncin (R= V/I) yaklaşık 0,6 MΩ (50 mm uzunluğunda, 0,3 mm genişliğinde ve ~0,1 mm derinliğinde bir mikro kanal için) olduğundan emin olun.
Kanalın bütünlüğünden memnunsanız, solucanları seyreltilmiş bir süspansiyondan kanala yüklemek için yukarıdaki adımları izleyin.
Şırınnanın bağlantısını kesin ve tüplerin bağıl yüksekliğini ayarlayarak akışı hidrostatik olarak manipüle edin. Kanalın ortasına bir solucan yerleştirmek ve ardından her iki tüpü de aynı yükseklikte düz bir şekilde yerleştirmek için bu yöntemi kullanın.
Güç kaynağını uygun voltaja ayarlayın: L3 kademeli hayvanlar için 4-12 V/cm, L4'ler için 4-10 V/cm ve genç yetişkinler için 2-4 V/cm. Elektrik sinyalini etkinleştirin ve solucanın alana alışması için 1 dakika ön maruz kalma bekleyin. Solucan katot doğru hareket etmeye başlamalıdır. Dakika geçtiğinde, kayda başlamak için kamerayı kullanın.
AC ve darbeli DC deneyleri için, maksimum duyarlı elektrik alanı yukarıdan benimsenebilir ve sinyalin frekansı ve görev döngüsü istenildiği gibi modüle edilebilir.
Deneme tamamlandığında, tüm sıvıyı (ve solucanları) kanaldan çıkarın, dH2 0ile durulayın ve cihazı kuruması için 125 °C'de sıcak bir tabağa bırakın.
NIH ImageJ(http://rsbweb.nih.gov/ij/)veya özel MATLAB tabanlı solucan izleme yazılımı kullanarak kaydedilen videolardan lokomotory verilerini manuel olarak ayıklayın.
Subscription Required. Please recommend JoVE to your librarian.
Representative Results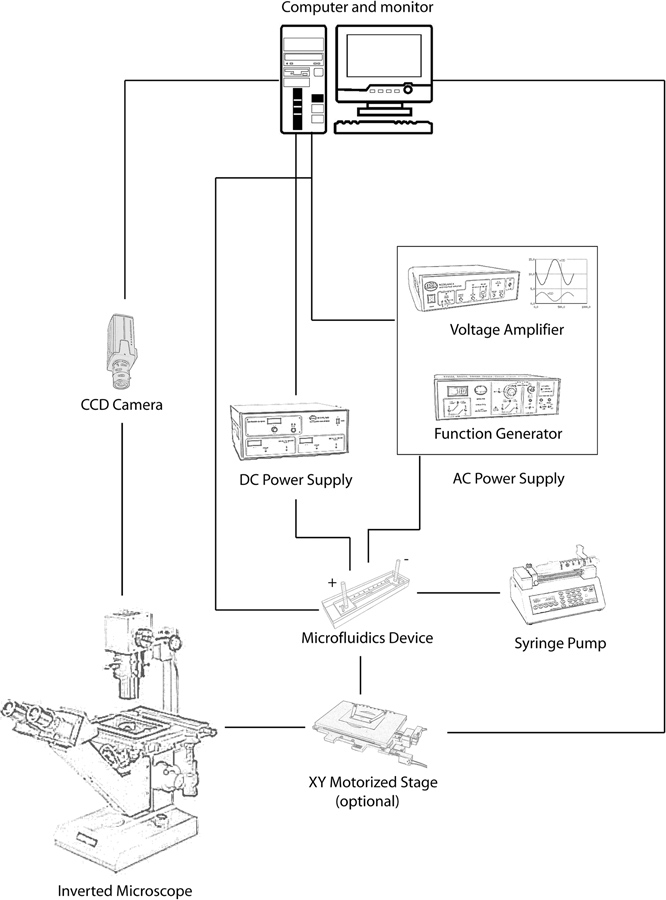 Şekil 1. Nematod elektrotaksi tahlil için mikroakışkan tarama platformunun şeması. 
Subscription Required. Please recommend JoVE to your librarian.