Overview
I ricercatori possono innescare movimenti on-demand in C. elegans applicando un campo elettrico che i vermi percepiscano e rispondono.  Questo video introduce il comportamento elettrotattico e mostra un protocollo di esempio che viene eseguito in un dispositivo microfluidico.
Protocol
Questo protocollo è un estratto da Tong et al, Microfluidic-based Electrotaxis for On-demand Quantitative Analysis of Caenorhabditis elegans' Locomotion, J. Vis. Exp. (2013).
1. Esperimento di elettrotasse
Posizionare il microcanale sul palco (preferibilmente mobile XY) di un microscopio con una telecamera montata collegata a un monitor (Figura 1).
Collegare i fili di uscita dell'alimentatore o dell'amplificatore agli elettrodi del microcanale. Un semplice alimentatore CC è sufficiente se si desidera solo un segnale DC, ma un amplificatore collegato a un generatore di funzioni consente anche l'applicazione di segnali CC e CA pulsati.
Collegare il tubo di uscita del microcanale a una siringa monouso. Immergere la bocca del tubo di ingresso nel tampone fisiologico M9 e aspirare delicatamente il liquido nel canale applicando una pressione negativa all'interno della siringa (manualmente o utilizzando una pompa per siringhe). Quando i tubi di ingresso e di uscita sono entrambi riempiti con M9, scollegare la siringa dal tubo. Livellare entrambi i tubi alla stessa altezza per evitare un flusso azionato idrostaticamente.
Applicare una tensione CC al canale e assicurarsi che la resistenza (R= V/I) sia di circa 0,6 MΩ (per un microcanale lungo 50 mm, largo 0,3 mm e profondo ~0,1 mm).
Se soddisfatto dell'integrità del canale, seguire i passaggi precedenti per caricare i worm da una sospensione diluita nel canale.
Scollegare la siringa e manipolare idrostaticamente il flusso regolando l'altezza relativa dei tubi. Utilizzare questo metodo per posizionare un worm al centro del canale e quindi posare entrambi i tubi piatti alla stessa elevazione.
Impostare l'alimentatore sulla tensione appropriata: 4-12 V/cm per gli animali da stadio L3, 4-10 V/cm per L4 e 2-4 V/cm per i giovani adulti. Attivare il segnale elettrico e consentire a 1 minuto di pre-esposizione per il verme di acclimatarsi al campo. Il verme dovrebbe iniziare a muoversi verso il catodo. Quando il minuto è passato, utilizzare la fotocamera per iniziare la registrazione.
Per gli esperimenti AC e CC pulsati, il campo elettrico massimo reattivo può essere adottato dall'alto e la frequenza e il ciclo di servizio del segnale possono essere modulati come desiderato.
Al termine dell'esperimento, rimuovere tutto il liquido (e i vermi) dal canale, sciacquarlo con dH20 e lasciare asciugare il dispositivo su una piastra calda a 125 °C.
Estrarre manualmente i dati locomotori dai video registrati utilizzando NIH ImageJ (http://rsbweb.nih.gov/ij/) o un software di tracciamento worm personalizzato basato su MATLAB.
Subscription Required. Please recommend JoVE to your librarian.
Representative Results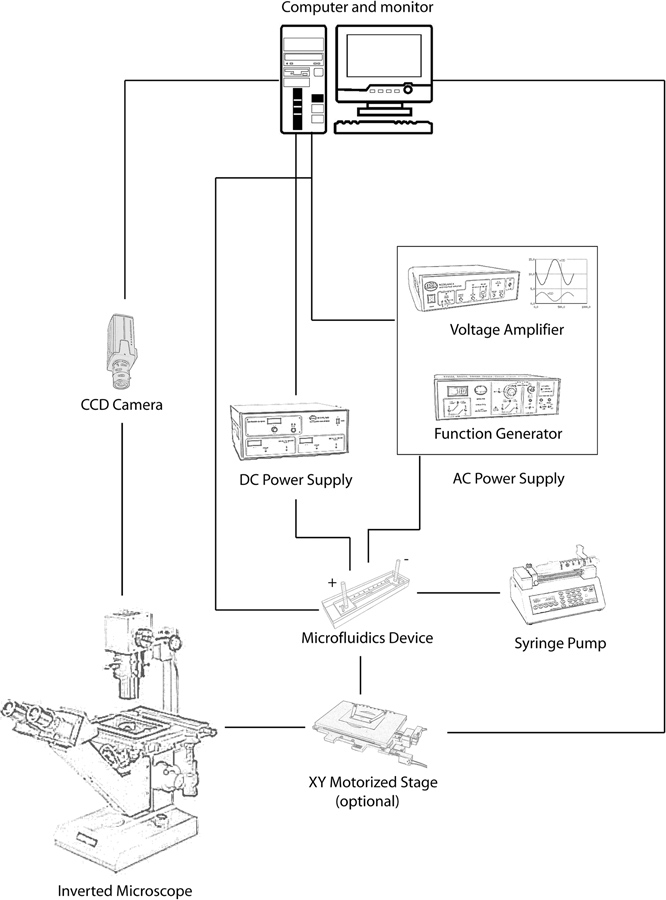 Figura 1. Schema della piattaforma di screening microfluidico per il test dell'elettrotassi nematode. 
Subscription Required. Please recommend JoVE to your librarian.