Overview
Forscher können On-Demand-Bewegungen in C. elegans auslösen, indem sie ein elektrisches Feld anwenden, das Würmer spüren und darauf reagieren.  Dieses Video stellt elektrotaktisches Verhalten vor und zeigt ein Beispielprotokoll, das in einem mikrofluidischen Gerät ausgeführt wird.
Protocol
Dieses Protokoll ist ein Auszug aus Tong et al, Microfluidic-based Electrotaxis for On-demand Quantitative Analysis of Caenorhabditis elegans' Locomotion, J. Vis. (2013).
1. Elektrotaxis-Experiment
Stellen Sie den Mikrokanal auf die Bühne (vorzugsweise XY-beweglich) eines Mikroskops mit einer montierten Kamera, die an einen Monitor angeschlossen ist (Abbildung 1).
Schließen Sie die Ausgangsleitungen des Netzteils oder Verstärkers an die Elektroden des Mikrokanals an. Eine einfache DC-Stromversorgung ist ausreichend, wenn nur ein DC-Signal gewünscht wird, aber ein Verstärker, der an einen Funktionsgenerator angeschlossen ist, ermöglicht auch die Anwendung von gepulsten DC- und AC-Signalen.
Befestigen Sie das Ausgangsrohr des Mikrokanals an einer Einwegspritze. Untertauchen Sie den Mund des Einlassrohrs in den m9 physiologischen Puffer und streben Sie vorsichtig Flüssigkeit in den Kanal an, indem Sie einen Unterdruck in der Spritze anwenden (entweder manuell oder mit einer Spritzenpumpe). Wenn die Ein- und Auslassrohre beide mit M9 gefüllt sind, trennen Sie die Spritze vom Rohr. Nivelliert beide Rohre auf die gleiche Höhe, um hydrostatisch angetriebenen Fluss zu verhindern.
Wenden Sie eine Gleichspannung auf den Kanal an und stellen Sie sicher, dass der Widerstand (R= V/I) um 0,6 Mio. m beträgt (für einen 50 mm langen, 0,3 mm breiten und 0,1 mm tiefen Mikrokanal).
Wenn Sie mit der Integrität des Kanals zufrieden sind, folgen Sie den obigen Schritten, um Würmer aus einer verdünnten Suspension in den Kanal zu laden.
Trennen Sie die Spritze und manipulieren Sie den Durchfluss hydrostatisch, indem Sie die relative Höhe der Rohre anpassen. Verwenden Sie diese Methode, um einen Wurm in der Mitte des Kanals zu platzieren und dann beide Rohre flach in der gleichen Höhe zu legen.
Stellen Sie die Stromversorgung auf die entsprechende Spannung ein: 4-12 V/cm für L3-Bühnentiere, 4-10 V/cm für L4s und 2-4 V/cm für junge Erwachsene. Aktivieren Sie das elektrische Signal und lassen Sie 1 min Vorbelichtung für den Wurm sich an das Feld gewöhnen. Der Wurm sollte sich in Richtung Kathode bewegen. Wenn die Minute abgelaufen ist, verwenden Sie die Kamera, um mit der Aufnahme zu beginnen.
Bei AC- und gepulsten DC-Experimenten kann das maximal reaktionsfähige elektrische Feld von oben übernommen und Frequenz und Betriebszyklus des Signals nach Belieben moduliert werden.
Wenn das Experiment abgeschlossen ist, entfernen Sie alle Flüssigkeiten (und Würmer) aus dem Kanal, spülen Sie sie mit dH20 ab und lassen Sie das Gerät auf einer Kochplatte bei 125 °C trocknen.
Extrahieren Sie bewegungsbasierte Daten aus aufgezeichneten Videos manuell mit NIH ImageJ (http://rsbweb.nih.gov/ij/) oder einer benutzerdefinierten MATLAB-basierten Wurmverfolgungssoftware.
Subscription Required. Please recommend JoVE to your librarian.
Representative Results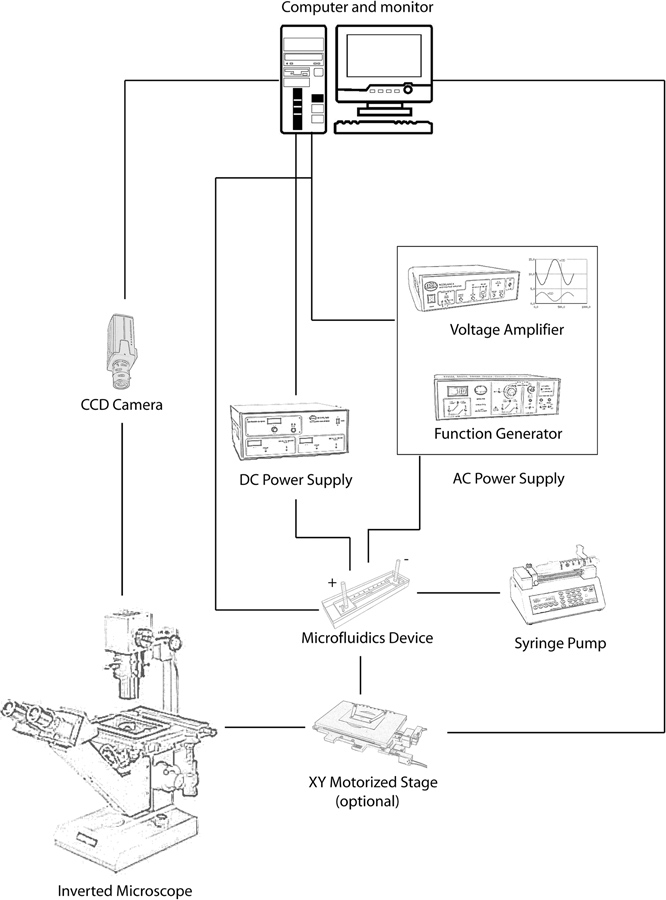 Abbildung 1. Schematische Mikrofluidische Screening-Plattform für Nematoden-Elektrotaxis-Assay. 
Subscription Required. Please recommend JoVE to your librarian.