Overview
Os pesquisadores podem desencadear movimento sob demanda em C. elegans aplicando um campo elétrico que os vermes sentem e respondem.  Este vídeo introduz o comportamento eletrotático e mostra um protocolo amostral que é feito em um dispositivo microfluido.
Protocol
Este protocolo é um trecho de Tong et al,Eletrotaxis baseado em microfluidic para análise quantitativa sob demanda da Locomoção de Caenorhabditis elegans, J. Vis. Exp. (2013). 
1. Experimento de Eletrotaxis
Coloque o microcanal no palco (preferencialmente XY-móvel) de um microscópio com uma câmera montada conectada a um monitor(Figura 1).
Conecte a fonte de alimentação ou os fios de saída do amplificador aos eletrodos do microcanal. Uma simples fonte de alimentação DC é suficiente se apenas um sinal DC for desejado, mas um amplificador conectado a um gerador de função permite a aplicação de sinais DC e AC pulsados também.
Conecte o tubo de saída do microcanal a uma seringa descartável. Submergir a boca do tubo de entrada no tampão fisiológico M9 e aspirar suavemente líquido no canal, aplicando uma pressão negativa dentro da seringa (manualmente ou usando uma bomba de seringa). Quando os tubos de entrada e saída estiverem cheios de M9, desconecte a seringa do tubo. Nivele ambos os tubos à mesma altura para evitar o fluxo hidroesticamente conduzido.
Aplique uma tensão DC no canal e certifique-se de que a resistência (R= V/I) seja em torno de 0,6 MΩ (para um microchannel de 50 mm de comprimento, 0,3 mm de largura e ~0,1 mm de profundidade).
Se estiver satisfeito com a integridade do canal, siga as etapas acima para carregar worms de uma suspensão diluída no canal.
Desconectar a seringa e manipular hidrostaticamente o fluxo ajustando a altura relativa dos tubos. Use este método para colocar um verme no centro do canal e, em seguida, coloque ambos os tubos planos na mesma elevação.
Defina a fonte de alimentação para a tensão apropriada: 4-12 V/cm para animais de estágio L3, 4-10 V/cm para L4s e 2-4 V/cm para adultos jovens. Ative o sinal elétrico e permita que 1 min de pré-exposição para o verme se aclimatarem ao campo. O verme deve começar a se mover em direção ao cátodo. Quando o minuto passar, use a câmera para começar a gravar.
Para experimentos CA e DC pulsados, o campo elétrico máximo responsivo pode ser adotado de cima e o ciclo de frequência e dever do sinal pode ser modulado conforme desejado.
Quando o experimento estiver concluído, remova todo o líquido (e vermes) do canal, enxágue-o com dH20e deixe o dispositivo em uma placa quente a 125 °C para secar.
Extrair dados locomotórios de vídeos gravados manualmente usando o NIH ImageJ(http://rsbweb.nih.gov/ij/) ou software personalizado de rastreamento de worms baseado em MATLAB.
Subscription Required. Please recommend JoVE to your librarian.
Representative Results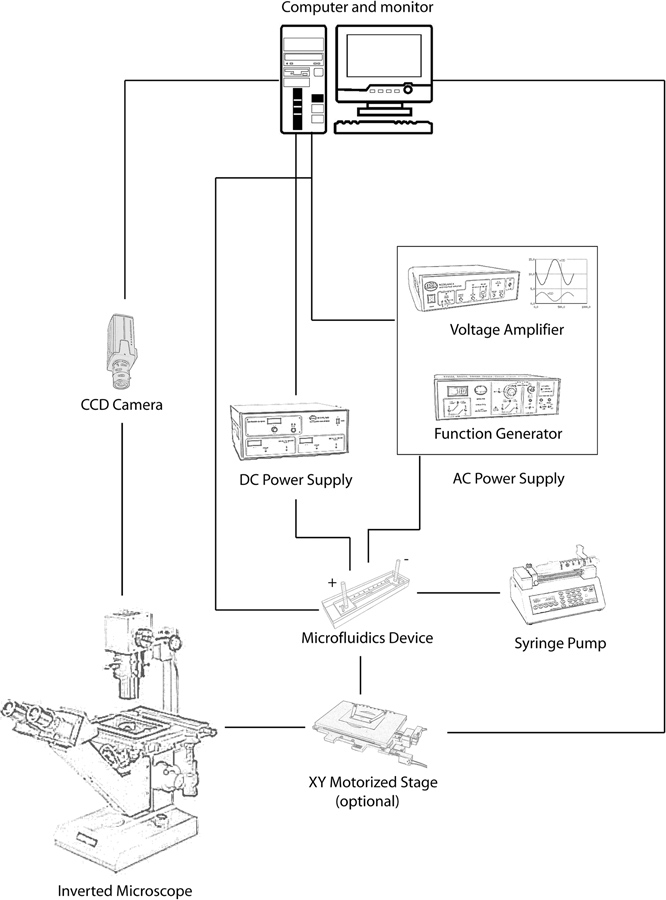 Figura 1. Esquema de plataforma de triagem microfluidic para ensaio de eletrotáxi de nematoide. 
Subscription Required. Please recommend JoVE to your librarian.