Overview
Forskere kan utløse behovsbetinget bevegelse i C. elegans ved å bruke et elektrisk felt som ormer sanser og reagerer på.  Denne videoen introduserer elektrotaktisk oppførsel og viser en prøveprotokoll som gjøres i en mikrofluidisk enhet.
Protocol
Denne protokollen er et utdrag fra Tong et al, Mikrofluidisk-basert elektrotaksi for on-demand kvantitativ analyse av Caenorhabditis elegans' Locomotion, J. Vis. Exp. (2013).
1. Elektrotaxis eksperiment
Plasser mikrokanal på scenen (helst XY-bevegelig) til et mikroskop med et montert kamera koblet til en skjerm (figur 1).
Koble strømforsyningen eller forsterkerens utgangsledninger til mikrokanalelektrodene. En enkel DC strømforsyning er tilstrekkelig hvis bare et DC-signal er ønsket, men en forsterker koblet til en funksjonsgenerator tillater også bruk av pulserende DC- og AC-signaler.
Fest mikrokanals utgangsrør til en engangssprøyte. Senk munnen på innløpsrøret i M9 fysiologisk buffer og aspirer væske forsiktig inn i kanalen ved å påføre et negativt trykk inne i sprøyten (enten manuelt eller ved hjelp av en sprøytepumpe). Når både innløps- og utløpsrørene er fylt med M9, kobler du sprøyten fra røret. Jevn begge rørene i samme høyde for å forhindre hydrostatisk drevet strømning.
Påfør en DC-spenning på kanalen og sørg for at motstanden (R = V / I) er rundt 0,6 MΩ (for en 50 mm lang, 0,3 mm bred og ~ 0,1 mm dyp mikrokanal).
Hvis du er fornøyd med kanalens integritet, følger du trinnene ovenfor for å laste ormer fra en fortynnet suspensjon inn i kanalen.
Koble fra sprøyten og manipulere strømmen hydrostatisk ved å justere rørenes relative høyde. Bruk denne metoden til å plassere en orm i midten av kanalen og legg deretter begge rørene flatt i samme høyde.
Still strømforsyningen på riktig spenning: 4-12 V/cm for L3-scenedyr, 4-10 V/cm for L4 og 2-4 V/cm for unge voksne. Aktiver det elektriske signalet og la 1 min preeksponering for ormen akklimatisere seg til feltet. Ormen skal begynne å bevege seg mot katoden. Når minuttet har gått, bruker du kameraet til å begynne innspillingen.
For AC- og pulsede DC-eksperimenter kan det maksimale responsive elektriske feltet vedtas ovenfra, og signalets frekvens og driftssyklus kan moduleres etter ønske.
Når eksperimentet er ferdig, fjern all væske (og ormer) fra kanalen, skyll den med dH2 0,og la enheten stå på en varm plate ved 125 °C for å tørke.
Trekk ut lokomotoriske data fra innspilte videoer manuelt ved hjelp av NIH ImageJ (http://rsbweb.nih.gov/ij/) eller tilpasset MATLAB-basert ormsporingsprogramvare.
Subscription Required. Please recommend JoVE to your librarian.
Representative Results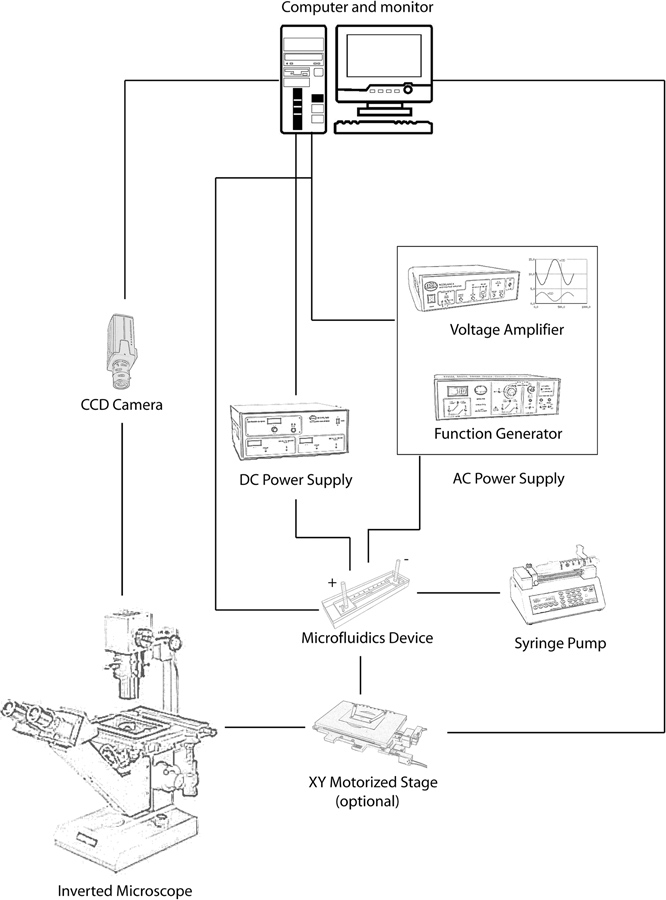 Figur 1. Skjematisk mikrofluidisk screeningplattform for nematodeelektrotaksianalyse. 
Subscription Required. Please recommend JoVE to your librarian.