Overview
Forskare kan utlösa on-demand rörelse i C. elegans genom att tillämpa ett elektriskt fält som maskar känner av och svarar på.  Den här videon introducerar elektrotaktiskt beteende och visar ett provprotokoll som görs i en mikrofluidisk enhet.
Protocol
Detta protokoll är ett utdrag från Tong et al, Microfluidic-baserade Electrotaxis for On-demand Quantitative Analysis of Caenorhabditis elegans' Locomotion, J. Vis. Exp. (2013).
1. Electrotaxis experiment
Placera mikrokannelen på scenen (helst XY-rörlig) i ett mikroskop med en monterad kamera ansluten till en bildskärm (figur 1).
Anslut strömförsörjningen eller förstärkarens utgångsledningar till mikrokanalens elektroder. En enkel likströmsströmförsörjning är tillräcklig om endast en likströmssignal önskas, men en förstärkare ansluten till en funktionsgenerator möjliggör också applicering av pulsade DC- och AC-signaler.
Fäst mikrokanalens utgångsrör på en engångsspruta. Dränk inloppsrörets mun i M9 fysiologisk buffert och aspirera försiktigt in vätska i kanalen genom att applicera ett undertryck inuti sprutan (antingen manuellt eller med hjälp av en sprutpump). När inlopps- och utloppsrören är fyllda med M9 kopplar du bort sprutan från röret. Jämna båda rören till samma höjd för att förhindra hydrostatiskt drivna flöden.
Applicera en likströmsspänning på kanalen och se till att motståndet (R= V/I) är cirka 0,6 MΩ (för en 50 mm lång, 0,3 mm bred och ~0,1 mm djup mikrokanal).
Om du är nöjd med kanalens integritet följer du ovanstående steg för att ladda maskar från en utspädd fjädring i kanalen.
Koppla bort sprutan och manipulera flödet hydrostatiskt genom att justera rörens relativa höjd. Använd den här metoden för att placera en mask i mitten av kanalen och lägg sedan båda rören platt på samma höjd.
Ställ in strömförsörjningen på lämplig spänning: 4-12 V/cm för L3-stegdjur, 4-10 V/cm för L4s och 2-4 V/cm för unga vuxna. Aktivera den elektriska signalen och låt 1 min förexponering för masken acklimatisera sig till fältet. Masken ska börja röra sig mot katoden. När minuten har gått använder du kameran för att börja spela in.
För AC- och pulserade DC-experiment kan det maximala responsiva elektriska fältet antas ovanifrån och signalens frekvens- och arbetscykel kan moduleras efter önskemål.
När experimentet är klart, ta bort all vätska (och maskar) från kanalen, skölj den med dH20 och lämna enheten på en kokplatta vid 125 °C för att torka.
Extrahera lokomotoriska data från inspelade videor manuellt med NIH ImageJ (http://rsbweb.nih.gov/ij/) eller anpassad MATLAB-baserad maskspårningsprogram.
Subscription Required. Please recommend JoVE to your librarian.
Representative Results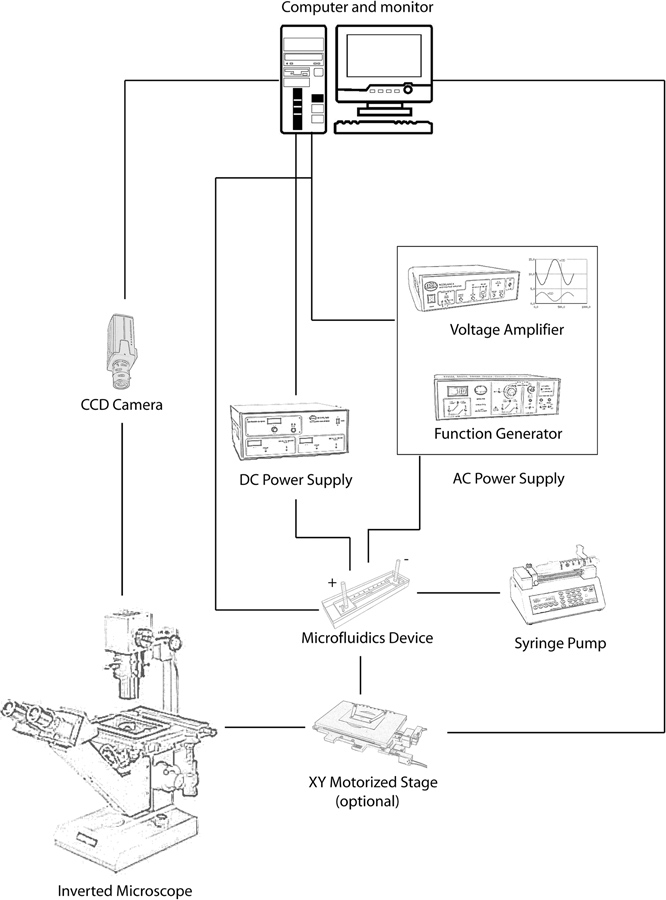 Figur 1. Schematisk av mikrofluidisk screening plattform för nematod elektrotaxis analys. 
Subscription Required. Please recommend JoVE to your librarian.